In markets
Bitcoin sank below US$27K (A$40.5K) today as news emerged the war on crypto has expanded to Binance, but it has since recovered slightly. It finishes the week down 3.3% to trade at A$40,790 (US$27.1K), while Ethereum is down 2.5% to A$2570 (US$1710). MicroStrategy is still a believer, though, buying another 6455 BTC for US$150 million (A$225M). It was a mixed picture on markets at the time of writing, with Ripple up 26.3% for the week, Cardano up 2.5% and Dogecoin (1.2%). Polygon fell 6.7%, Solana lost 11.8%, and Polkadot was down 4.8%. US interest rates have risen to 5%, with markets evenly divided between those expecting a 25bps increase at the next meeting and those expecting a pause. Bitcoin's hashrate briefly spiked to almost 400 exahash and is currently at 335 EH/s. The Crypto Fear and Greed Index is at 64 or Greed.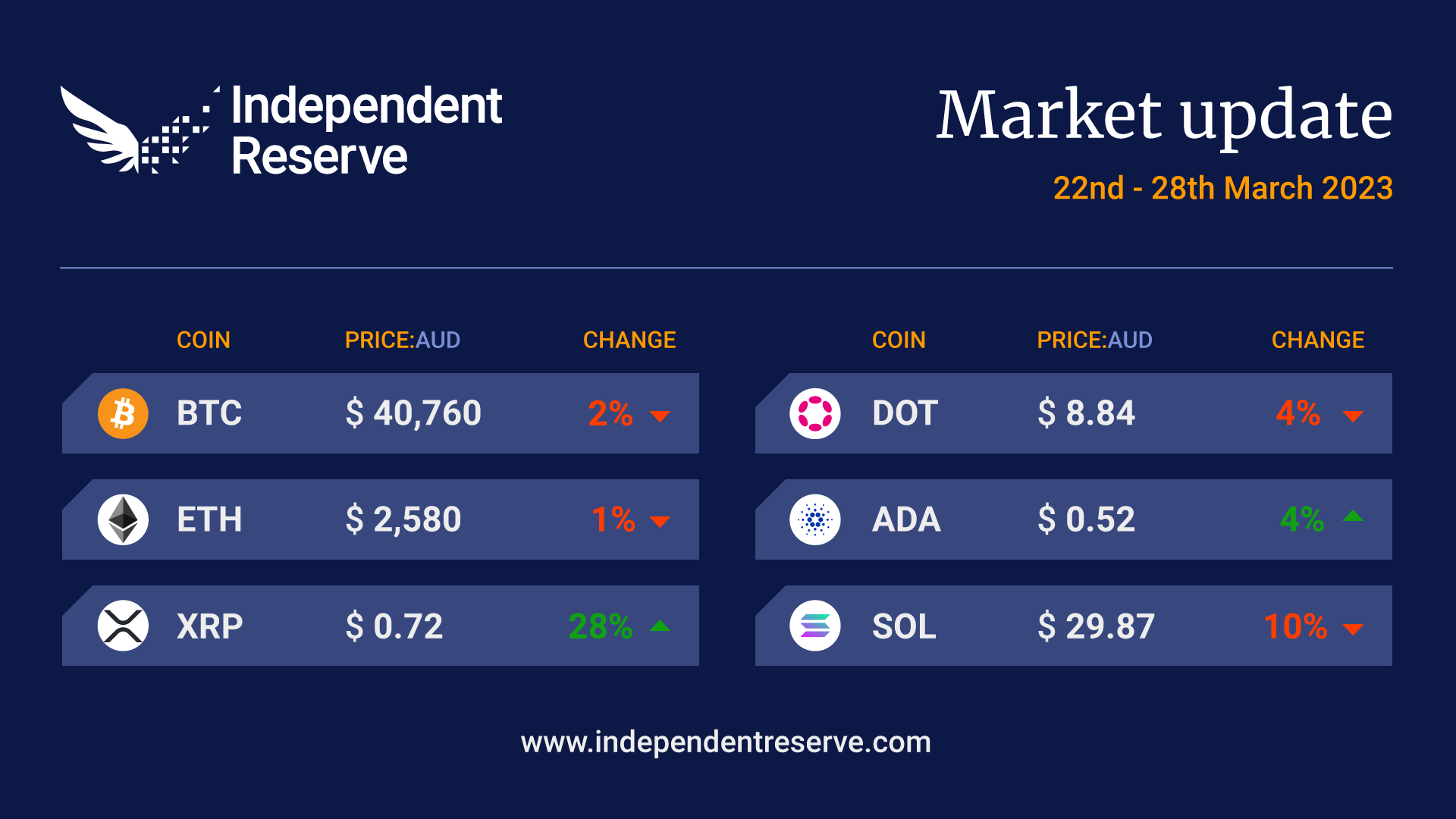 In headlines
Liquidity at 10-month lows
The closure of Silvergate's SEN and Signature's Signet network in early March has seen liquidity plunge to 10-month lows , which can result in thin order books, slippage and larger spreads. Market depth for Bitcoin and Ethereum is down 16.12% and 17.64%, respectively, from monthly opening levels and significant volatility is expected. Kaiko's head of research Clara Medalie told Decrypt that the current situation is "pretty dangerous." "The moment buy pressure subsides, anything can happen to price," said Medalie.
US war on crypto: Coinbase, Sushi, Tron
Coinbase revealed the Securities and Exchange Commission had sent it a Wells Notice, indicating it faces legal action potentially targeting its staking program, listed digital assets, wallet or Coinbase Prime services. Coinbase said it has met with the SEC "more than 30 times over nine months" and that the regulator had given the nod to its stock market listing. "At no point in this investigation has the SEC told us a single specific concern about a single asset on our platform," Coinbase said. Separately the SEC hit DeFi protocol Sushi and its "head chef" Jared Grey, with a subpoena . His excellency Justin Sun of Tron fame was also charged over unregistered securities (TRX and BTT) and wash trading, with celebs Jake Paul and actress Lindsay Lohan charged for promoting them.
US war on crypto: Binance
Another front opened up today with the Commodity Futures Trading Commission suing Binance over offering services to US customers and violating rules designed to prevent illicit financial activity. The CFTC wants a permanent ban on CEO Changpeng Zhao and the firm from participating in US derivatives markets or trading in cryptocurrencies. The only bright spot in the lawsuit is the CFTC arguing cryptocurrencies are commodities rather than securities. The lawsuit alleges Binance has 300 "house accounts" to trade against its own customers, although Binance denies this. Analyst Adam Cochran said that if the CFTC is successful, Binance would be " killed off." Founder CZ tweeted the number "4", which is code for fake news, and put out a blog addressing some of the concerns. Users have begun shifting money out of Binance. The exchange recently dropped zero fee trading, which saw its global market share drop to 58% from a peak of 70%, but that's still a majority of the market.
US war on crypto: annual economic report blasts sector
President Joe Biden's annual economic report to Congress included a 35-page section blasting crypto. It takes aim at crypto for promising the earth and delivering nothing except scams and risks. Crypto critic Amy Castor wrote, "It is strident, as you'd expect just after a huge disaster like FTX. This is the no-coiner view coming from the highest levels of power.
Actual good news: German banks and Nasdaq get into crypto
German securities processing giant Deutsche WertpapierService Bank AG (dwpbank) this week announced the launch of wpNex, a platform that enables over 1,200 affiliated banks to offer Bitcoin (BTC) trading to retail customers. US securities exchange Nasdaq has announced the launch of its own crypto custody service later this year and is in the process of establishing the infrastructure and getting the necessary approvals to custody Bitcoin and Ethereum.
zkEVM era is upon us
The zero-knowledge proof era is upon us with the launch of Ethereum layer 2 scaling networks zkSync Era and Polygon's zkEVM this week. Unlike competitor StarkWare, both projects are Ethereum Virtual Machine compatible, meaning any Ethereum DApp can easily port over. Big names in DeFi, including Uniswap, Sushi, Maker and Curve, are porting over to zkSync, while around 50 projects are building on Polygon's zkEVM.
Bits and pieces
Terraform Labs CEO Do Kwon has been arrested in Montenegro over the collapse of the Terra Luna ecosystem. He's been charged with eight counts of fraud and market manipulation by prosecutors in New York and also faces charges in South Korea and Montenegro. In other postscripts to notable crypto collapses, Celsius custody account holders will get back 72.5% of their assets. Here in Australia, the Australian Prudential Regulation Authority has told banks to declare any exposure to start-ups and crypto-focused ventures. Cardano's weekly development report says 118 projects have launched on Cardano while 1215 more are building on it. The Federal Reserve released an 86-page document detailing why it rejected Custodia Bank's application to become a member and obtain and Federal Master account (TLDR: It thinks it's a janky crypto bank at risk of collapse.) Custodia argued however it will keep $1.08 for every $1 deposit at the bank and is heading to court to overturn the decision. Analyst Rekt Capital argues we're just one week away from entering a new bull market.
Until next week happy trading!