In markets
Bitcoin again faced resistance at the A$44.2K (US$30K) mark and finishes down 1.5% on seven days ago to trade around A$40,950 (US$27.6K), with the blockchain groaning under the weight of memecoins, Ordinals and skyrocketing fees. Ethereum had a dose of nostalgia with surging fees like in the old days and finishes the week flat at around A$2,735 (US$1,855). The spectre of further banking collapses and the periodic game of chicken over lifting the US debt ceiling — a looming economic "calamity" according to Treasury Secretary Janet Yellen — are also weighing on markets. XRP lost 8%, Cardano fell 6%, Dogecoin was down 8.2% and Polygon lost 6.2%. The Crypto Fear and Greed Index is at 60 or Greed.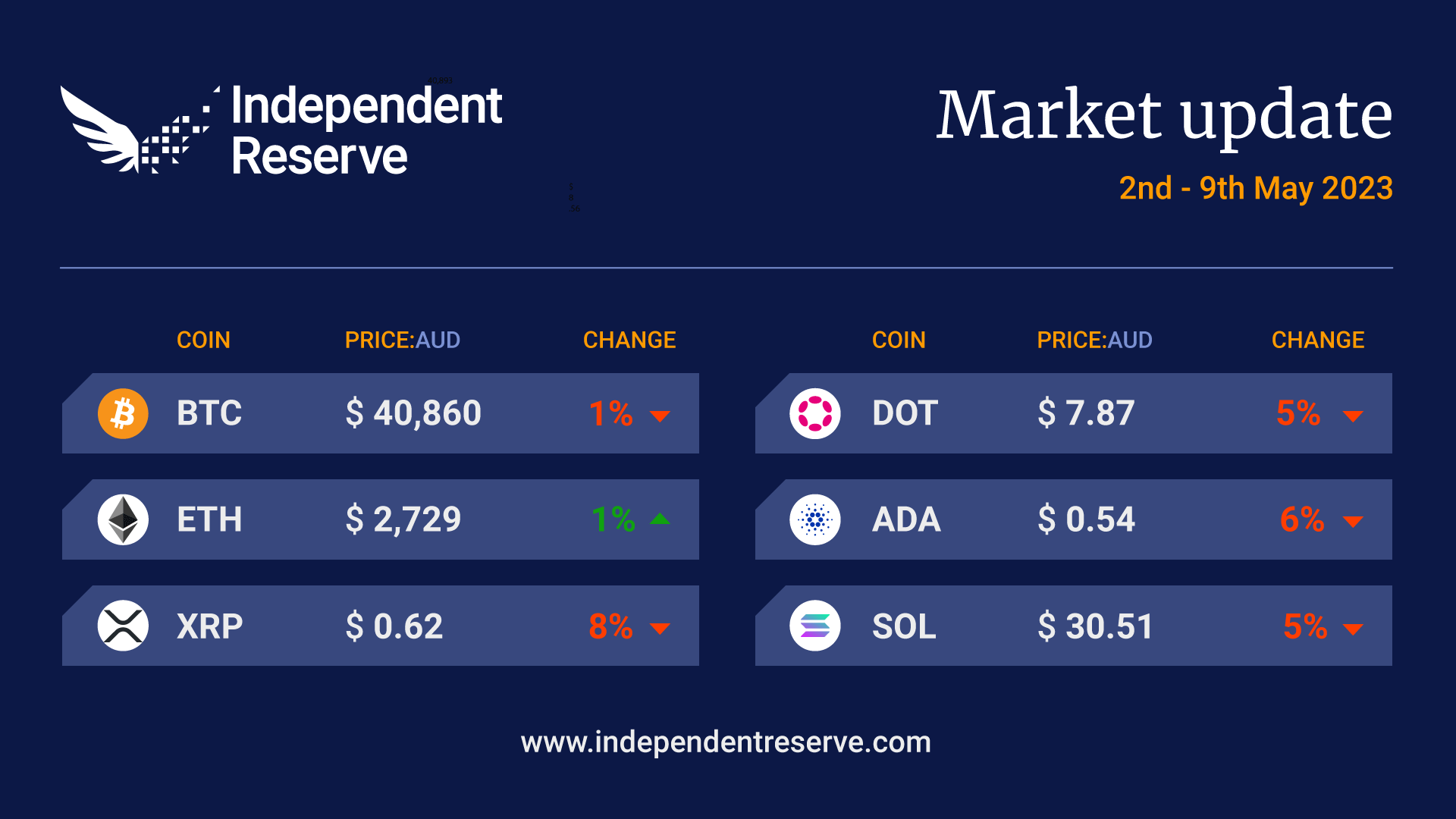 In headlines
Rise of the memecoins
This week has been all about the rise of memecoins, which you can now create in less than 23 seconds using OpenZeppelin's Contracts Wizard and an application called Remix. The biggest success was Pepe, who's own website points out is "completely useless" except as a way to have fun and make a quick buck. One trader turned US$260 (A$383) into almost US$8 million (A$11.8M) in just two weeks and the market cap surged to around US$1 billion (A$1.47B). Another coin called ORDI on the Bitcoin network wasn't far behind nearing US$900M (A$1.32B) A host of memecoins surged in their wake including an Aussie AI-created coin called TURBO. Overall the newly introduced BRC-20 tokens on Bitcoin are nearing US$1 billion (A$1.47B) in market cap and, combined with interest in Ordinal NFTs, have pushed up  fees to levels not seen since the 2017 bull market, with more than 440,000 transactions unconfirmed. Fee revenue actually surpassed the block reward for the first time in 6 years. While that's good for the network's long-term security, it's bad for banking the unbanked. Bitcoiner Marce Romero reported watching someone with cash from a Bitcoin transfer in El Salvador with a US$20 (A$29.5) fee to get US$100 (A$147) out "in a country where average salaries is $300-$500 (A$442-$589)" Memecoins seemed to have peaked for now, leading Quantum Economics founder Mati Greenspan telling Bloomberg that "meme season has come to an abrupt end" adding "coins without utility can only go so far on hype alone."
Ethereum fees
The memecoin frenzy is again rendering the Ethereum network almost unusable for ordinary folk, with a single transaction costing US$15.82 (A$23.33) on May 4 and complex transactions on platforms like Uniswap costing multiples of that. One user bought 20 ETH of a meme coin and paid 64 ETH in gas fees, but somehow wound up ahead on the deal due to inflating coin prices. The fee-burning mechanism means the total supply of ETH decreased by 63,300 in the past week.
Banking nerves
The possibility of a wider banking collapse in the US has ramped up, with the share prices of regional banks, including California-based PacWest, Arizona's Western Alliance and Memphis-based First Horizon tanking amid an increased rate of withdrawals. Bank deposits up to US$250K (A$368K) are insured by the government, but anything over that is at risk, sparking withdrawals. A new survey by Gallup suggests that 48% of Americans are worried about the safety of funds they keep in banks… and a separate analysis from the think tank Hoover Institution suggests that if half of the uninsured savers withdrew their cash, then 186 banks would be at "potential risk for impairment." There are 4,700 banks in the US by way of comparison so it's not quite as grim as it sounds,. unless you believe an opinion piece in the Telegraph which claimed" half of America's banks are potentially insolvent" and warned of a credit crunch. Some think crypto stands to benefit from the failure of banks, but no one really knows how it will play out.
$1M Bitcoin price target unmet
Balaji Srinivasan, the former chief technology officer at Coinbase, has paid out his attention-seeking bet that Bitcoin would top US$1 million (A$1.47M) within 90 days. Srinivasan paid the bet out 45 days earlier, and 97% under his price target, giving US$500K (A$737K) to Twitter user James Medlock, $500K to Bitcoin core developers and an extra $500K to the charity Give Directly. He said he was trying to raise awareness the economy is tanking: "I spent my own money to send a provably costly signal that there's something wrong with the economy and that it's not going to be a 'soft landing' like Powell promises — but something much worse."
Crypto companies on a high
The first quarter earnings reports for publicly listed crypto companies in the US have been positive. MicroStrategy, the largest public holder of Bitcoin, reported earnings of $30.59 per share, beating analyst expectations significantly. It reported it fully paid off its Bitcoin backed loan and bought an additional 7,500 BTC. Coinbase shares spiked 18% after it beat expectations too. It still lost 34 cents per share, but analysts were expecting it to lose $1.45 per share. Jack Dorsey's Block also beat expectations with earnings per share of 40 cents, above the expected 35 cents. It reported US $2.16 billion (A$3.18B) in Bitcoin revenue from its Cash App, and US$50 million (A$74M) in Bitcoin gross profit, up 43% from the previous quarter.
Until next week, happy trading!