In markets

The takeover of First Republic Bank by JP Morgan appears to be causing volatility on crypto markets. Does the second largest US bank failure ever highlight that the crisis is getting worse (there's a narrative this would be good for crypto), or is the fact the banking system has successfully navigated the challenge indicate things are stabilising? There's not a lot of clarity just yet, and there are a multitude of other headwinds for crypto, including the regulatory crackdown in the US and the likelihood of a 25-basis point hike in US interest rates this week. Analyst Nicholas Merton's "long term thesis" is that we "are still in a bear market and that this is an exacerbated relief rally of around 100% from those relative lows." Bloomberg Intelligence analyst Mike McGlone says he's "very bullish" on Bitcoin in the longer term but worries about "a rug pull in the stock market" sending prices below US$20K (A$30.2K). At the time of writing Bitcoin had fallen 4.7% in 24 hours, but was still up 2% on a week earlier to trade around A$42,240 (US$28K). Ethereum fell 3.6% in 24 hours but was roughly the same as a week ago at A$2,750 (US$1,830), XRP, Cardano and Dogecoin were all flat, and Polyon lost 3.1%. The Crypto Fear and Greed Index is at 63, or Greed.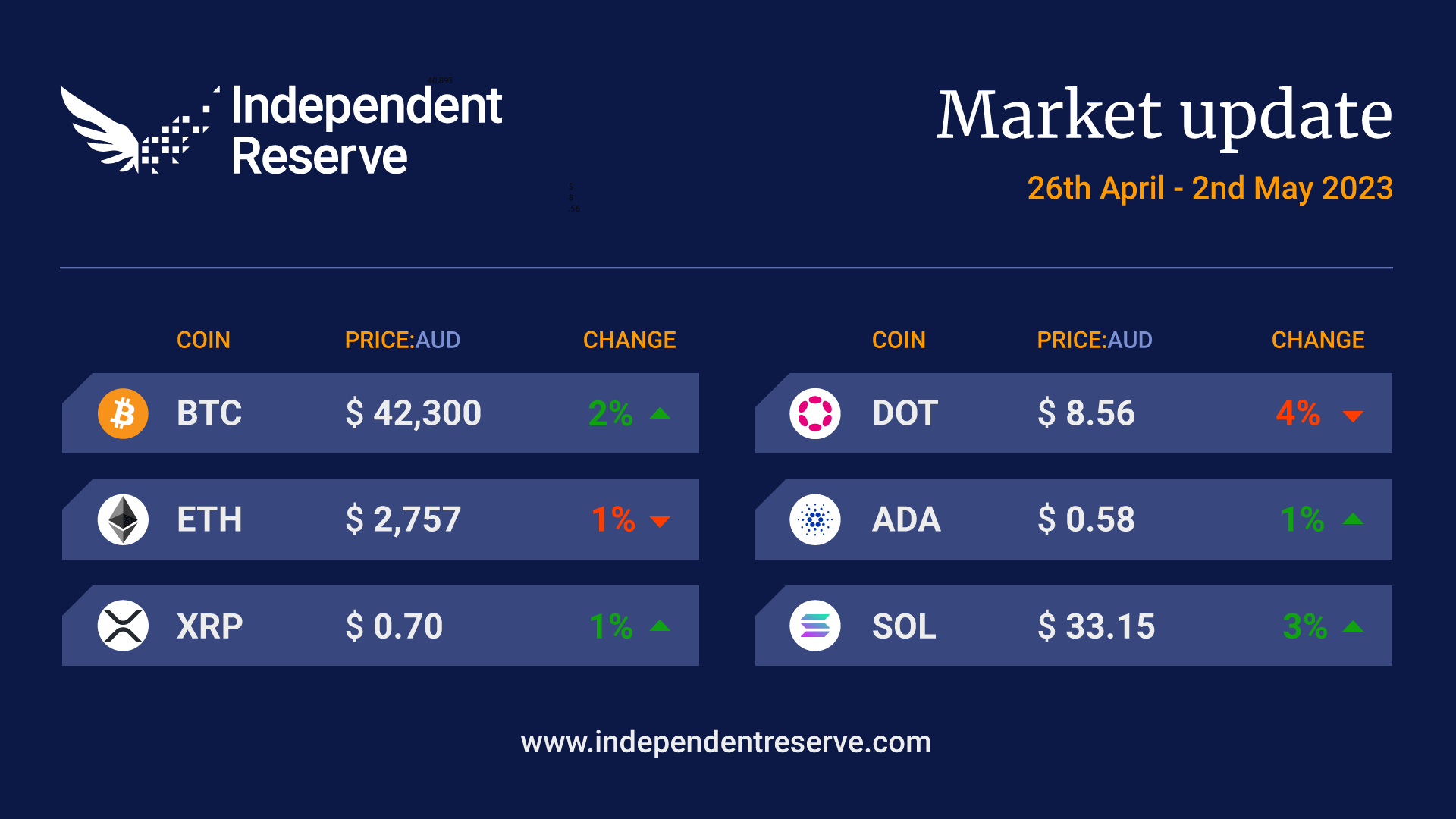 In headlines
First Republic Bank
Banking giant JP Morgan stepped in to purchase the ailing First Republic Bank's assets. The good news is that no one is blaming crypto for depositors fleeing the bank and the share price tanking. Oanda analyst Edward Moya believes Wall Street now has a growing confidence that the wider banking risk has been "removed from the table." "It is looking like the U.S. banking system has a playbook to deal with the next banking crisis when it emerges, which is somewhat dampening the case for cryptos," he added. But the CIO at JP Morgan Asset Management Bob Michele said we are still in a "crisis" and worries that regional banks are being propped up by government loans programs.
US crypto bill in two months?
The US House Financial Services Committee is pushing to introduce a draft comprehensive crypto legislation, according to chair Patrick McHenry. He said a bill could be signed by President Joe Biden within 12 months. "What we plan to do over the next two months is report a deal out," McHenry said. "We're going to hold joint hearings when we return in May." While attempts to regulate crypto have stalled in the past, the recent passing of MICA laws in Europe and Hong Kong's embrace of crypto may finally light a fire under the issue. In the UK, comments on a consultation for comprehensive UK crypto assets regulatory framework have now closed. By and large the big guys, including Polygon, a16z and various digital assets associations welcomed aspects of the proposals and called for others to be refined.
Staking bigger than DEXs
There is now more Total Value Locked in crypto staking platforms like Lido and Rocketpool, than in decentralised exchanges according to DeFi Llama. There is US$17.47 billion (A$26.4B) of crypto locked in liquid staking contracts, compared to US$17.2 billion (A$25.9B) in DEXs. The vast majority of funds in the platforms is Ethereum staked to help run the proof of stake network.
Crypto: The Next Generation
Crypto really is the choice of a new generation, according to a survey of 255,000 individuals in 26 countries by Bitget. The survey reported on crypto activities between July 2022 and January this year and determined that 46% of Millennials own crypto, followed by 25% of Gen X and 21% of dirt-poor Gen Z. Baby boomers are letting the side down, with just 8% owning crypto. 
Bitcoin flash crash
A comedy of errors saw Bitcoin take a sharp 7% dive last week before quickly recovering. The flash crash was due to an incorrect alert being sent out suggesting that Mt Gox and US Government wallets had been moving large amounts of Bitcoin. Intelligence platform Arkham blamed the issue on crypto news alert service DB or Tier10k putting out an incorrect tweet after Arkham fixed a bug that resulted in a bunch of old alerts getting sent through. However, the timing was a little off, and some users attributed the flash crash to trading moves by Jump Trading.
Mastercard's Crypto Credential
Mastercard has announced a new service called Crypto Credential, in partnership with Polygon, Solana, Ava and others. It's a set of standards to help enable trusted transactions between consumers and businesses and includes verification and travel rule compliance. From a user perspective, the service will also enable easy to use aliases for payments to be sent to, replacing impossible to remember wallet addresses.
Hong Kong warms up
The Hong Kong Monetary Authority has told local banks there's no reason that properly licensed exchanges shouldn't have bank accounts. Meanwhile, Julia Leung, CEO of the Securities and Futures Commission said exchange regulation was a key priority. "The SFC has received more than 150 responses to the consultation on the proposed regulatory requirements for licensed VATP operators and will issue the conclusions and final guidelines in May before the new regime takes effect on June 1 2023," she said.

Until next week Happy Trading!