In Markets
Bitcoin remains 50% off its all-time high in April, but has been essentially going sideways since mid-May and refuses to drop below US$30K (A$40K). It's currently 3.4% down on seven days ago to trade around A$44,300 (US$33,100). While Synthetix gained 13.5% on the news layer 2 scaling with Optimism would finally launch this month, most other coins were down. Ethereum lost 8.6%, Cardano (-7.3%), Ripple (-4.7%) Polkadot (-3.4%), Uniswap (-3.9%), Bitcoin Cash (-5.6%), Litecoin (-4.3%), Chainlink (-5.4%), Stellar (-6.9%) and Aave (-5%).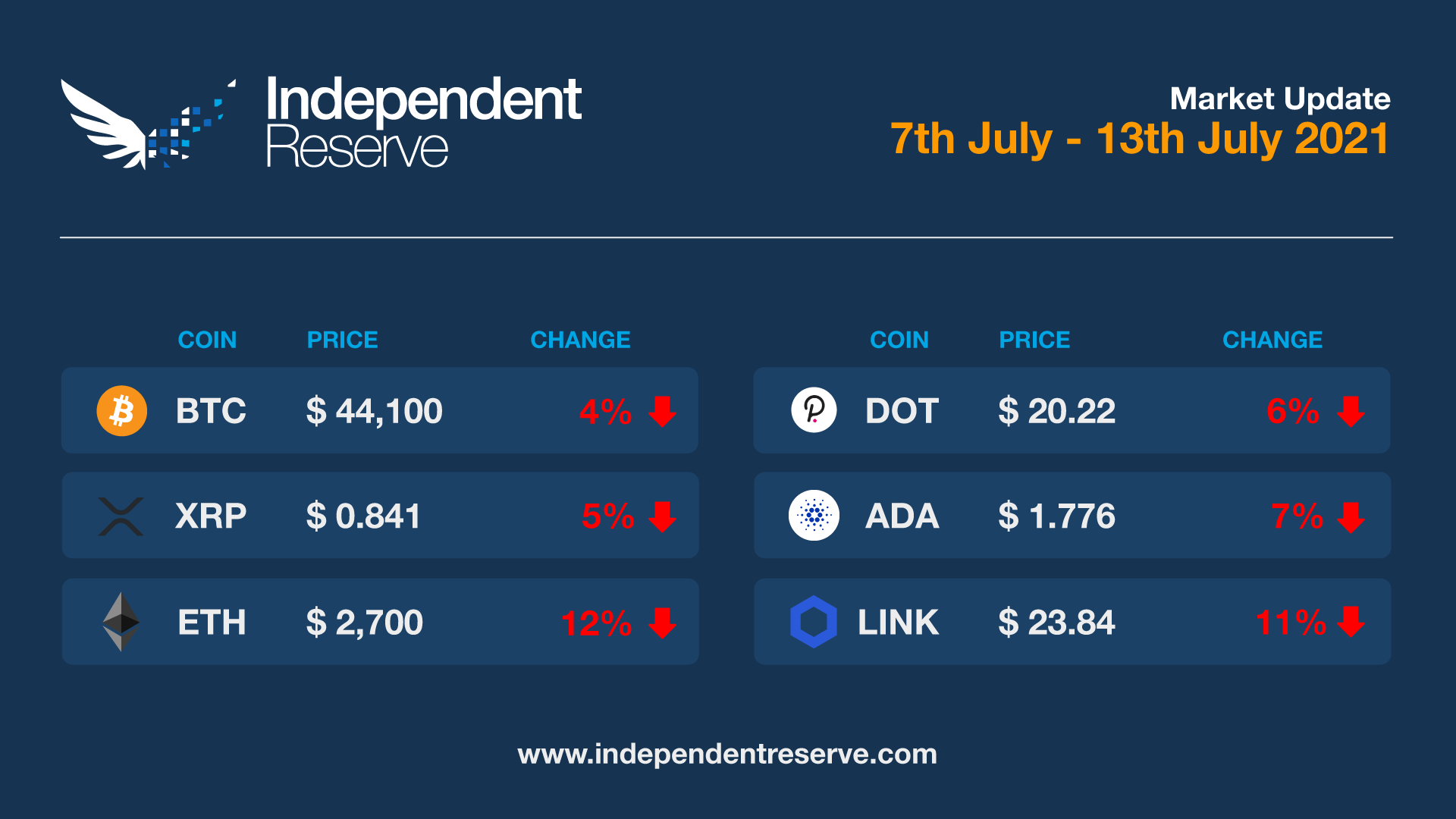 In Headlines
Tether dries up
The Tether printer conked out in June and the USDT supply has essentially flatlined for the past 40 days. On the upside the much more transparent USDC has increased by around 3 million in that time. Transactions on the Bitcoin network have halved since January's peak of more than 400,000 while the daily USD value transferred has reached a six-month low around US$1B (A$1.34B), down from US$15B (A$20B) in mid-April.
Shares in the profits
Circle, the company behind USDC, has announced it will follow Coinbase and go public and list CRCL via a special purpose acquisition company on the New York Stock Exchange. The company is valued at US$4.5B (A$6B). Meanwhile an SEC filing from Capital International Investors show the investment firm snapped up 953,242 shares of the Bitcoin loving MicroStrategy to its holdings, worth nearly US$600 million (A$802M). That makes them the second largest stock holder of MSTR after Jack Dorsey's Square.
Miners accumulating
After a period of heavy selling in June, miners are once again accumulating. This means fewer bitcoin hitting markets and putting downward pressure on prices. Bitcoin inflows to exchanges have hit a 50-day low. However, around 40,000 bitcoin is due to be released from a six-month lockup in the Graysacle Bitcoin Trust this month, including 16K on July 18 alone. While some think this will increase selling pressure, this pressure could only come from other market participants fearing what they possibly don't understand, as Grayscale cannot sell BTC (except for management fees), even when GBTC is unlocked and sold. Grayscale this week received SEC approval for its Digital Large Cap Fund.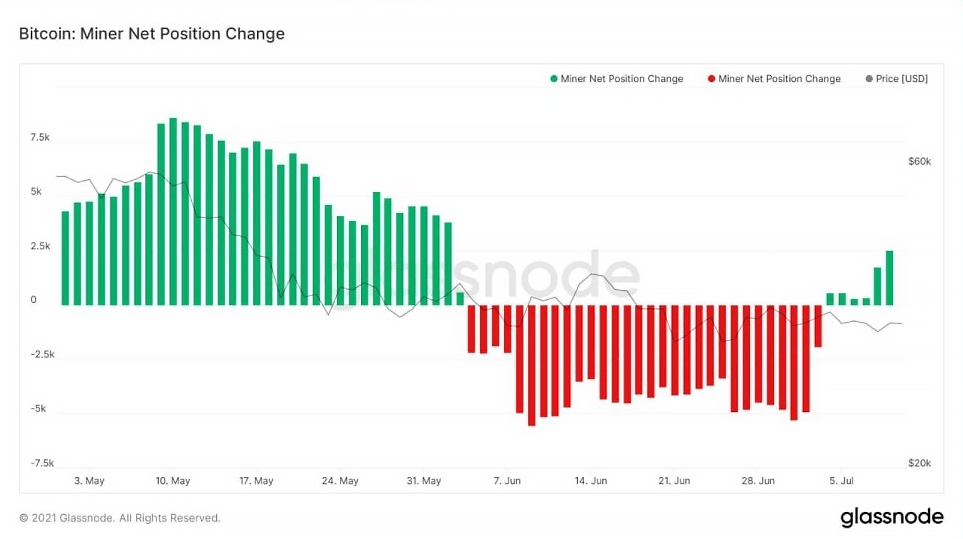 Stock model say no
The famed Stock to Flow model says Bitcoin should be trading above US$83K (A$111K) but it's actually trading closer to US$33K (A$44K). "We're literally closer to $0 than we are to this fake price model used by BTC Maxi's," says the always bearish Mr Whale. While the model suggests a minimum of US$135K (A$180K) by the end of the year, the market is currently pricing in just a 13% chance of Bitcoin hitting US$100K (A$134K) in 2021.
Layer two
Synthetix founder Kain Warwick has been busy lately amassing a A$33 million property portfolio and resuming his role as the semi benevolent dictator of the project. He's just announced that the exchange will launch on Optimism on July 26, which will bring massive increases in speed and much lower transaction costs. "Transitioning Synthetix to OΞ [Optimistic Ethereum] is, without doubt, one of the most important milestones in the history of the project," he wrote. An early version of Uniswap v3 using Optimism has debuted too. While there have been concerns it takes a week to withdraw funds from Optimism back to Ethereum, new solutions like the Hop Bridge have emerged as a fix.
Ether to become dominant store of value?
Goldman Sachs upset Bitcoiners this week with a new report suggesting Ethereum's popularity as a platform could see ETH become the dominant store of value. "Ether currently looks like the cryptocurrency with the highest real use potential as Ethereum, the platform on which it is the native digital currency, is the most popular development platform for smart contract applications," the report said.
Meanwhile, Ethereum's London hard fork has been deployed to the final testnet and is due to go live on August 4. It contains the long awaited EIP-1559 which will see a base fee introduced making costs more predictable and it will also see fees burnt, potentially making Ethereum deflationary.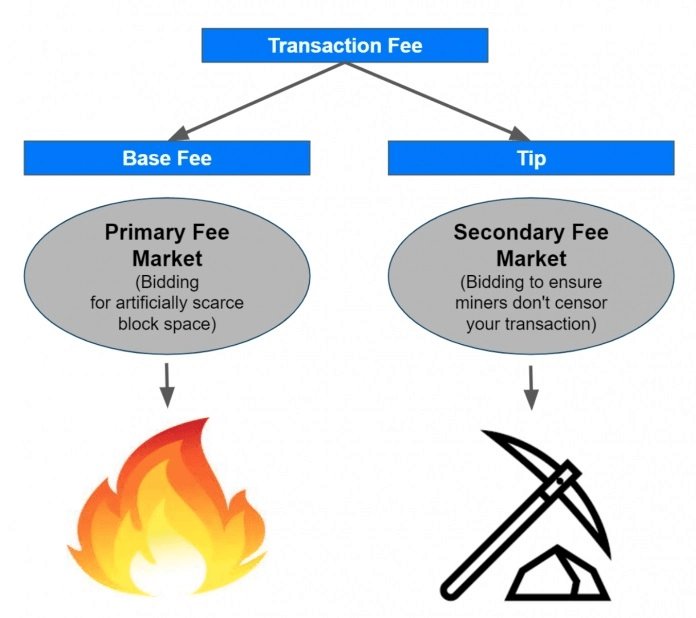 Free alpha
It took more than one thousand days for the first one million unique addresses to interact with a DeFi protocol. The second million took 143 days, while the third million occurred in the past 79 days despite bearish market conditions. By way of comparison the internet had 14 million users in 1993 and only 130 websites.
New player
Closer to home the mainstream share trading platform SelfWealth has announced it will offer 10 major cryptocurrencies to clients by the end of the year. The platform conducted a survey of 3,500 users and found 30% of respondents had already invested in crypto and another 38% intended to.
Square's hardware wallet
Executives at financial services and digital payments company Square, Inc. stated that they'll be moving ahead with plans to build a Bitcoin hardware wallet. Assembling a team to take on the project, the hardware lead, Jesse Dorogusker said in a tweet that the product is very much in the drafting stage. However, he stated that Square seeks to bring a mobile-friendly "assisted-self-custody" wallet to a mainstream global audience. Square CEO Jack Dorsey replied with: "We're doing it." Square's mainstream status would likely shine new light into Bitcoin custody and could be set to become more recognisable than even the best-known hardware wallet builders in the industry. Square is best associated with Bitcoin through its Cash App.
Bank of America's crypto research team
A behemoth of Wall Street, Bank of America has reportedly launched a dedicated research team to cover the cryptocurrency market. The new unit is to be led by Alkesh Shah, who joined the bank in 2013. The launch of a dedicated crypto research division at Bank of America comes as banks dive deeper into the industry, at one stage being avoided entirely by the upper ranks of Wall Street. Candace Browning, the bank's Head of Global Research, described cryptocurrency as "one of the fastest-growing emerging technology ecosystems." Although Bank of America isn't exactly new to the cryptocurrency space, previously tied up with Paxos' blockchain settlement platform, it also has attained dozens of its blockchain-related patents.
Until next week, happy trading!