In Markets
Bitcoin briefly topped A$50K (US$39K) this week, but it's currently 9.5% down on a week ago, and 43% down in the past month. Presently, it's trading in the region of A$43,850 (US$34K). Ethereum has fared a little better, just 3.2% down this week (and 33% this month). Elsewhere it was a sea of red: Cardano lost 9%, XRP (-17.2%), Polkadot (-6%), Uniswap (-13.3%), Bitcoin Cash (-14.7%, Litecoin (-12.9%), Chainlink (-22.1%), Aave (-11.1%) and Synthetix (-17.5%).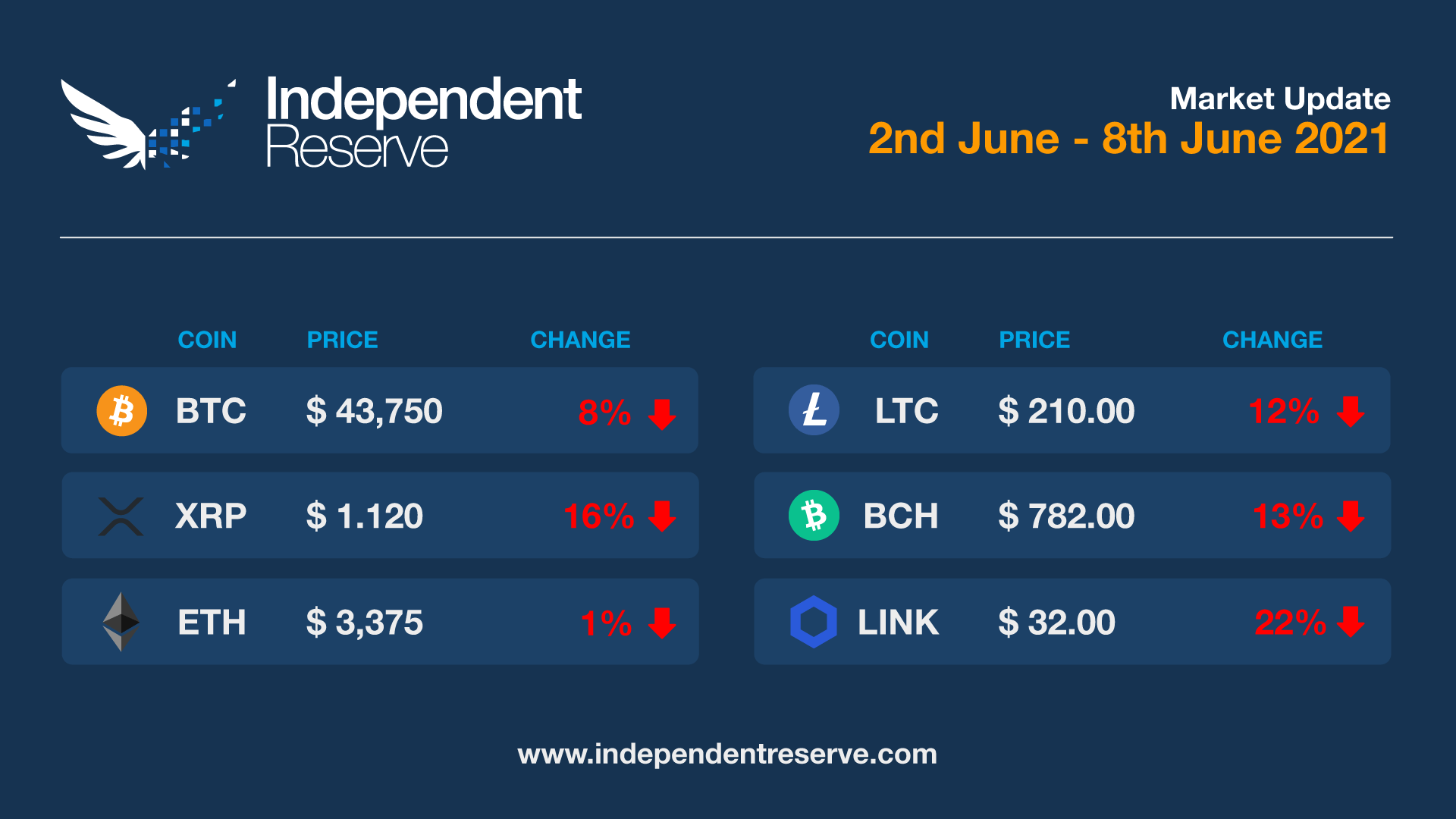 UNI and ADA trading
Trading in Uniswap and Cardano has gone live on Independent Reserve today. Uniswap is of course the most popular decentralised exchange on Ethereum, with both versions of the protocol now raking in more money in fees than the entire Bitcoin network. UNI is a governance token, so holders are yet to get returns from those fees. Cardano (ADA) is a next-generation proof of stake blockchain network founded by Ethereum co-founder Charles Hoskinson. It's gearing up to launch smart contracts in September which will enable it to compete head to head with Ethereum.
Bitcoin to become legal tender
The big announcement at this week's Bitcoin 2021 conference in Miami came from El Salvador's young new President Nayib Bukele. He revealed he will introduce a bill recognising Bitcoin as legal tender in the country, the first sovereign nation to do so.  Lightning network app Strike is a key player, with founder Jack Mallers living in the country over the past three months and reportedly onboarding 20,000 locals a day. Avanti CEO Caitlin Long says that if Bitcoin is recognised as legal tender there then banks around the globe will have to recognise it too. Soon after the announcement, Paraguay's Deputy of the Nation Carlitos Rejala suggested that the country is about to start working on an "important project" involving Bitcoin and PayPal. Both politicians changed their profile pics to feature laser eyes.
Concerns after FBI empties a Bitcoin wallet
Earlier this morning US officials announced they'd seized 63.7 Bitcoin (A$2.76M) paid as a ransom to the Colonial Pipeline ransomware gangs. The details aren't clear but the FBI said it was able to get the private key associated with the wallets, which is making markets nervous. Bitcoin lost a couple of thousand dollars following the news.  Later reports suggest the bitcoin was stopped in a Coinbase address and the FBI seized it there, which should allay any fears that the FBI have cracked bitcoin private addresses.
Billion-dollar returns
Asset manager Ruffer made US $1.1 billion dollars profit (A$1.42B) from its $600 million (A$773M) investment into Bitcoin in November last year. It took profit throughout and sold the last of its holding in April. Troy Gayeski, co-chief investment officer and senior portfolio manager at SkyBridge Capital told Bloomberg this week that Bitcoin has more upside than gold. "The mix of strategies in our broader portfolio is amplified by having a small but meaningful position in alternatives to fiat currencies like Bitcoin," he said. Despite positive stories like these, Goldman Sachs reports that Bitcoin was the 'least favourite investment' among the 25 hedge fund CIOs that attended its recent roundtable events.
Ad sense
Google has finally lifted its 2018 ban on crypto-related advertisements, at least for businesses that are registered with "FinCEN as a Money Services Business and with at least one state as a money transmitter" or are "a federal or state-chartered bank entity." ICOs, DeFi protocols, and crypto news outlets remain banned.
What Elon did this week
Elon Musk's break up themed tweets featuring a Bitcoin logo saw the price take a dive, although it wasn't as bad as on previous occasions leading to suggestions his influence on markets is waning.  That would be news to Cumrocket holders however, after the price soared 400% when he referenced the coin. An anonymous group that may or may not be Anonymous released a video threatening retribution for Elon's BTC tweets: "As hardworking people have their dreams liquidated over your public temper tantrums, you continue to mock them with memes from one of your million-dollar mansions…. You may think you're the smartest person in the room, but now you have met your match."
Bits and pieces
Veteran trader Peter Brandt thinks Bitcoin has a 70% chance of going to US$100,000 (A$129K) and a 30% chance of going to zero. Bloomberg's senior commodity strategist Mike McGlone also sees "greater potential for Bitcoin to head toward $100,000 than sustain below $20,000 (A$25.8K)." Whales are buying the dip according to Santiment: "Addresses with 100 to 10,000 BTC have added 50,000 total BTC to their wallets." MicroStrategy is raising another $400 million (A$515M) to buy more Bitcoin. China has suspended a bunch of Crypto Weibo accounts (their version of Twitter) though Chinese state-run media Xinhua News Agency has reiterated that crypto trading is not illegal there, it's just risky. Twitter founder Jack Dorsey's Square payments company is tipping $5M (A$6.45M) into Blockstream's forthcoming solar powered BTC mining facility.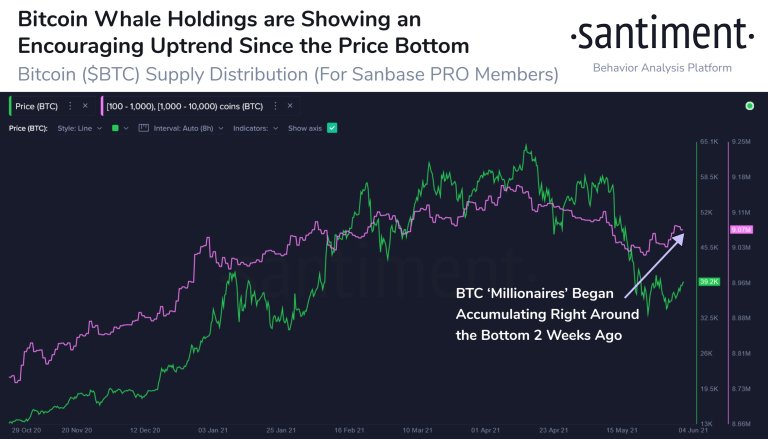 Ethereum founder Vitalik Buterin has revealed that internal conflicts had plagued the project: "One of the biggest problems I've found with our project is not the technical problems — it's problems related with people," he said. Ethereum is still up 1000% year on year and open interest on ETH derivatives products rose by 9.9% in May as open interest on BTC dropped 25.8%. The amount of ETH on crypto exchanges has reached the lowest level in more than two years according to Glassnode.
Until next week, happy trading!