In Markets
The good news is that the bad news has stopped, but is it a dead cat bounce or a trend reversal? Bitcoin is up 8% from a week ago to trade around AU$44,000 (US$31.7K) at the time of writing. Glassnode's latest report says Bitcoin true believers have been snapping up BTC at discount prices and swallowed up all of the 80K Bitcoin liquidated by the LUNA Foundation Guard. The Bitcoin Accumulation Trend score is at 0.9% which Glassnode says indicates "investor psychology shifts from uncertainty to value accumulation." Ethereum finished the week up 1% at AU$2,775 (US$1,990), XRP gained 2%, Cardano was up 11% and Solana lost 6%. The Crypto Fear and Greed Index is at 16 or Extreme Fear.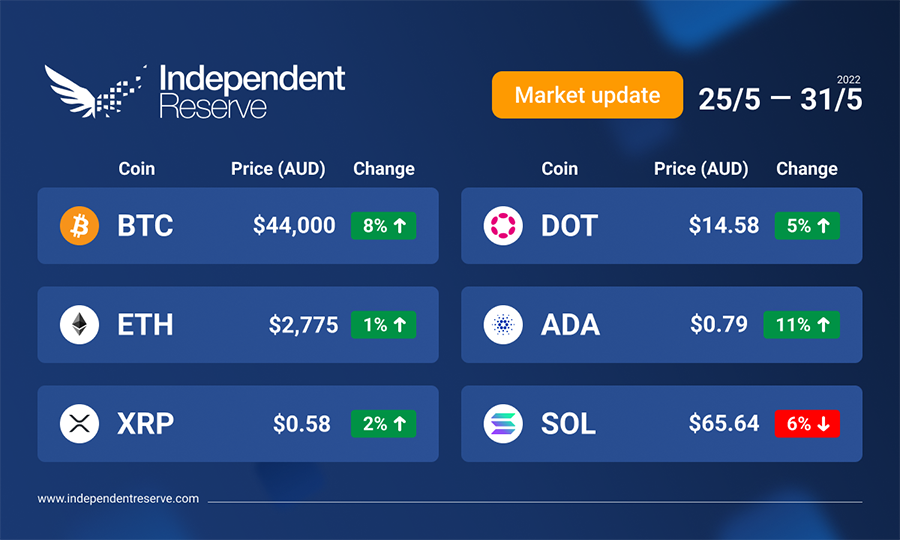 In Headlines
Supercycle theory over?
Three Arrows Capital transferred 32,000 ETH to FTX on May 30, adding to the 26,700 ETH it deposited earlier in May. One reason founder Su Zhu might be considering selling is he now thinks the supercycle theory is wrong. That's the idea that Bitcoin's four year bull run/bear market cycle has been superseded by increasing adoption and institutional investment. "Supercycle price thesis was regrettably wrong, but crypto will still thrive and change the world every day," he tweeted this week. Blockware analyst Joe Burnett also thinks the usual cycle has played out differently to normal as the China mining ban and the macro contagion prevented Bitcoin from having the usual "blow off top" above US$100K/AU$139K. "Because the top was muted, I think the bottom may already be in," he said. The next halving is in 1 year 301 days.
Supercycle back on
Alternately, the supercycle theory might be right: Just look at the institutions stepping into the breach. Andreessen Horowitz, or a16z, has unveiled a new US$4.5 billion (AU$6.26B) cryptocurrency fund that's twice the size of its last one. Investment bank giant JPMorgan also issued a reassuring note to investors putting Bitcoin's fair value at US$38,000 (AU$52.8K) and stating crypto had overtaken real estate as a preferred "alternative asset" for the bank. "Thus far, there is little evidence of VC (Venture Capital) funding drying up post-Terra's collapse," the note said. "Our best guess is the VC funding will continue and a long winter similar to 2018/2019 would be averted."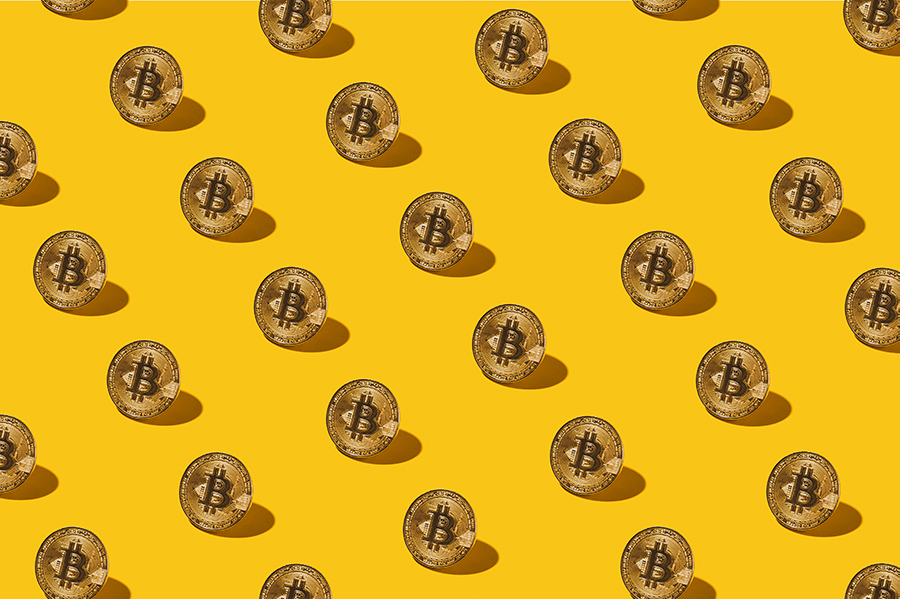 Beacon Chain reorg
Ethereum's Beacon Chain suffered a seven block reorg this week. That's the proof of stake network that the mainnet will hopefully be merged with in August. The devs suggested the reorg was due to known bugs and an update that hadn't been fully rolled out to the network, but the event obviously makes observers worried about the viability of the Merge.
New test Beacon chain launched
A new test Beacon Chain has just been launched in preparation for a trial Merge with Ethereum's longest lived proof of work testnet called Ropsten. The trial Merge will occur on June 8. Bizarrely there were reports a rogue miner tried to accelerate the Ropsten test Merge using McDonalds WiFi in one of those 'only in crypto' style events. Around 10.7% of the total Ether supply or 12,711,363 ETH has now been deposited in the "real" Beacon chain.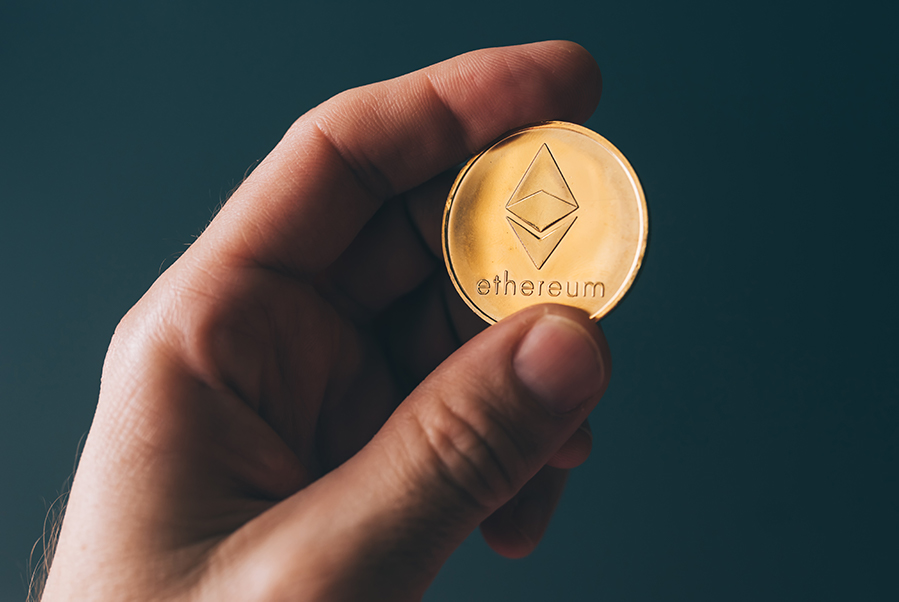 Ethereum inequality
Billionaire Bill Miller advanced his theory this week that Ethereum's forthcoming embrace of proof of stake will increase "inequality" and concentrate power over the network among large holders. He's a big Bitcoin guy though, with about 40% of his portfolio in the top crypto which he sees as "an insurance policy against financial catastrophe of one sort or another."
Terra-fying relaunch
A new LUNA token has risen from the smoking ashes of the Terra ecosystem, although it crashed by about 88% from the post launch high of US$30 (AU$42). In related news, it turns out US$90M (AU$125M) was exploited from Terra's Mirror protocol in October 2021 and nobody even noticed until now… and this morning an attacker started draining even more from Mirror due to the Oracle getting confused between the old LUNA and new LUNA prices. If doubling down on the new "improved" LUNA wasn't risky enough, TRON launched a virtually identical algo stablecoin to UST on May 5 called USDD promising 20% returns which now has a marketcap of US$602M (AU$837M).
Bits and pieces
Bitcoin network difficulty has fallen 4.3% to 29.897 trillion which is the biggest drop in ten months. Earlier in the month network difficulty had attained a new all-time high of 31.251 trillion. The number of Bitcoin addresses with more than US$1M (AU$1.39M) worth of BTC  has fallen 32.89% in seven months. The head of the Office of the Comptroller of the Currency (OCC), Michael Hsu, has said he's pushing for more bank type regulation of stablecoins in the US following the collapse of UST. He said he was worried to see contagion in the form of large scale redemptions of Tether and USDT wobbling off its peg. Billionaire venture capitalist Tim Draper is sticking by his US$250,000 (AU$347K) Bitcoin price prediction "by the end of this year or early next year" due to more women getting involved.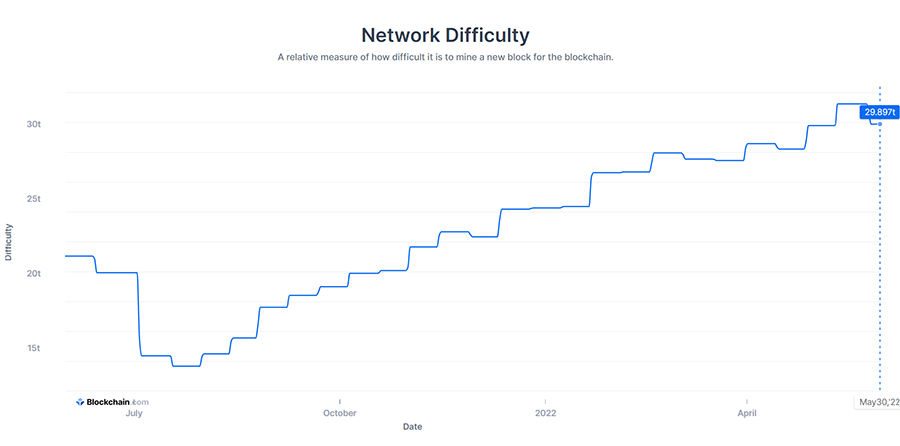 Bitcoin Network Difficulty chart | Blockchain.com