Market Update 15th – 21st January 2020
In Markets
If the past three week's gains are anything to go by, 2020 will be a big year. Despite Sunday's sharp plunge, Bitcoin is already up more than 20% this year and at the time of writing had gained 4.96% on a week earlier to trade above $12,600. BTC is currently on the right trajectory for the May halving Stock to Flow model to play out. Everything else rose substantially: Ethereum is up 15%, Ripple is up 9.3%, Bitcoin Cash (26.7%) Litecoin (12.8%) and EOS (14.9%). Bitcoin SV (69.65%) has been on a rollercoaster ride, spiking on reports Aussie Craig Wright has the keys to unlock Satoshi's BTC billions, then plunging after his lawyer said he doesn't. It has spiked again in the past 24 hours. Wright is now claiming he is "99.9999% certain" he'll get the BTC.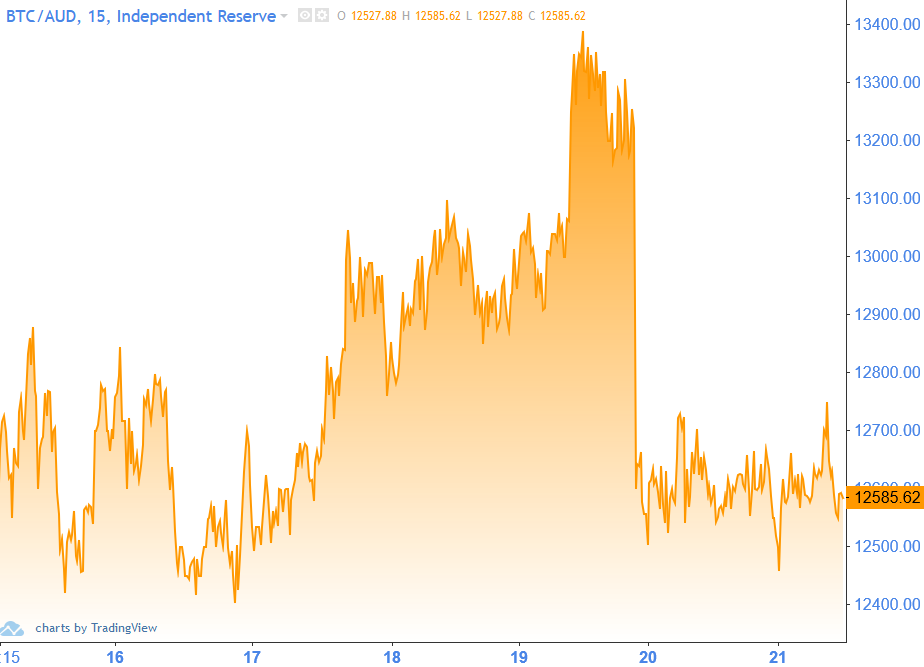 Source: Independent Reserve Bitcoin/AUD chart
In Headlines
The only way is up
Veteran trader Peter Brandt called the all time high correctly, and now he's called the market bottom. "They all now want to sit and buy a break back to [US] $6000 or $5000 and they've missed the bottom – and during that bottom you had a lot of people accumulate with strong hands. The weak hands are out, the strong hands own it," he said. Brandt also said that 'anybody' should have at least 10-20% of their portfolio allocated to Bitcoin.
Hosing down unrealistic expectations
Crypto trader Josh Rager is trying to damp down unrealistic Bitcoin price targets of $100,000 to $1 million (in US dollars). He told his 63,000 Twitter followers that Bitcoin will only hit $75,000 to $85,000 this cycle. "The next Bitcoin peak high will not be as high as most people think… Simple rate of return will show you bottom to peak return reduces by around 20% each cycle. In my opinion, next high hits $75k to $85k." In Australian dollars, that means BTC trading at $109,000 to $124,000.
Guard your seed phrase carefully
Goldbug Peter Schiff lost just under $3000 worth of Bitcoin this week, after his password stopped working. It's an excellent case study in what not to do: Schiff used a 'simple numeric password' he's used 'many times' before and forgot to safely store his seed phrase to recover access. CZ from Binance courted controversy by saying the incident shows it's safest for most users to keep their crypto on an e xchange. Independent Reserve users can of course insure their Bitcoin held on their exchange wallet through a premium account service. The insurance protects premium account holders against hacks and theft – though not against terrible password security.
CME Bitcoin options show promise
CME Group's Bitcoin options launched on January 13 and immediately overtook the volume of Bakkt's Bitcoin options which launched a month earlier. On January 17 CME saw 610 Bitcoin options traded.
Voice blocked from EOS
Voice, which is Block.one's long awaited social media application, will not launch on EOS when the beta version goes live on Valentine's Day. The Block website speculates this could be down to Block.one not wanting to risk its $218 million investment by launching on EOS, which has been suffering congestion issues.
Bitcoin mining revenue falls slightly
Revenue from Bitcoin mining dropped slightly in 2019 to an estimated $7.27 billion, down from $7.65 billion the year before. The vast majority of the revenue ($7.11 billion) came from block rewards, with the rest from transaction fees.
Confirmed: crypto users smarter and better off than average
A new analysis of 10,000 crypto users across 19 European countries has determined the average crypto enthusiast is a successful 35 year old lawyer named Umberto who lives in Milan and pursues his Bitcoin obsession at night. The analysis found 77% of crypto users are men, 23% women, and are commonly overachievers, who are most likely to be lawyers, accountants and economists, followed by students.
Independent Reserve Trading Desk