Market Update 29th April – 5th May 2020
In Markets
The Bitcoin price has been on the move in the lead up to next week's halving, with BTC up 15.1% on a week ago to trade just over $14,000. Altcoins have increased to a lesser extent: Ethereum was up 6.6%, XRP (11.4%), Bitcoin Cash (2%), Bitcoin SV (6.8%), Litecoin (7.1%), EOS (2%). Stellar increased another 10.6%, bringing its gains for the month to a hefty 68%.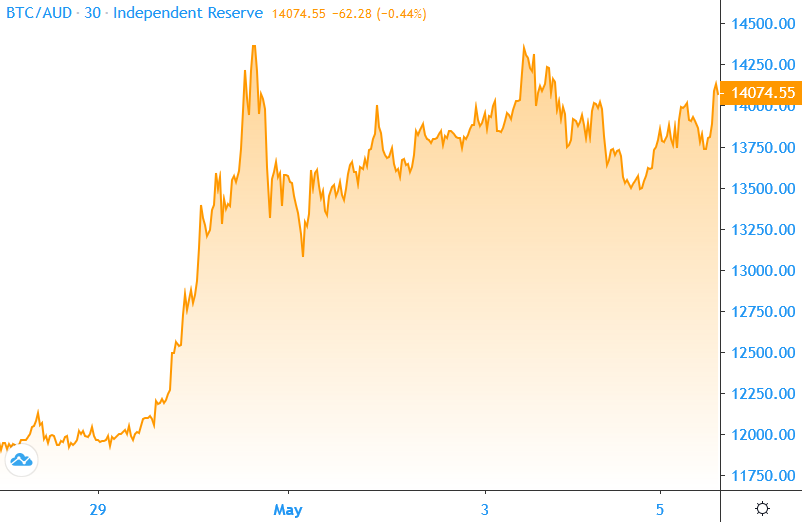 Source: Independent Reserve Bitcoin/AUD chart
In Headlines
Australian CMC users up 158%
CoinMarketCap's report on user trends for 2020 shows a whopping 158% growth in CMC users from Australia. The number of female users also increased 43%, and the number of 18-24 year-olds using the site climbed 46%. CMC, which tracks the market capitalisation of cryptocurrencies and ranks exchanges on various metrics, is the 569th most popular website in the world.
DeFi volume rising fast
Despite some high-profile hacks and attacks this year, Decentralised Finance (DeFi) is growing exponentially. Four months into 2020 and total DeFi volume on Ethereum topped $3.1 billion – closing in fast in the $3.73 billion that Decentralised Exchanges saw in the whole of 2019.
Good news
The yearly moving average price for Bitcoin is closing in on a new all-time-high. The Bitcoin price may still be half of the peak it reached in December 2017/January 2018 – but that suggests a higher average price this time around is more sustainable. Bitcoin is up around 21% year to date, which outshines the 12% gain for gold, and is miles better than the 12% loss on the S&P500. Crypto sentiment on Twitter has reached its highest level since July 2018 according to The TIE… however the overall number of people discussing Bitcoin on Twitter is a measly 12,000.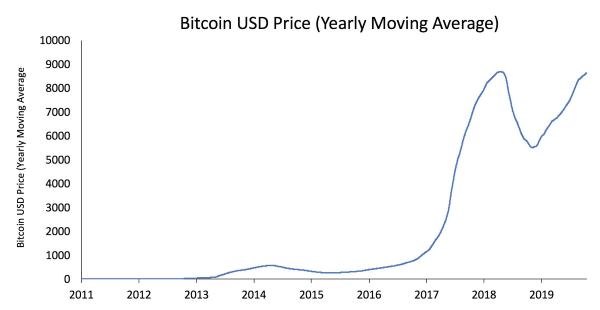 The halving approacheth
The Bitcoin halving is expected next Tuesday, with the block reward that miners receive halving from 12.5 coins to 6.25. The hash rate may take a hit: the BCH, BSV and LTC halvings all saw an exodus of unprofitable miners. However, Bitcoin's hash rate is up 90% in the past six weeks to a record high of 142 exahashes per second – which means that even if half the miners drop out in the next month, the network will still be highly secure. The impact on the price is hard to predict: in 2012 the price motored along steadily after the halving, while in 2016 it took a sharp dive. But in both instances, it hit new record highs 12-15 months later.
Global investment bank says buy Bitcoin
Jefferies Global Head of Equity Strategy Chris Wood told investors to buy Bitcoin ahead of the halving in the latest edition of Jefferies Greed and Fear. He wrote the halving "should increase upward price pressure assuming demand for Bitcoin continues to grow, as was the case after the previous halving in 2012 and 2016."
Ethereum hits 10 million blocks
The Ethereum network has just mined its ten millionth block after 1740 days of existence. A single modern graphics card would take 150 million years to do the same. Co-founder Vitalik Buterin said this week the upcoming Eth 2.0 upgrade will see ETH issuance cut from 4.7 million a year to a maximum of 2 million a year – and it's likely to be even lower than that. If you add in the amount of Eth that may be staked on Eth 2.0 (some estimate around 30%), then ether looks like becoming a lot more scarce in the years to come.
XRP kicking goals
Transaction volume tripled in the first quarter on Ripple's On-Demand Liquidity payments network – which uses XRP for cross border payments. Ripple has also stopped dumping its XRP onto the market to shore up its balance sheet, with the 'Q1 2020 XRP Markets Report' showing it sold just US$1.75 million in the first quarter, down from $890m in Q1 2019. Co-founder Jed McCaleb (who now runs Stellar) is still selling off 54,215,405 million XRP a month however, and has more than 4 billion left to sell.
Exotic TA indicator of the week
The 'Parabolic Stop and Run Reversal Indicator' has flipped to bullish according to trader Nunya Bizniz. On six previous occasions when it flashed green Bitcoin shot up – such as at the start of 2019 when the BTC price increased by more than 300%, and in 2017 when it flipped bullish numerous times across 2017's 2000% bull run.
Until next week, happy trading!
Independent Reserve Trading Desk