In Markets
The two-week bear market is now just a memory, with Bitcoin up 5.5% on last Tuesday to trade above A$73,400 (US$56,850). But it's Ether that's been attracting all the attention, up by 12.4% in the past day and more than a third since last week to trade at A$4,360 (US$3,375) at the time of writing. Ether prices have quadrupled this year and appreciated roughly twice as fast as Bitcoin. Everything else was up substantially: Ripple (10.4%), Polkadot (8.2%), Litecoin" (16.9%), Bitcoin Cash (19.3%), Chainlink (18.8%), Stellar (12.5%), EOS (17.1%) — which is on the verge of being flipped by AAVE (26.3%) — and Synthetix (14%). Bitcoin dominance has fallen to 46.4% (in the last bull market dominance fell all the way to 32%). The Fear and Greed Index has recovered from 27 (fear) last week to 61 (greed) today.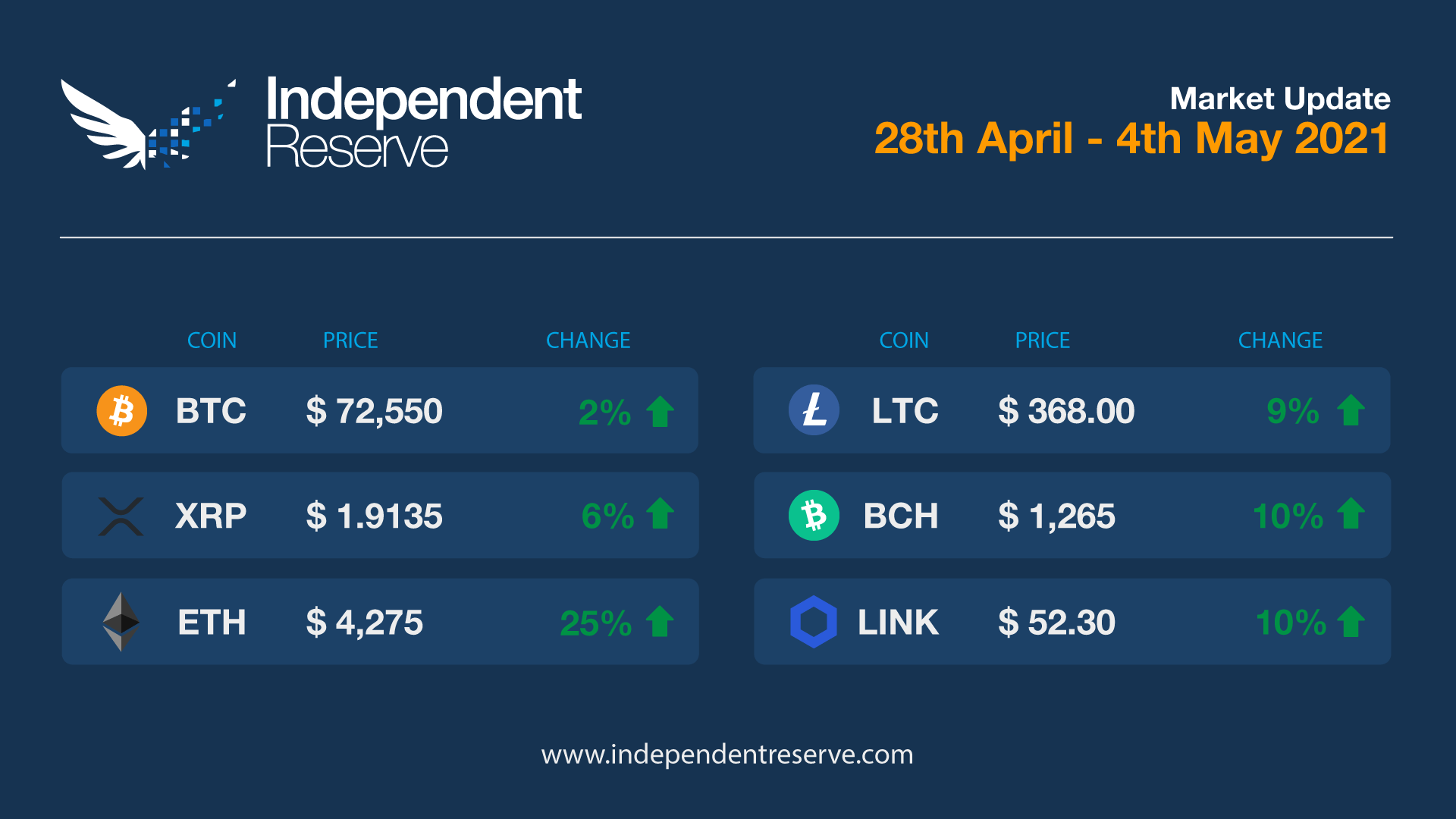 In Headlines
So much good news #1
The bullish news is coming thick and fast: in the past 24 hours it was revealed that Paypal is exploring launching its own stablecoin and eBay is considering adding crypto as a payment option. It's also "exploring opportunities" around NFT sales and auctions. These days such announcements have become almost routine: Ikogai Asset Management collated 42 such bullish announcements from April alone in its latest update. "Apologies for the nine-point font, but it was necessary for April," wrote founder Travis Kling. "Don't blink folks. You'll miss out on the most rapidly advancing ecosystem on planet Earth."
Ether to the moon
Ether has just notched up eight months in a row of green — something that's never happened before. The incredible price appreciation has seen co-founder Vitalik Buterin become the second youngest billionaire in the world, and ETH become the 24th largest asset in the world, just behind Walmart but ahead of Mastercard and Bank of America. With a market cap above half a trillion dollars Australian it's worth more than Bitcoin was at the peak of the 2017 bullrun. With the EIP-1559 fee overhaul coming mid-year, closely followed by layer two scaling and the Eth2 merge, Ethereum's bull run looks set to continue, with Fundstrat targeting a US$10,000 price. Trader Crypto Cobain said in a podcast this week that "the Flippening is now inevitable" (where ETH's market cap overtakes Bitcoin's). Bloomberg's ETF correspondent Eric Balchunas tweeted this morning that Grayscale's Ether Trust had seen record volume today of A$555M. "If it were an ETF it would rank in the top 2% most traded," he said, noting the ETHE market cap is around US$10B (A$12.9B) compared to the US$32B (A$41.3B) in GBTC. Founder of CoinStats, Narek Gevorgyan, said ongoing bullish factors for ETH include the popularity of DeFi and NFTs helping make Ethereum the most used blockchain in the world, and the fact that more than half the top 100 coins by market cap are built on Ethereum.

Ethereum goes continental
One of the catalysts for Ether's big move was the European Investment Bank, aided by Goldman Sachs, Santander and Societe Generale, issuing a 100M Euro digital bond (A$155M) on the Ethereum network. Banque de France later revealed the settlement tested out a central bank digital currency.
Senate committee backs blockchain
An Australian Senate committee has recommended the establishment of a blockchain based national land registry and called for clearer regulations governing smart contracts. The second interim report of the Select Committee on Australia as a Technology and Financial Centre produced 23 recommendations, five related to blockchain. In future the committee will look into capital gains tax in relation to crypto, along with CBDCs and stablecoins.
Taproot upgrade
Bitcoin's Taproot upgrade will be the biggest in years, making multi-signature transactions cheaper, easier and more private, as well as helping the network to scale. Nine out of ten miners need to signal support for the upgrade by August and it was widely expected to be waved through. Current signaling leans a lot more red than green, however Bitcoin Magazine says it's more complicated than that.
Bits and pieces
S&P Dow Jones Indices launched its first three crypto indexes, SPBTC, SPETH and SPCMC. 60 Minutes covered crypto, you can watch it here. Bitcoin closed the month of April 1.98% down, the first April in the red since 2015. Bitcoin miners raked in A$2.2B in revenue during the month, slightly down on March's figures.  Venture capital giant Andreessen Horowitz is looking to raise a new fund of up to A$1.3 billion to invest in cryptocurrencies and crypto start-ups. Japanese gaming giant Nexon has become the 36th listed company to tip money into Bitcoin, snapping up A$129M worth. Messari reports that DeFi protocols have lost more than A$366 million to exploits so far. The third iteration of Uniswap launches on May 5. The Smart Bitcoin Cash layer two testnet has launched. It's essentially a Bitcoin Cash sidechain enabling smart contracts and DApps. Eth2 is 3600X more energy efficient than Bitcoin, according to Rocket Pool contributor Joe Clapis who ran 10 validators for 10 hours on his front lawn using a power bank and a hard drive connected to a Raspberry Pi.
Enthusiastic for 27,000% gains
Messari's Ryan Selkis believes we've entered the 'Enthusiasm' stage of the bull market, which closely follows the 'Media Attention' phase, but comes before 'Greed', 'Delusion' and 'New Paradigm' before the whole thing crashes back down to 'Despair' and repeats. Trader and educator Rekt Capital is certainly enthusiastic, pointing out that the market cap of altcoins has flipped its previous cycle high to support. "Last time Altcoin Market Cap turned its old 2014 highs into support… It rallied +27,000% in over a year," the account noted. That would make the altcoin market worth A$197 trillion which certainly would be a 'New Paradigm'.
Until next week, happy trading!