Market Update 20th – 26th November 2019
Welcome back to another Australian crypto market update.
In Markets
Bitcoin has entered one of its regular nerve-testing periods of volatility. After dipping below $9800 earlier today, it recovered to $10,700 at the time of writing. It's currently down 13.4 percent for the week and 22.1% for the month. While most of the top ten was in the green this morning, they're all down significantly for the week. Ethereum (-18%), EOS (-20.5%), XRP (-13.7%), Bitcoin Cash (-16.1%), Litecoin (-18.5%) and Stellar (-14.7%). The Fear and Greed index is at 17, or 'extreme fear'. At times like these it's worth remembering that good traders don't make emotional decisions and they stick to their plans.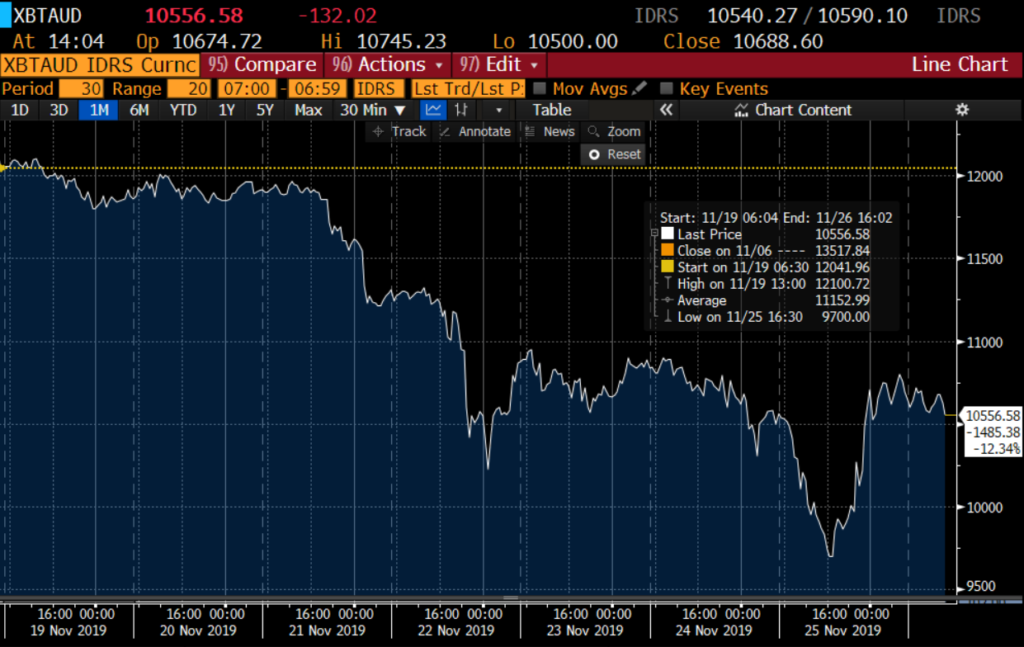 Source: Independent Reserve Bitcoin/AUD chart on Bloomberg
In Headlines
China drags down bitcoin price?
While opinions vary, most pundits think Bitcoin's price drop is related to news coming out of China. Anyone who bought in the hope that China's newfound enthusiasm for blockchain would translate over to crypto would have been sorely disappointed. This week state run media called cryptocurrencies 'illegal ponzi schemes' and authorities announced they'd shut down 173 crypto exchanges operating within its borders. The authorities may, or may not, have also visited an office in Shanghai and spoken with people who may, or may not, be Binance employees. The Block characterized this as a "police raid" that forced Binance's Shanghai office to close. Binance's furious CEO CZ thinks the 'fake news' contributed to the market turmoil and he's vowed to sue.
Futures markets love Bitcoin price turmoil
The price crash coincided with investors piling into Bakkt Bitcoin Futures, which hit a new all time high of 2728 BTC futures contracts traded in a day. That's more than $30 million traded, breaking the previous record earlier in the month by 30%. It'll come close to matching that volume today. Volume on CME Bitcoin Futures (settled in cash rather than BTC) nearly doubled on November 22 as well, to more than 11,500 contracts worth 5 BTC each. November's previous high was just 6300.
So what happens next?
Respected trader Peter Brandt thinks a reversal is possible but it's more likely the Bitcoin price will bottom out around $8100 (US$5,500) in July 2020, before going on a bull run. Bitcoin maximalist Tone Vays is tipping $6650 (US$4500), Morgan Creek's Anthony Pompliano thinks there will be 'blood on the streets' but maintains a $148,000 (US$100K) price target. eToro analyst Simon Peters said a 'death cross' based on the exponential moving average happened in the last few days and could foreshadow a 60% drop. But Plan B, whose popular stock to flow model predicts a massive BTC halving price spike, is still optimistic. "Some people panicking about this -17% week. It's just normal #bitcoin behavior. Note we are still up 2x YTD. And yes, S2F model is just fine, nothing out of the ordinary."
Independent Reserve grows 576%
Independent Reserve has taken out the 13th spot in the Deloitte Technology Fast 50. IR saw growth of 576% and with so many new features, and even more updates in the pipeline, we're looking forward to an even bigger 2020.
Bitcoin core upgraded
The 19th update to the Bitcoin Core software client was released this week with a variety of bug fixes and performance improvements. The most noticeable change for punters is that the 'Bech32' address format is now the default. These begin with 'bc1' and are more easily identifiable as Bitcoin.
$295 million Bitcoin Cash fund
Roger Ver's Bitcoin.com has announced a $295 million investment fund to boost Bitcoin Cash adoption. The company also hopes to have BCH futures up and running on a regulated exchange in the first quarter of 2020.
DEXs and DeFi grow stronger
Dune Analytics reports that the weekly trading volume of Decentralised Exchanges (DEXs) such as Uniswap and Kyber is up 145% this week. And the amount of Ethereum stored in decentralised finance (DeFi) applications has hit a new record of 2.7 million Ethereum. That's up from 55,000 ETH at the start of the year and shows surging demand for lending and derivative platforms like Maker and Compound.
Blockchain is the cheapest way to move money
Bitcoin and Ethereum have both demonstrated this week they're great ways to move around large amounts of money for next to nothing. Someone moved $52 million Ether for 10 cents and an even bigger whale transferred 46,000 BTC worth around half a billion dollars for a total fee of 59 cents.
Until next week, happy trading!
Independent Reserve Trading Desk