Market Update 1st May – 7th May 2019
When Independent Reserve was launched in 2013, the team set out to provide a pro-regulation platform for Australians to securely trade, invest and hold cryptocurrencies. Over the last few months with the crypto markets putting in a strong showing, we are pleased to report that our approach and expertise have enabled over 100,000 clients to invest in cryptocurrencies with confidence while benefiting from numerous trading features we have built. In this email, we would like to introduce our periodic market update from the IR Trading Desk to keep you informed about the most significant crypto market news.
In Markets
After successive months of strong gains from crypto, all signs suggest the markets have finally emerged from the crypto winter. Spring appears to have sprung with the price of Bitcoin surging by 7.6 percent on Friday to establish a new high for 2019 above $8400. The king of crypto has staged a remarkable 82 percent recovery so far this year. A few hours before the price spike, Factor Trading author Peter Brandt tweeted his prediction that BTC will soon hit US$19,800. The surprising part of the price spike is that it comes a midst fear, uncertainty and doubt over Tether's reserves (but it's possible the markets have become so used to USDT behaving badly they've priced it in already). The market cap is now above US$100 billion, Ethereum rose 12 percent, while Bitcoin Cash surged an astonishing 21%. In fact it was a good week for the entire top ten, XRP was up almost 35, EOS jumped 9%, Litecoin increased 11.3% and even Stellar was up 1.07%. Some from the crypto community have noted that the last time the market cap was this large, BTC topped 20 grand in the space of a few weeks.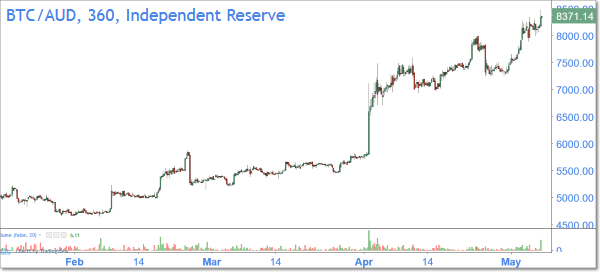 Bitcoin's price over the last 6 months has increased by ~80%
Looking back on the past financial year
It has been a big year for crypto. From the all-time high in early 2018, the markets plummeted to lows around November last year thanks to an ill-advised hash war due to the Bitcoin Cash fork. 'Fake Satoshi' Craig Wright decided to sue everyone that called him 'fake Satoshi' and IEOs took over from ICOs and sent the price of exchange tokens skyrocketing. We also learnt that the vast majority of crypto volume is faked, with the real volume around US$273 million per day and not the $6 billion that CoinMarketCap reports. The institutions arrived in a big way with Facebook and Samsung developing their own coins, Nike is working on a cryptocurrency and a marketplace called Cryptokicks. Investment bank JP Morgan also entered the fray with its XRP competitor JPM Coin.
Headlines
Bitcoin prices move in cycles
eToro crypto analyst Mati Greenspan told the Express.co.uk this week that the Bitcoin bust and boom price cycle has happened at least five times before. "Once that bubble bursts and people start selling out, that is when we see the real industry growth and then the cycle starts to repeat itself," he said. "If that happens again, we would be looking at a price of $50,000 or $100,000 in the next run – as long as the cycle continues. I am not saying whether it will or not but in my mind bitcoin has the potential to do another five or six cycles before it reaches full market penetration."
United States the most crypto obsessed country
New research from DataLight suggests the US is the most crypto obsessed country on earth with more than 22 million traders. The next in line is Japan with 6 million followed by South Korea with 5 million. Australia is at number 13 on the list with 1.75 million traders.
End of the financial year
Independent Reserve is constantly working to remove barriers to trading in crypto such as reporting, tax calculations and security. With tax time coming, Independent Reserve has developed a tax tool in conjunction with KPMG to make tax calculations much easier. Check it out here.
Wealthy investors will back crypto
deVere Group surveyed 700 of its clients with more than $1 million invested and reports that 68% of high net worth investors planned to put money into Bitcoin or other cryptocurrencies in the next three years. Nigel Green, founder and CEO of deVere Group said: "There is growing, universal acceptance that cryptocurrencies are the future of money – and the future is now. High net worth individuals are not prepared to miss out on this and are rebalancing their investment portfolios towards these digital assets… Crypto is to money what Amazon was to retail. Those surveyed clearly will not want to be the last one on the boat."
自2013年成立以来,Independent Reserve 团队一直致力于为澳大利亚客户提供一个 最安全的平台,以安全地交易、投资和持 有数字货币。随着过去几个月中加密市场 强势的增长势头,我们高兴地报告,超过 十万名客户在我们的专业知识和方法的帮 助下,自信地投资于加密货币,并从我们 建立的众多交易功能中受益。本期电邮简 讯根据 IR Trading Desk定期更新市场情报 ,让您了解最重要的加密货币市场新闻。
市场资讯
加密市场在经历连续几个月的强劲涨势后 ,所有迹象表明"加密冬天"已经结束。比特 币的价格在上周五飙升了7.60%,创下 2019年的新高峰,达到8400澳元以上的高 位,"春天"似乎已初露端倪。这一加密货币 之王今年到目前为止使加密市场总资产的 恢复率达到了惊人的82%。就在价格飙升 前几小时,Factor Trading的作者 Peter Brandt发布推特,预测比特币将很快涨至 19800美元。在一众价格飙升中由显突兀 的是人们对泰达币的现金储备是否充足的 担忧、不确定、以及怀疑(但可能市场已 经习惯了泰达币的糟糕表现,并且已经将 其定价)。目前市值已突破1000亿美元, 以太坊上涨12%,而比特币现金上涨了惊 人的21%。事实上,这一周排名前十的加 密货币集体表现良好,瑞波币上涨近 35%,柚子币上涨9%,莱特币上涨 11.3%,甚至Stellar也上涨了1.07%。部分 加密社区人士注意到,上一次市值如此之 大时,比特币价格在几周内就突破了2万美 元。
That's all from us. Happy trading!
Independent Reserve Trading Desk