Market Update 2nd July – 9th July 2019
Welcome back to another Australian crypto market update.
In Markets
Since dipping to $14,000 last Tuesday, Bitcoin spent much of the week in the $16,000s before making a sharp 7% gain over the past 24 hours to trade above $18,000 (at the time of writing). Bloomberg is now tipping "a breakout". Ethereum is up almost 9% over the week, as rumours abound that CME will soon launch an ETH futures market. XRP gained 1% and the rest of the top ten were all up, LTC (3.32%), BCH (2.8%), EOS (2%). Stellar increased by 1.5%.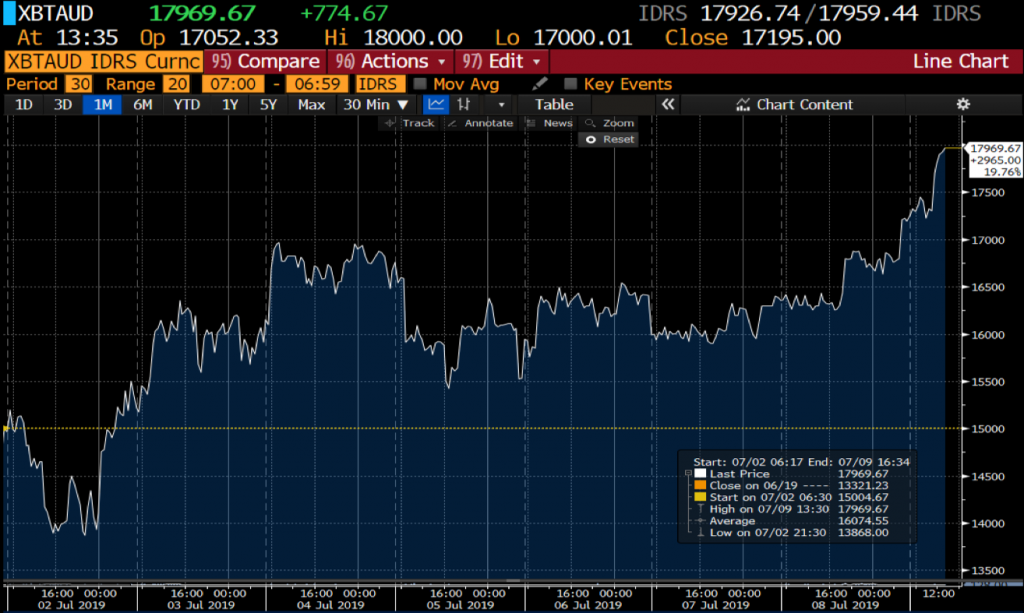 Source: Independent Reserve Bitcoin/AUD chart on Bloomberg
In Headlines
Bond, Bitcoin bond
Two European companies, Argento and London Block Exchange, have launched what they describe as the world's first genuine Bitcoin (BTC) bond. It's regulated by the UK's Financial Conduct Authority (FCA). The announcement comes hot on the heels of news the US derivatives exchanges LedgerX and ErisX have been approved by the US Commodities Futures Trading Commission to offer physically backed Bitcoin futures.
Bitcoin hash rates hits ATH, but daily active addresses fall
Since January the hash rate has more than doubled to around 75 exahash per second, showing miners are increasingly investing resources into the network. However, the number of daily active addresses has fallen to 655,000 – lower than on April 1 when Bitcoin was trading for $5800.
US Congress tells Facebook to cease and desist
The US Congress sent a sternly worded letter to Facebook telling it to "immediately cease" work on Libra until lawmakers had time to consider its ramifications for "global financial stability".
67% of altcoins still 90% down
Investors who bought altcoins in January 2018 are still under water with around 67% of the top 169 altcoins 90% or more down from their all-time highs. That means 7 in 10 altcoins could gain 1000% from this point on, and STILL be worth less than they were at their all time high.
Price and project analysis on OMG
Brave New Coin has released a detailed price and project analysis for OMG, which is listed on IR. One of the original ICO 'unicorns' to hit a billion dollar market cap, the price is currently well below its all time high of over $30. But it's up 79% so far in 2019 and BNC has a price target of $6.74 (US$4.70).
New online tools
The University of Cambridge has produced a new online tool that estimates the power usage of Bitcoin in real time (enough to power all the tea kettles in Europe for 1.5 years). The FTX Global Volume Monitor shows the daily percentage of fake volume on crypto exchanges – today it's fallen one point to 74.3%.
Bitcoin sentiment positive, Libra negative
Around 61.5% of Tweets about Bitcoin are favorable according to research from The Tie. By contrast, 55% of tweets about Facebook's Libra coin are negative.
STOs raise a billion, with a billion more to come
Security Token Offerings have raised more than US$1 billion so far according to research from BlockState. Eighty-three STOs will be launched this year, with 75% coming from the USA, Switzerland, Germany, UK and Estonia. In related STO news, Latin American investment bank BTG Pactual has partnered with Dubai asset management firm Dalma Capital on a plan to raise US$1 billion through STOs on the Tezos blockchain. That's all from us. Until next week, happy trading!
Independent Reserve Trading Desk
澳大利亚交易平台