Market Update 9th – 16th July 2019
Welcome back to another Australian crypto market update. The US President, Congress, Federal Reserve and Treasury all weighed in on Bitcoin this week. If nothing else, it shows the original cryptocurrency has well and truly entered the mainstream.
In Markets
It's been a week of pullbacks across most crypto markets. A week ago we touched AU$19,000 before a series of drops saw BTC plunge back to a little over $14,000 yesterday. Since then a mini recovery has seen us back up to $15,900. BTC dominance is at 66%, the highest since April 2017. Bitcoin was actually the best performing currency in the top ten – it's only down 11.3%. Most altcoins are down 21% (XRP) to 36% (Bitcoin SV). Ethereum lost 25%, Litecoin down 25%, Bitcoin Cash down 24.3% and Stellar lost 18.%. Despite the correction this week, Bitcoin's price is still up 100% since the exit of the bear market. The Fear and Greed Index topped 84 last week (extreme greed). This week sentiment has taken a nosedive to 16 (extreme fear).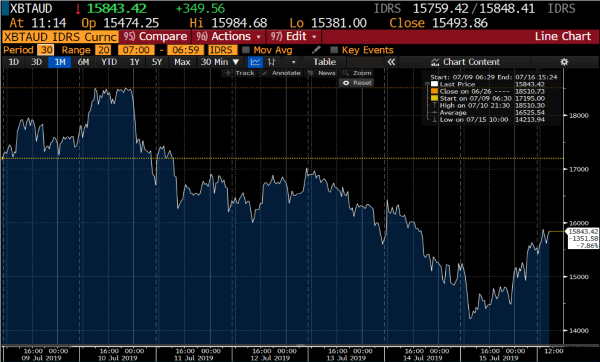 Source: Independent Reserve Bitcoin/AUD chart on Bloomberg
In Headlines
Burn baby burn
A fat fingered intern at Tether somehow issued 5.05 billion USDT on the TRON blockchain on Sunday. Within twenty minutes all but 50 million was burned. Bitcoin lost 3.5% that same hour either, a) as a result of confused trading bots or, b) Tether's cunning manipulation of said trading bots. Calls for regulation can't be too far behind.
US Government vs Bitcoin part 1
The entire US government took aim at Bitcoin this week. Trump is "not a fan" of Bitcoin which can facilitate "unlawful behavior". Federal Reserve Chair Jerome Powell conceded Bitcoin is a "store of value … like gold". Treasury Secretary Steven Mnuchin warned Bitcoin investors to "be careful" and do your own research. Still, they're all much more worried about Facebook's Libra than Bitcoin. CEO of the Goldman Sachs backed exchange Circle called Trump's comments "the largest bull signal for BTC ever". ShapeShift CEO Erik Voorhees joked, "Bitcoin is now less volatile than Donald Trump" which was funny until the Bitcoin price tanked.
US Government vs Bitcoin part 2
A draft discussion bill from House Financial Services Committee staff has circulated in congress aiming to ban any tech company with more than $35 billion in revenue from creating their own digital currency.
Google search fall a good thing
Fundstrat's Tom Lee says the 45% fall in Google searches for Bitcoin since June's peak, is positive: "It means the rise in Bitcoin has not been accompanied by massive hype." CZ from Binance says around 60% of the market remains driven by retail investors.
Hash rate and the Bitcoin price
The Bitcoin hash rate hit a record high recently, with 13.11 EH/s over 30 days the highest growth in history. But does the hash rate influence the price? Outspoken Bitcoin advocate Max Keiser claims the BTC price follows the hash rate, but Christopher Bendiksen from CoinShares argues the hash rate follows by incentivising miners to throw more resources at mining blocks. Brave New Coin says we'll need ten more years of data to conclusively say one way or the other. However, there is a relationship between the two, so it's worth keeping an eye on.
Until next week, Happy Trading!
That's all from us. Until next week, happy trading!
Independent Reserve Trading Desk