Market Update 8th – 14th January 2020
In Markets
Despite the possibility of the US/Iran conflict receding, the Bitcoin price is looking healthy, up 6.5% on seven days ago to trade above $12,200 at the time of writing. Daily trading volumes have more than doubled in the past week. But Bitcoin's rise was easily beaten by Bitcoin SV, which is up a whopping 48.6% this week on wild speculation that Aussie Satoshi claimant Craig Wright might actually be able to access Satoshi's BTC billions. XRP was the only top 10 coin in the red, down 3.6%. Ethereum was up 0.9%, Bitcoin Cash (11.1%), Litecoin (9.6%) and EOS (10%). Stellar, at No.12, lost 1.1%.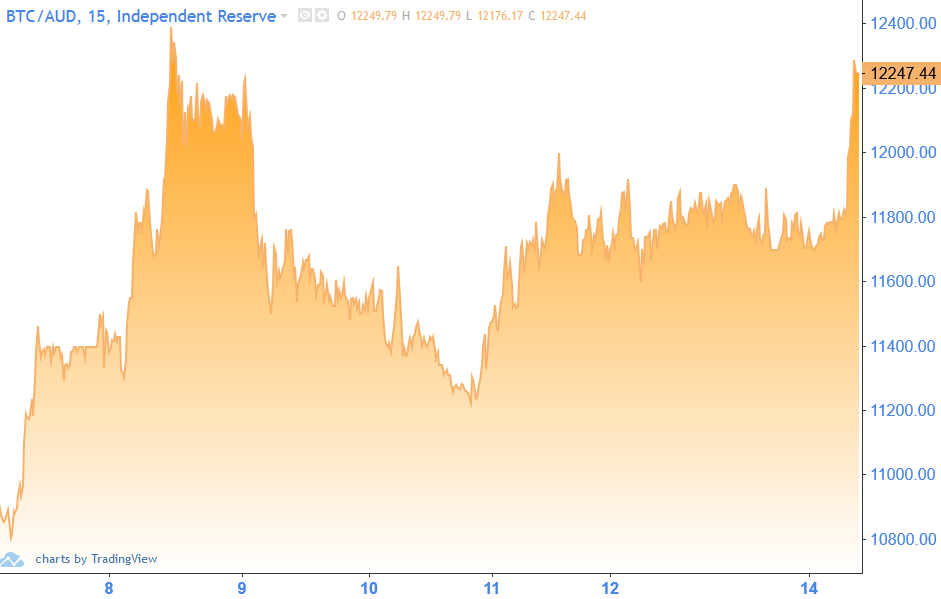 Source: Independent Reserve Bitcoin/AUD chart
In Headlines
Google interest at five month highs
Google Trends show interest in Bitcoin hitting the highest point in five months. Nigerians search for "Bitcoin" the most, followed by people in South Africa, Austria, Ghana and Switzerland.
Fundstrat's 2020 vision: a 100% Bitcoin price increase
Fundstrat's 2020 Crypto Outlook has just been released and predicts that Bitcoin will more than double in price this year. Fundstrat does not believe the block reward halving is yet 'priced in' and says the US Presidential elections and geopolitical tensions could help put a rocket under the Bitcoin price. "We see strong probability that Bitcoin gains >100% in 2020," co-founder Tom Lee said.
JP Morgan sees interest in options
America's largest bank, JP Morgan, predicts substantial investor interest in CME Group's new Bitcoin options, which has just gone live. Open interest for CME's Bitcoin futures has risen to seven month highs. "This unusually strong activity over the past few days likely reflects the high anticipation among market participants of the option contract," the bank's analyst noted. However they also said BTC is trading above its "intrinsic value" which suggests "some downside risk remains".
Correlation between Bitcoin and gold
Arcane Research says the correlation between Bitcoin and gold is at the highest point since August 2016, with the two moving in unison during the various events in the Iran/US conflict. But, Edward Cartwright, professor of economics from Montfort University in Leicester, told Decrypt that was "nothing more than a coincidence" because: "Bitcoin still seems a long way from being a safe asset like gold, property or government debt."
120 days left until the halving
Cryptocurrency analyst Nunya Bizniz has pointed out that in the previous two Bitcoin halvings, the price started to rise about four months before (i.e. about now). In 2012 it increased about 40% in that period and in 2016 it spiked around 60%. The halving, due in May, sees the block reward fall to 6.25 BTC which reduces the supply of new Bitcoin. But Messari released a report this week 'debunking' the halving: "Our findings show popular bull theories for the halving have little fundamental basis and that the event is a self-fulfilling prophecy at best."
BCH and BSV could struggle after their own halvings
Bitcoin Cash and Bitcoin SV will also face halving events in April – a month or so before Bitcoin. Some pundits, including CoinMetrics CMBI Manager Benjamin Celermajer, believe this could lead BSV and BCH miners switching to Bitcoin for the much higher block reward, which could result in the forks' "ultimate demise". The Litecoin hash rate dropped by three quarters after its halving last year.
Bitcoin stats
Segregated Witness (SegWit) transactions have hit a new all time high and now account for 62% of all transactions on the Bitcoin network. Over its lifetime Bitcoin has processed 487 million transactions worth $7.5 trillion in total and costing $1 billion in fees. The hash rate has risen 1000 times since the end of 2013 and Bitcoin miners have made around $16 billion in total. 10.7 million Bitcoin hasn't moved in more than a year.
Until next week, happy trading!