Market Update 10th – 16th June 2020
In Markets
After yet another attempt to top the psychological US$10K mark – around A$14.4K – Bitcoin dove almost $1,000 in the early hours of Friday morning and then dropped below A$13,000 earlier today. The recovery has been just as swift though and the price is currently trading around $13,600, as it has done for much of the week. Bitcoin finished the week 2.7% down. Ethereum lost 5.6%, XRP was down 5.2%, Bitcoin Cash (-6.5%), Bitcoin SV (-7.9%), Litecoin (-5.1), EOS (-8.7%) and Stellar (-10.7%).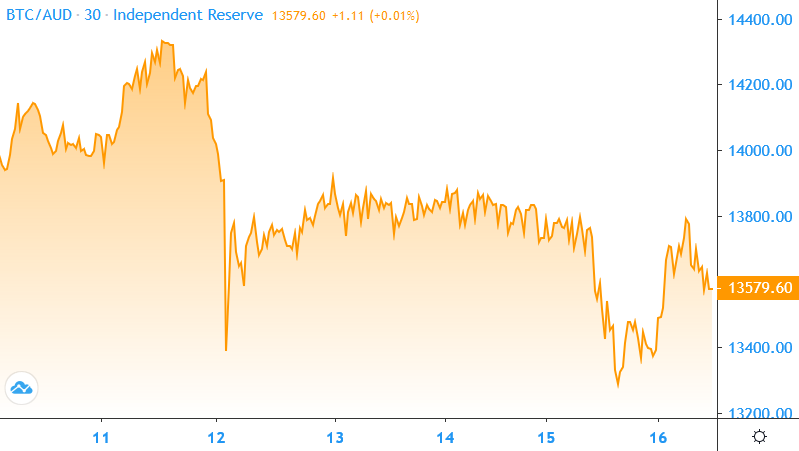 Source: Independent Reserve Bitcoin/AUD chart
In Headlines
Crashproof?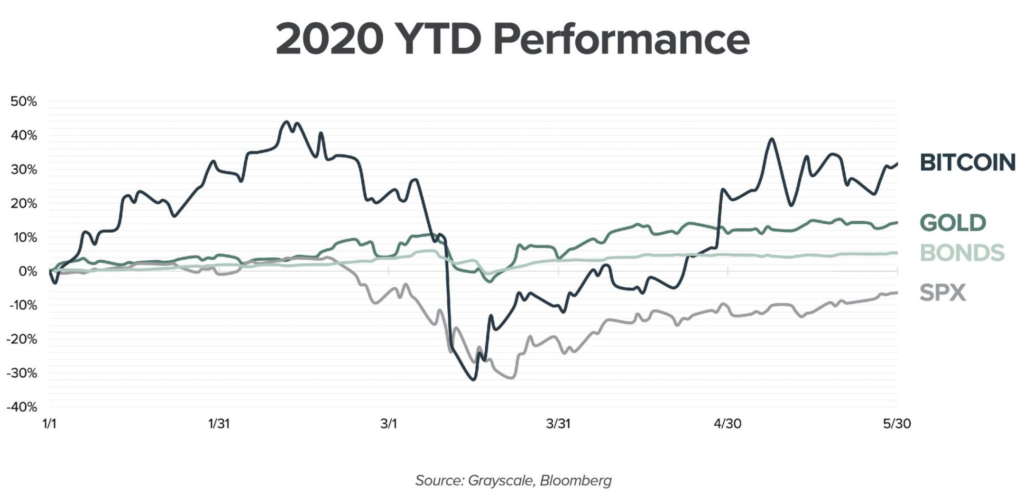 With the stock market sell off late last week mirrored by Bitcoin, many are wondering how the coin will fare in the event of another market meltdown? Despite the apparent correlation to stocks this year, the
above chart
 shows that Bitcoin has consistently outperformed stocks for most of the year. And JP Morgan this week 
released a report
 that examined the fallout from Black Thursday in March that found Bitcoin had recovered quicker than other asset classes and its market structure was more resilient than currencies, equities, Treasuries and gold.
In Bitcoin we trust
A survey by The Tokenist of almost 5,000 people across 17 countries found that 47% of respondents trust Bitcoin more than the banks. That's an increase of almost a third in three years. It's mostly driven by millennials (51%), while 93% of boomers still trust the banks more. Around 44% of millennials expect to buy some Bitcoin within the next five years and 59% of them believe BTC will see mass adoption within 10 years.
Bitcoin mining gets more difficult
Bitcoin's hash rate dropped sharply following the halving in May, as miners shut off their machines. The difficulty rate was adjusted down, and the hash rate recovered to around 116 TH/s. In two days' time however, it will ratchet up again. According to Coin Metrics it will become 15% more difficult to mine BTC, in the biggest upwards increase since January 2018.
Australians love XRP
Blockchaincenter.net has a new interactive map showing Google Trends crypto search data for each country around the world. More than 80% of searches worldwide are for Bitcoin, followed in distant second place by Ethereum at 13.7%. Russia and Ukraine are the top countries for altcoin searches while the country with the most Bitcoin Maxis is Kenya, where 94.7% of searches relate to BTC. Here in Australia, we're a Top 5 country for XRP supporters.
BTC to $50K and ETH to $7,500
Chris Burniske, a partner at Placeholder Capital, said this week it was 'inevitable' that Bitcoin would top US $50K ($72K) and that ETH would see a 3,000% rally alongside it to $7,500 ($10,800) during the next upcycle. "To the mainstream ETH will be the new kid on the block — expect a frenzy to go with that realization," Burniske said.
Litecoin 2.0
Litecoin creator Charlie Lee is talking up Litecoin 2.0 – the forthcoming MimbleWimble upgrade to enhance the coin's scalability and privacy. He said LTC will outperform other privacy coins like Monero or Z-Cash; the risk of a 'hidden inflation' bug is low, and said the fact he's a "benevolent dictator" allows LTC to improve faster than BTC: "It takes forever to get anything implemented on Bitcoin because consensus is slow […] With Litecoin if we want to do something, we can move pretty fast on it."
Bits and pieces
Around $14,055,184,644 in cryptocurrency is currently locked up in staking contracts across networks including EOS, XTZ, ALGO and DASH. $1 invested in BTC 10 years ago could buy you a luxury yacht, while the same amount invested in gold would only get you a Snickers bar. You can now buy Coca-Cola with Bitcoin at more than 2000 vending machines across Australia and New Zealand. Between them, three ETH transactions this week paid a total of $8.2m in gas fees, leading to speculation an exchange somewhere is being held to ransom.
More than three million users can't be wrong
The number of wallets containing more than 0.1 Bitcoin has now topped 3,054,282. To put that in historical context, between August 2017 to January 2018 the number increased from 1.8m to more than 2.6m. The number of ETH wallets holding more than 0.1 ETH is just under three million, which is still below the record high set in April.
Bitcoin end of town
Bitcoin adoption by the big end of town has already happened, according to a survey of 774 institutional investors from Fidelity. More than one third (36%) are already exposed to crypto assets. Six in ten believe crypto has a place in their portfolios with just 20% rejecting crypto outright. Fidelity's Tom Jessop stated: "These results confirm a trend we are seeing in the market towards greater interest in and acceptance of digital assets as a new investable asset class."
Until next week, happy trading!
Independent Reserve Trading Desk