In Markets
Bitcoin ended the week lower alongside the US stock market, which fell to a two month low on Monday amid fears of a surge in pandemic cases. But the price floor of US$10,000 ($13,800) has been holding well. Bitcoin is currently 2.2% down for the week at just above $14,500. Everything else was down – with DeFi tokens the hardest hit including Chainlink (-27.2%) and Synthetix (-29.8%). Ethereum lost 8.7% Bitcoin Cash (-7%), XRP (-5.7%), Litecoin (-11.5%), EOS (-8.2%) and Stellar (-12.3%).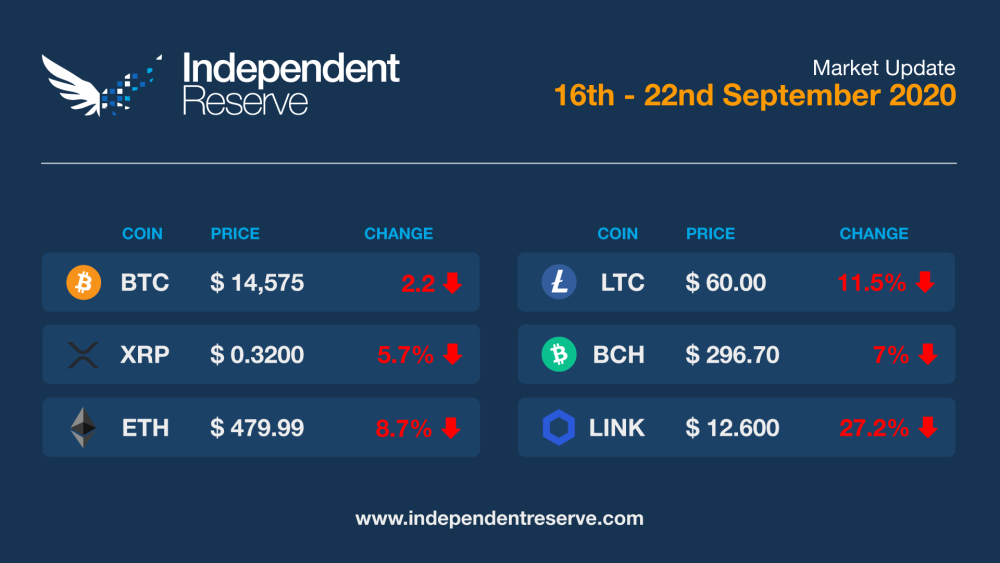 In Headlines
First Bitcoin and crypto ETF approved
Brazilian publication Infomoney reports that the regulated Brazilian fund manager Hashdex has partnered with Nasdaq on the world's first Bitcoin and crypto ETF. The Hashdex Nasdaq Crypto Index ETF is expected to trade on the Bermuda Stock Exchange by the end of the year. Former Goldman Sachs exec Raoul Pal earlier this week had predicted a Bitcoin ETF was just around the corner: "I'm going to give you the biggest front-running opportunity of your life: they will get an ETF across the line. There will be billions of dollars that pour into it. Every pension plan will allocate some money to it. Every family office will allocate some money to it. And the more the price goes up, the more they will allocate."
Uniswap's $2,500 gift
Decentralised exchange Uniswap this week gifted every user of the platform 400 UNI governance tokens and made more available to liquidity providers. UNI was immediately listed on a dozen exchanges and 400 UNI is currently worth $2500. Total value locked on the platform surged to $2.64 billion. The rush to claim UNI saw Ethereum grind to a halt with fees topping $1.38 million an hour and a new all-time record 1.4 million transactions in a day.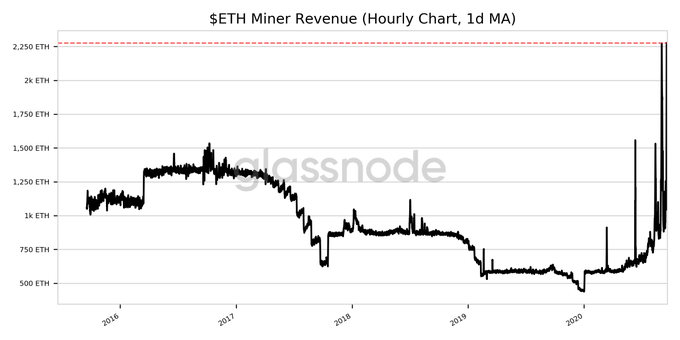 Is DeFi dead?
Ethereum's network troubles were quickly followed by a large pullback in prices across the DeFi sector. Richard Byworth, CEO of digital finance company Diginex, described the current state of DeFi on Ethereum as like "trying to fly to the moon in a cardboard box". Clem Chambers in Forbes agreed that "at these prices DeFi is a non-starter". However, he added that historically many people have made the mistake of writing off new tech as impractical or unviable due to technical limitations "but that is always a mistake". He predicted the scaling problems will be solved, and many of the key DeFi players now "will in 10 years be worth hundreds of billions".
Ethereum 2 officially proposed
Lead developer Danny Ryan this week published the official proposal EIP-2982 for the launch of Ethereum 2's Serenity "phase zero." Eth 2.0 will support 64 shards initially, which will be able to handle 64 times as many transactions. Some argue this still won't be enough to handle DeFi's growth, however, Layer 2 solutions like Zk-sync, OMG, and Loopring can increase the transactions substantially – some argue as high as 2.5m transactions per second. Synthetix is rumoured to be launching a layer 2 Optimism testnet this week, which is capable of 2000 TPS. Founder Kain Warwick told the Bankless podcast the first priority will be to enable SNX stakers to claim rewards at much lower fees.
Australia accounts for 4% of DeFi projects
A survey of the headquarters for decentralised finance projects around the world found that 46% are based in the US, the UK has 14%, the EU 9%, Singapore 7% and China 6%. Australia accounts for 4% of the total, thanks to projects like Synthetix, REN and ThorChain. In other DeFi news, the amount of Ethereum in smart contracts (15%) has flipped the amount on exchanges (11.5%).
Bitcoin is increasingly difficult
Bitcoin has just ended its 322nd mining epoch, and difficulty increased by 11.35% to a new all-time high. The hash rate is also at an all-time high of 143 TH/s. RT host Max Keiser said the constantly increasing hash rate can be seen as a "51% attack on the global energy supply… that will start to rob energy from other parts of the economy. This will transform civilization as we know it, for the better, as Bitcoin essentially takes over."
Until next week, happy trading!
Independent Reserve Trading Desk
Keep up to date with the latest crypto market news and subscribe to our weekly updates – https://www.independentreserve.com/news/subscribe