Market Update 13th – 19th May 2020
In Markets
Bitcoin is up 12.8% on this time last week to trade at just under $14,800 at the time of writing. However, BTC seems very reluctant to make a sustained break above the psychological US$10,000 mark (A$15,331). The overall trend is very positive with BTC up by a third in the past month. Ryan Selkis from Messari noted that what he's calling the 'Pomp Trade' – "Long Bitcoin Short the Bankers" – has paid off in spades this year, with BTC up 38% YTD while the major US banks have lost 37% or more. Ether was up 15.2% on seven days ago, XRP was up 6.2%, Bitcoin Cash (6.9%), LTC (9.3%), EOS (10.5%) and Stellar (12%).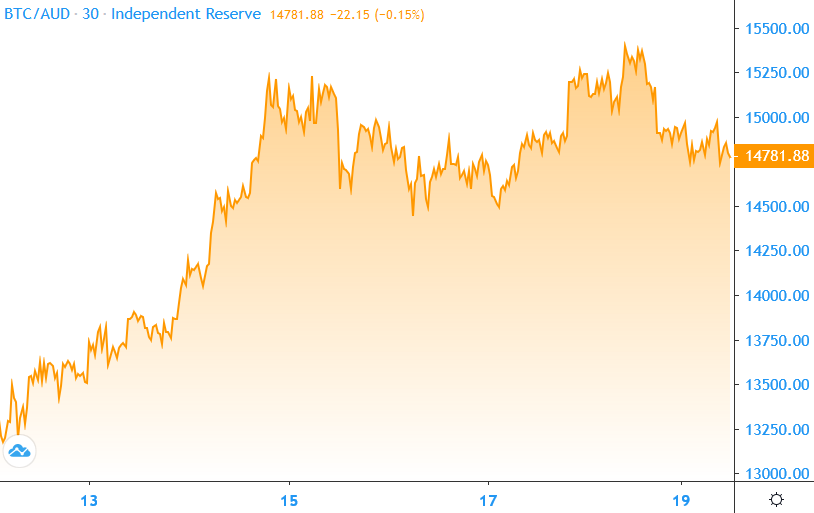 Source: Independent Reserve Bitcoin/AUD chart
In Headlines
The Halving Part III
As expected, the Bitcoin hash rate fell from a record 138 exahashes per second to 86 EH/s in the past week as miners switched off unprofitable machines following the halving. It still offers rock solid network security though. Revenue from transaction fees + block rewards has fallen from A$26.4m a day to $10.9m. Fees on the network have increased by 1250% in the month to May 14, from 58c to $7.91. The Bitcoin Cash and BSV hash rates both increased substantially (mining on all three networks is similarly profitable again) however both are minnows compared to BTC, with 2.5 EH/s and 2 EH/s respectively.
A must watch documentary
You can now watch online the Academy Award short-listed documentary "Cryptopia: Bitcoin, Blockchains and the Future of the Internet". It was digitally released after the cinema world tour was cancelled due to Covid19. Join the award-winning Melbourne-based filmmaker Torsten Hoffmann, as he discovers the good, the bad and the ugly of the Bitcoin and blockchain movement and the people behind it. Cryptopia was filmed on 4 continents over two years and features many of the 'big brains and big egos' of this controversial industry.
Ethereum as BTC layer 2 solution?
There's now four times as much Bitcoin locked on Ethereum in various flavours (WBTC, HBTC, imBTC etc) than there is on the public part of BTC's Lightning Network. In fact, the 3633 BTC on Ethereum is more than Lightning and the Liquid network put together (2979 BTC). (As a side note, Liquid BTC has doubled since March). Bitcoin Cash proponent Roger Ver trolled Bitcoiners on Twitter: "Congratulations to #Ethereum on becoming the #1 second layer scaling solution for #Bitcoin". Bitcoiners can console themselves with the fact BCH is now at an all time low against BTC, and that the latest BTC on ETH project 'tBTC' failed this week after just two days.
Everybody is long on ETH
The number of long positions on Ethereum has been breaking new all-time highs since late February. They're up 170% since then on Bitfinex, and the ETH bulls weren't shaken out on Black Thursday either, when long positions on Ripple and EOS fell off a cliff. That said, the amount of Ether held on exchanges is at record highs since Black Thursday (meaning that they are easier to sell) while 300,000 Bitcoin has been withdrawn from exchanges since. Glassnode data shows there are fewer Ether whales than at any time since January 2019, with the number of unique addresses holding more than 10,000 ETH falling to just 1050 this week. But the number of addresses holding 32 or more ETH (the amount required to run a validator node and earn interest in ETH 2.0) has increased to 114,625, up from 104K in August last year. But don't get too excited about ETH 2.0 just yet as Vitalik Buterin has recanted last week's confident prediction of a July launch.
Visa embraces digital currencies
At the JP Morgan Annual Tech Conference this week Visa CEO Alfred F Kelly spoke approvingly of digital currencies backed by fiat. "I think (they) are a real potential emerging payments technology that could be very interesting… We actually think that digital currencies could be additive to the payments ecosystem as opposed to being any kind of replacement or negative." A patent application from Visa for a potentially Ethereum-based stablecoin also emerged this week, though it was from 2018.
Full bull mode for BTC
Arcane Research thinks that Bitcoin could be about to go into full bull mode. They looked at the Network Value to Transactions ratio which is currently hovering around 10 and argued that it's "moving up to a level where we could see fast growth in this market". "Based on the last three years, an NVT ratio surpassing 10 could indicate a period of strong and fast price growth. This was seen both on 2017, 2019 and 2020," Arcane Research explained further. However, IntoTheBlock says four out of six BTC metrics are bearish, with the number of large transactions slowing down, traders slowly becoming unprofitable, and the short-term growth of Bitcoin is slowing.
JK Rowling and the Deathly Bitcoiners
Late last week, Harry Potter author JK Rowling innocently tweeted: "I don't understand Bitcoin, please explain it to me." She was immediately inundated with a million charts, complicated explanations and demands she buy Bitcoin. Even ETH co-founder Vitalik Buterin and billionaire Elon Musk got in on the act. Musk said "massive currency issuance by govt central banks is making Bitcoin Internet money look solid by comparison" – although his endorsement was undermined by his claimed paltry 0.25 BTC holdings. JK Rowling later joked she wasn't joining the Bitcoin community: "It should be perfectly obvious by now that I've been trolling Bitcoin in the hope of boosting my significant Ethereum holdings." Great mainstream exposure.
Until next week, happy trading!
Independent Reserve Trading Desk