Market Update 19th – 25th February 2020
In Markets
Bitcoin doesn't seem to want to break above the US$10,000 (A$15,139) mark just yet – but that's not a terrible place to be. Last Thursday's horror price drop, where Bitcoin plunged $850 in an hour, was also a timely reminder that things can change in an instant. Bitcoin is currently close to where it was a week ago and trading at just under $14,600. Will $60 million worth of fresh Tether give the price a boost this week? Ethereum is also holding steady, while Litecoin gained 2.5%. Everything else was down: XRP (-6.2%), Bitcoin Cash (-8%), Bitcoin SV (-10.7%), EOS (-7.5%) and Stellar (-3.5%). On a positive note, the entire top ten is up between 20% to 65% this month (except BSV which is up 6.2%).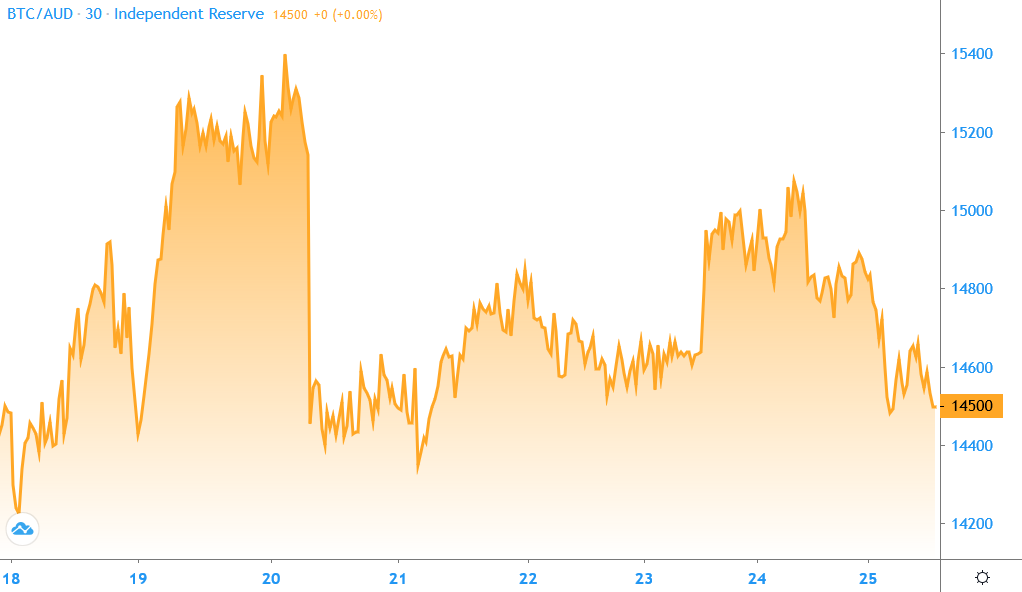 Source: Independent Reserve Bitcoin/AUD chart
In Headlines
Best time to buy each month
Following on from last week's analysis that it's best to buy Bitcoin on Fridays and sell on Mondays, comes a similar analysis from crypto trader Income Sharks. He told his 21,000 followers that for 10 of the past 11 months, buying at the start of the month and selling after ten days was profitable, and that in nine of those months it was also profitable to buy at the start of the month and sell at the end. "Dumps tended to be in the middle/end," he said.
CME volume plunge "bullish"
Daily volume on CME Bitcoin Futures hit a high above US$1 billion on February 18 for just the third time in its history. It then plunged 89% to hit a new low for 2020 three days later. However open interest remains near seven month highs which Coindesk says is a bullish sign: "A drop in volume accompanied by an elevated open interest is usually considered a sign of investors holding on to their positions. In such cases, the market usually extends the preceding move; Bitcoin's price rose over 50 percent… in the six and a half weeks to February 18." In other bullish news Binance co-founder CZ said he doesn't believe the halving has been priced in.
$158 million in crypto lost
Two stories this week highlighted the risk to your wealth from poor crypto storage practices. A Chinese whale reportedly lost $68 million worth of Bitcoin Cash and Bitcoin due to a SIM swap attack. In another case an Irish drug dealer lost the seed phrase to $90 million in Bitcoin which he'd hidden in a fishing rod case that was thrown away while he was in jail.
Ecommerce giant joins Facebook's Libra Association
Shopify, the ecommerce giant, has joined the Libra Association. This is in contrast to Mastercard, Visa, Paypal and Vodafone which have all left. CEO Tobi Lutke was asked why Shopify was getting onboard with Facebook's cryptocurrency when everyone else was heading to the exits. He said the company makes decisions based on "future potential not herd movement. Funnily enough this usually leads to us doing the opposite of the others."
JPMorgan report says mainstream adoption will happen
JPMorgan has just released a 74-page report that suggests blockchain can transform banks business models and that stablecoins have the potential to "shoulder a significant fraction of global transactional activity." But the report also said mainstream adoption is still years away and that "crypto-assets have a place in investors' portfolios only as a hedge against a loss of confidence in both the domestic currency and the payments system."
2020 is the best year on record for Bitcoin
The volume weighted average price of Bitcoin has been higher in 2020 than any other year of the cryptocurrency's existence. According to fund partner James Todaro the average has been US$9120 (A$13,807) – which is better than 2017 when the comparable figure was $6125 (or A$9,273 at today's exchange rate).
Tea leaves suggest massive increase for Ethereum
Crypto trader Alunaut says the price of Ether has just crossed above the "Ichimoku Cloud". He told his 68,000 followers this suggested that in the coming year Ether may "follow BTC price action from 2016-2017" when the cryptocurrency increased in value by 4593%.
Until next week, happy trading!
Independent Reserve Trading Desk