Welcome back to another Australian crypto market update.
In Markets
Despite the KuCoin hack, regulators taking action against BitMEX and President Trump getting coronavirus, the Bitcoin price has remained essentially unmoved. "Historically, these three collective events would have sent markets reeling. This shows that the market is increasingly filled with more bullish investors [who] believe in the fundamentals," Zachary Friedman, COO of Global Digital Assets told Coindesk. Bitcoin traded mostly within a $600 range, ending the week 0.6% down at around $15,000. Bitcoin's 30 day volatility is at a near-record low of 0.85% and the last time BTC was this stable was in January 2013 and April 2016, before the price exploded 1,000% or more. Ethereum finished the week 2.2% down while XRP was up 1.7% and Litecoin was up 1%. Everything else declined including Chainlink (-9.6%), Bitcoin SV (-5.3%), EOS (-2.9%) and Stellar (-2.2%).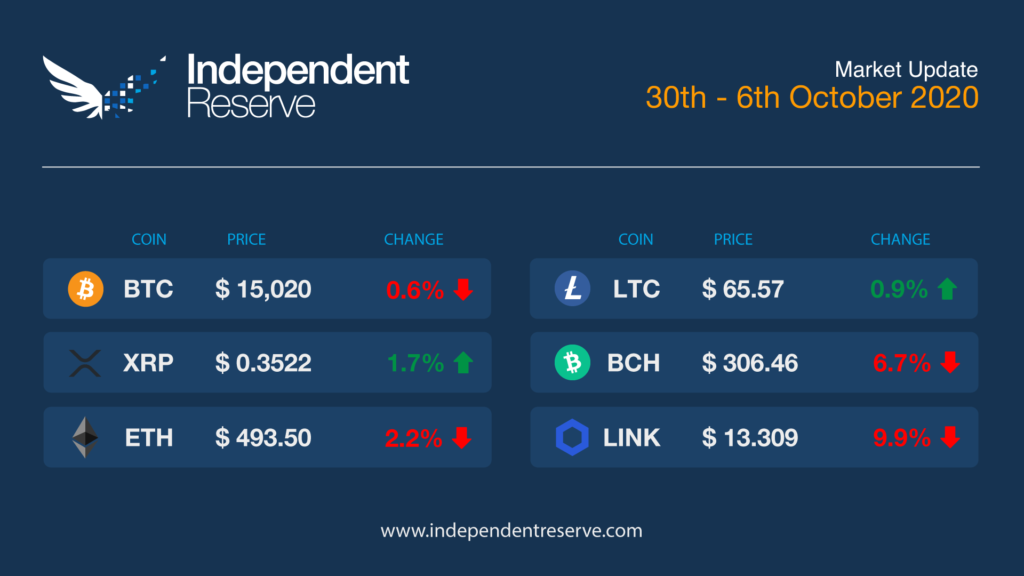 In Headlines
BitREKT
The United States Commodity Futures Trading Commission this week charged derivatives exchange BitMEX (and its founders) with operating an unregistered trading platform and violating Anti-Money Laundering regulations. They're seeking permanent trading bans, restitution of 'ill-gotten gains' as well as steep financial penalties. Users withdrew 45,000 Bitcoin in two days following the news. It's not necessarily bad news given cascading liquidations on BitMEX have caused sharp plunges in the Bitcoin price numerous times, including on Black Thursday. On-chain analyst Willy Woo pointed out better regulatory compliance will mean, "We'll see less volatility, less scam-wicking, more spot volumes, more organic moves, more institutional money."
McAfee arrested
The US Department of Justice has arrested John McAfee in Spain on tax evasion charges. Adding to his woes the Securities and Exchange Commission is suing him for being a paid shill for ICO projects and pumping and dumping coins to make around $32 million. With all the regulatory activity this week, there's much speculation over who will be next? Will it be Tether and its famously opaque reserves? Or will it be a plethora of DeFi protocols, who wrongly believe decentralisation will save them – at least according to trader Adam Cochran.
DeFlating prices
The heat has gone out of the DeFi market, with the Binance DeFi Composite Index down by more than 50% since it launched a month ago. The index is calculated using weighted averages of the major DeFi tokens including YFI, BAND, COMP and others. But token prices aren't reflective of the ongoing growth of the sector: the Total USD Value Locked (TVL) in DeFi platforms is currently around $10.75 billion, led by Uniswap which has $2.38B locked. Uniswap also notched up US $15.371 billion worth of volume in September – which is more than America's leading centralised exchange Coinbase. The aggregate volume of decentralised exchanges (DEXs) in September was more than double the figure in August, which in turn was 163% above July's figure. MetaMask – which is practically a requirement for DeFi use – hit 1 million monthly users today.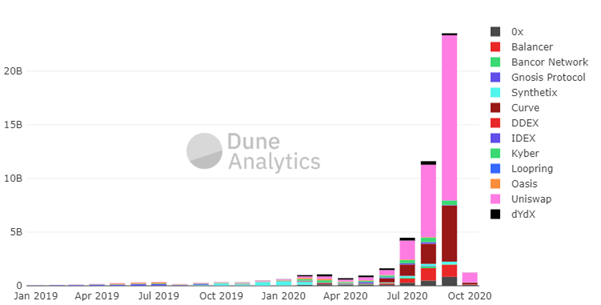 Monthly decentralised exchange volume. Source: Dune Analytics
Ethereum miners strike gas
Ethereum miners made about eight times more from transaction fees than Bitcoin miners did in September. Glassnode data shows that ETH miners collected $231.1 million in gas fees, while Bitcoin miners collected $36.2 million. It's a bit of a mixed blessing: the fees were caused by surging demand for the network – which is bullish – but the demand caused that network to grind to a crawl and fees to skyrocket, which is bearish.
Ethereum roadmap takes a turn
Last week we mentioned that Synthetix had taken the first step towards layer 2 scaling of Ethereum using optimistic rollups. Now co-founder Vitalik Buterin has set out a new roadmap for Ethereum 2 that will see it scale faster by utilizing a combination of sharding and rollups. "We have no choice," he said. "The L1 is nearly unusable for many classes of applications, and there's no non-L2 path that can get us to scalability in the short-to-medium term." Layer 2 scaling will enable Ethereum to hit up to 4000 TPS in the near term while the aim is to hit 100,000 TPS in the longer term.
LINK nabs another one
Chainlink has announced a new partnership or integration every 1.8 days this year, or 156 to be precise. This week Harmony protocol became the latest DeFi project to reverse its decision to integrate LINK competitor BAND, and partner with Chainlink instead.
Back to predictions
Blocksteam's Adam Back – a Bitcoin OG who some think could even be Satoshi himself – has forecast a trillion-dollar Bitcoin market cap within two years. Back made the comments in response to a report by Ark analyst Yassine Elmandjra, forecasting a $1 trillion to $5 trillion market cap by 2030. "Conservative. I'd say #bitcoin likely sees $1 trillion market cap within 2 years, probably sooner," Back tweeted, adding that's a 5X increase from here. "$1 trillion is about BTC $50k," he said.
Until next week, happy trading!