It's been one of those weeks that allows true believers to dream that everyone is on the cusp of becoming hilariously rich. You would have been exceptionally hard-pressed to lose money in the past seven days, with almost everything up in double figures in percentage terms. Bitcoin gained 10% and is trading around $25,200, which is 40.2% up on just one month ago. The impending launch of ETH 2 helped Ether to increase 32%, though it was completely outshone by XRP which more than doubled in price this week. Everything else was up: Chainlink (20.6%), Bitcoin Cash (26.5%), Litecoin (24.5%), Bitcoin SV (21.0%), EOS (30.2%), Stellar (57.7%), and SNX (23.4%). The Crypto Fear and Greed Index is at 90, or extreme greed.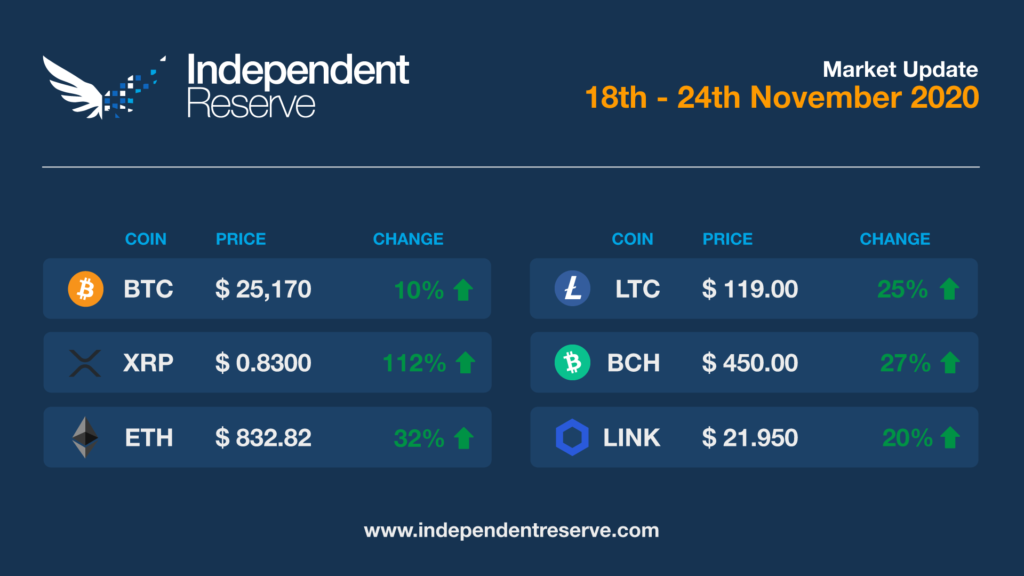 Making Ripples
Congratulations to the Ripple Army who maintained the faith over a bruising year in which the coin dropped below 20 cents. It's now four times that price (82.7 cents) and is up 112% this week. Various theories have been advanced for the increase: The highest number of addresses since May are interacting with the network, Ripple's buyback program is giving the XRP price a boost and the payments network PayString is gaining traction. But Quantum Economics founder Mati Greenspan, who just bought back in, has a simpler theory. He believes that a 'banker's coin' will do well amid surging institutional interest.
Dawning of the age of ETH 2.0
ETH 2 is go for launch on December 1 after a late rush of Ether was sent to the deposit contract today. After a slow build in recent weeks, the 524,288 ETH threshold was met today after over 100,000 ETH poured into the deposit contract. While Phase 0 won't change anything for Ethereum users straight away, it sets things up for the move to Proof of Stake which will allow the blockchain to operate exponentially faster than it currently does. Ether has been on a tear this week, increasing by a third to crack the US $600 mark and it is currently at A$829. More than 86% of ETH addresses are now in profit and Alex Saunders from Nuggets News reckons US$1400 (A$1920) by the end of 2021 is realistic.

Bitcoin market cap at ATH
The Bitcoin market cap hit a new all-time high this week when it bettered the record US $328.9 billion, which was set on December 16, 2017. It's currently at $341.4 billion, which is $468.6 billion in Aussie dollars. The market cap has been able to hit a new record while the Bitcoin price is still 8% below the all-time high price because back then, there was just 16.75 million Bitcoin in existence, but 1.8 million more have since been mined.
It was Paypal
Many pundits believe that Paypal's decision to offer crypto trading to its US users is behind the price rise. Paypal has been buying up 70% of all newly mined Bitcoin, while Square's Cash App is gobbling up another 40%. Keen mathematicians will have noticed that adds up to 110% of the new supply. There may also be more retail interest than is commonly believed. While Google searches for the term 'Bitcoin' remain at one-fifth of the all-time high, if you expand the criteria to a variety of Bitcoin-related search terms then monthly search interest is 356% higher than in December 2017, according to SEMrush figures cited by Brad Michelson, a senior marketing manager at eToro.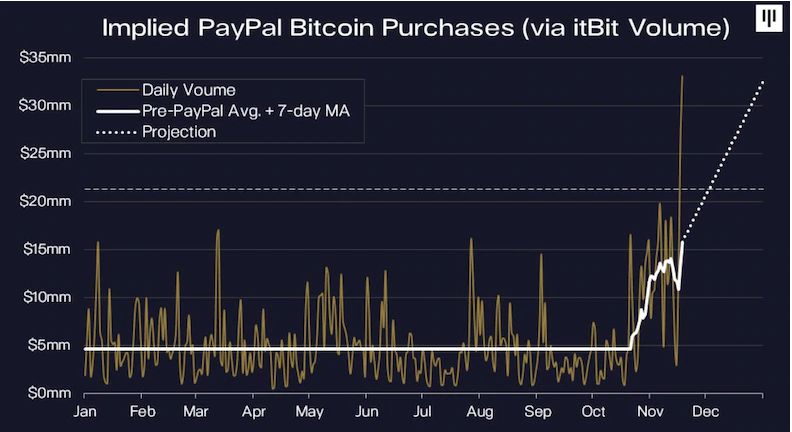 SEC chair to depart
Jay Clayton, the chair of the US Securities and Exchange Commission has announced he's leaving his post before the end of the year. This is potentially good news, as he's knocked back nine Bitcoin ETF applications during his reign and a new chair may look more favourably on the prospect.  
Media mentions
Although this bull run is yet to generate the same excitement as the last time we neared an ATH price, the mainstream media is paying attention. The Wall Street Journal has Bitcoin on the front page today and the Sydney Morning Herald, Business Insider, the BBC and Financial Times have all run pieces this week. Celebs also got into Bitcoin this week, with Masie Williams from Game of Thrones polling her 2.7M Twitter followers as to whether she should buy Bitcoin. While 53.4% said 'No', she bought some anyway. Rapper Logic also revealed he'd bought US$6M in Bitcoin last month, and Sean Lennon has been talking it up today.
New global power elite
RT host Max Keiser is tipping the Bitcoin price will top $1 million ($1.37M) citing high profile investors like Paul Tudor Jones, Stanley Druckenmiller and Bill Miller backing it. He believes institutions will start buying directly from miners before the public has the chance to: "The public will be shut out as the price rockets to $1 million per coin… Meanwhile, Generation Z who bought lots of Bitcoin when it was under $100, will be the new global power elite. The world order is about to flip." Keiser estimates daily demand is running at 2600 BTC, while just 900 BTC is produced per day from mining.