The Bitcoin price is once again in sight of the US $20,000 (A$26,550) mark, after dipping down to the mid $17,000s (A$23,425) on Saturday. At the time of writing Bitcoin was trading around $25,600 which is within 1% of where it was last week. Ethereum also finished flat, Stellar was up 1.2% and SNX gained 2%. Bitcoin Cash lost 2.7%, XRP was down 17.9%, Litecoin (-1.2%), Bitcoin SV (-7.2%), EOS (-3.5%) and AAVE (-6.5%).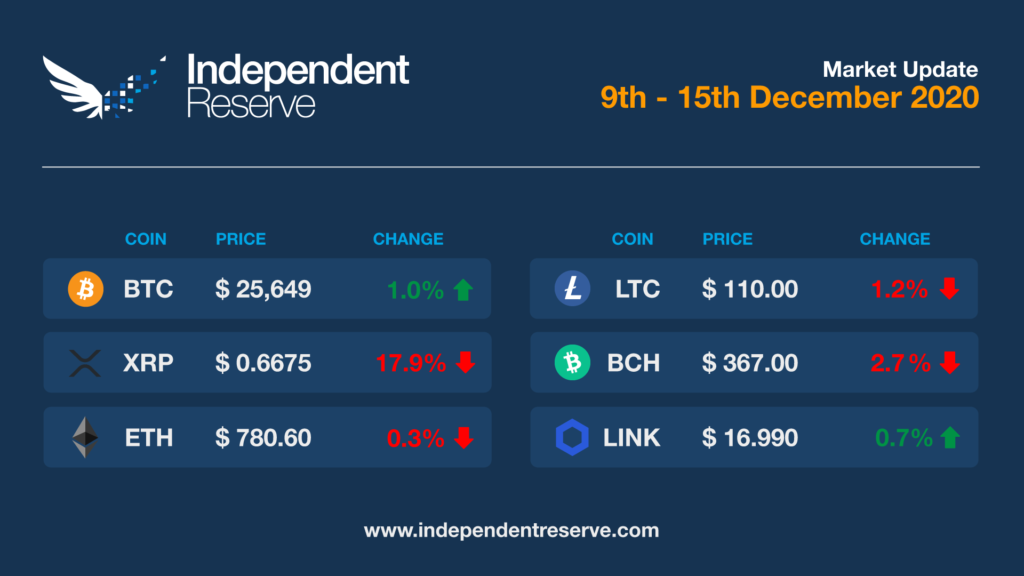 In Headlines
All quiet on the Etherean front
The good news with the Eth2 Beacon chain is that there is no news to speak of. As developer Ben Edgington wrote in his most recent update. "It's been a wonderfully dull eleven days since Genesis: apparently it all just works. The Genesis event went as smoothly as a Sade album." According to data from Bybt.com, Grayscale has added a whopping 388,714 Ether to its Ethereum Trust over the last 30 days worth $330M. Grayscale now has a total of 2.94 million ETH, which is double the amount in the Eth2 deposit contract (currently around 1.48M).
But is XRP 'toxic waste'?
Bitstamp has apologized on Twitter after posting a Messari report that referred to XRP as "toxic waste" and Bitcoin Cash and Bitcoin SV as "piles of sh–". Messari founder Ryan Selkis defended his annual report saying "humour is the only thing that keeps people reading a 134-page report". While it may be opinionated, Messari's 'Crypto Theses for 2021" is still well worth a look.
Realising Bitcoin's value
Bitcoin's realised price has hit a new all-time high of US $7670 (A$10,178) according to Glassnode, and Bitcoin's realised capitalisation is at a record of $142.43 (A$189B) billion. Realised cap measures the total value of the network by calculating it using the price that coins last moved at (rather than the current market price).
Microstrategy's Bitcoin ETF
MicroStrategy raised $853M via convertible senior notes with the express intention of buying Bitcoin. This has led to claims the company is turning into a defacto Bitcoin ETF but CEO Michael Saylor said that's not true: "MicroStrategy is an operating company traded on a stock exchange. We just happen to hold BTC in our treasury reserves," he said. Interestingly the securities were sold at a 37.5% premium to the current share price. Goldbug Peter Schiff predicted an incoming Bitcoin price bump: "Traders can buy first, pushing up the price of #Bitcoin now so they can sell later at a higher price, potentially leaving Microstrategy shareholders as the ultimate bagholders."
Taking out insurance with BTC
The 169-year-old insurance company Massachusetts Mutual Life Insurance has purchased $100 million (A$133M) in Bitcoin for its general investment fund. However, that's loose change for the company, representing just 0.04% of the general investment account. "We see this initial investment as a first step, and like any investment, may explore future opportunities," spokeswoman Chelsea Haraty told Bloomberg. JPMorgan strategists believe it's a harbinger of things to come and that if pension funds and insurance companies in the US, Europe and Japan allocate 1% of their assets to BTC, it would result in additional demand of $796 billion.
Banking on it
Major UK bank Standard Chartered has announced plan to provide institutional custody for major cryptocurrencies including Bitcoin, Ether, XRP, LTC and BCH. Known as Zodia, the new platform is in the process of registering with the FCA and will apply standards equivalent to the custody of traditional securities.
Bits and pieces
There's now more than US$20 billion worth of Tether. The next round of the Bitfinex/Tether court case in New York looks like commencing early in the New Year. CNBC's Jim Cramer, who has hosted Mad Money since 2005, tweeted that he made a well-timed Bitcoin investment on December 11:  "I'm going to diversify into some Bitcoin — not a big position for me — but it's certainly important to be diversified, and Bitcoin is an asset and I want to have a balance of assets." This week marks ten years since Bitcoin's legendary inventor Satoshi Nakamoto signed off with his last message Bitcointalk.org saying "there's more work to do".
'Insanely bullish'
The CTO of crypto data firm Glassnode, Rafael Schultze-Kraft, has tweeted a flurry of charts showing various indicators he thinks are "insanely bullish" as they suggest the BTC price is set to increase by more than 10 times. He essentially looked at the indicators in the lead up to the last bull run and used that to project forward what could happen if history repeats, and came up with various price scenarios of between $183,000 to $435,000.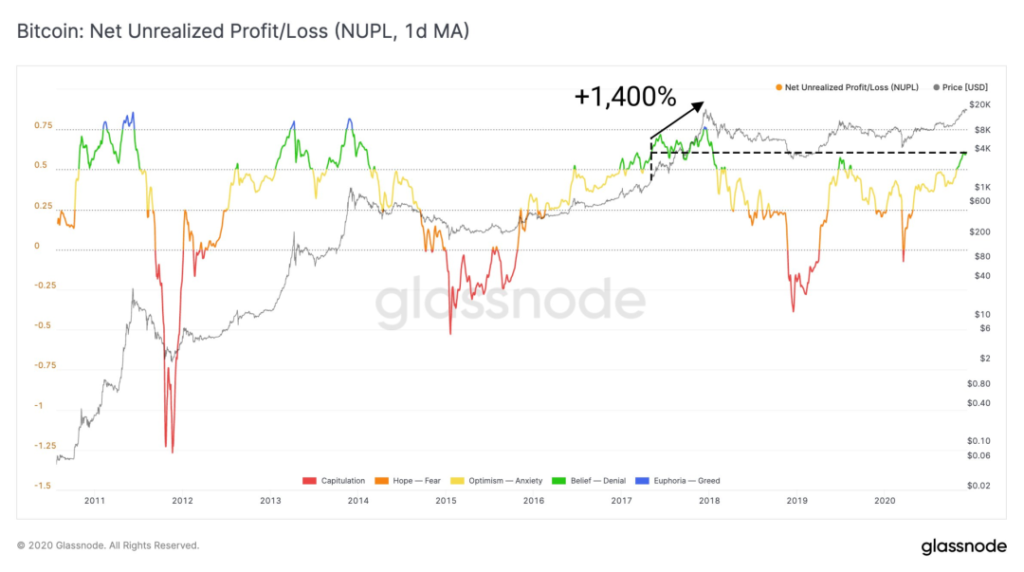 DeFi Digest
A round-up of the top news in Decentralised Finance this week.
🏦 Institutional interest in DeFi is surging as more sophisticated investors look for higher risk yields.
👾 Aavegotchi –  a retro Tamagotchi-inspired game is launching in full on January 4.
🔴 The Compound Protocol proposal to distribute COMP to affected users in the DAI liquidations has failed with 681,290 votes Against and 212,952 For.
📈 Why price to sales ratio (P/S) is an important metric for crypto investors evaluating DeFi protocols.
🏛️ The latest updates on Yearn Finance from this week's State of the Vaults.
Until next week, happy trading!