In markets
It seemed like Black Thursday occurred in reverse this week, with Bitcoin shooting up into price discovery mode. The price sailed past the US$20K mark early on Thursday (A$26.4K) and then kept going. It peaked at A$32K (a new all-time high) and is currently trading above $30,100, up 19% for the week. A contributing factor may have been MicroStrategy's announcement that it had just bought 29,646 more Bitcoin, bringing its total to 70,470 BTC (more than $2 billion worth). Litecoin led the rest of the pack with a 28.6% gain, followed by Synthetix which gained 19.2%. Ethereum was up 4%, XRP (3.5%), Bitcoin Cash (15.6%), Bitcoin SV (3.3%) and EOS (3.7%). Stellar lost 2.9%, LINK (-4.3%) and AAVE (-5.5%). Meanwhile, WBTC (Bitcoin tokenised for use on Ethereum) is now the 15th largest crypto by market cap.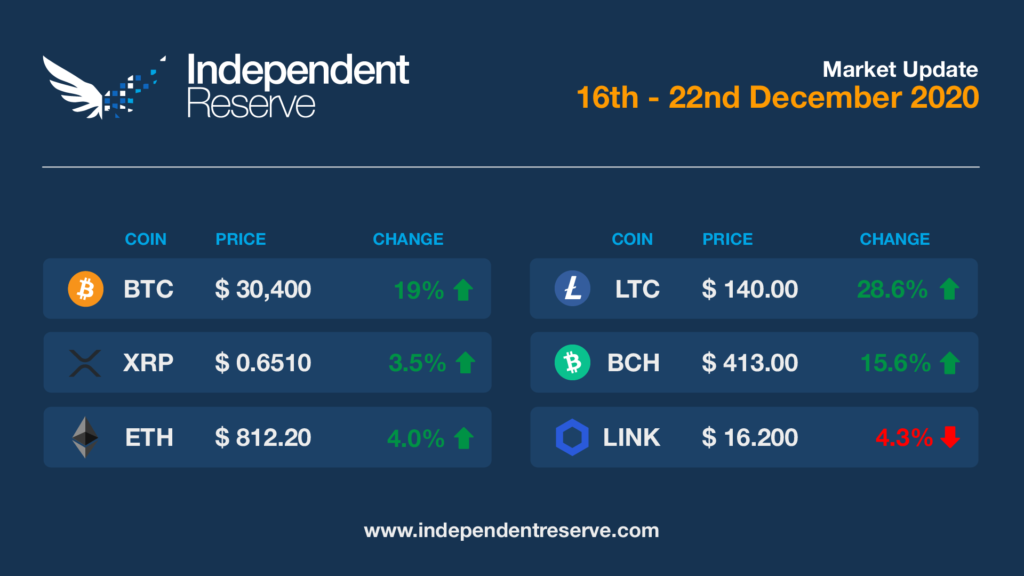 Aussies warm to crypto
The second annual Independent Reserve Cryptocurrency Index has found that almost one in five Australians now have some exposure to cryptocurrency. The survey of 1,100 people also saw the number of respondents who think Bitcoin is "a scam" fall from 21.3% last year, down to 17.3%. Meanwhile, 19.1% see BTC as a legitimate store of value or investment vehicle, which is up from 16.7% in 2019. Interestingly, a third of respondents that said they had intended to buy crypto this year but didn't, as a result of the pandemic's economic uncertainty. "Had it not been for the sobering effects of a pandemic and the resulting downturn affecting people's appetite to get into the market, it's easy to imagine how the price of Bitcoin could have soared even higher this year," said CEO Adrian Przelozny. So with the vaccine rolling out, 2021 could turn into a very big year for crypto.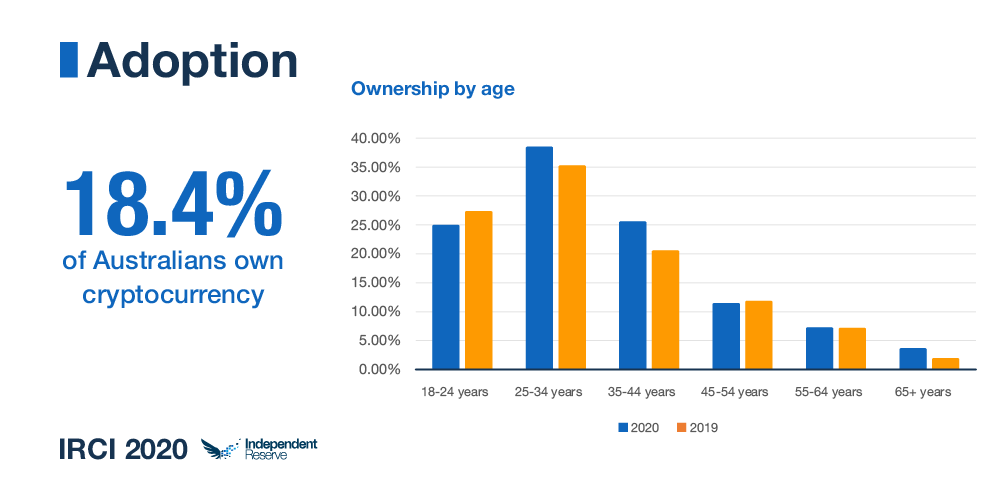 Uber rich get bullish
Tech tycoon Kim Dotcom is bullish on Bitcoin Cash and says he plans to support the coin on his crypto-enabled peer-to-peer content monetisation platform K.im. He's tipping "$3000+" per coin next year (A$4K), tweeting: "More and more vendors accept crypto. Vendors want low fees and fast transactions. I'm bullish on BCH." Meanwhile, billionaire Elon Musk has been dropping hints on Twitter he's interested in buying Bitcoin, with MicroStrategy CEO Michael Saylor suggesting Musk convert Tesla's entire balance sheet to Bitcoin, which would convince other CEOs to do likewise, and turn into a $1 trillion move. Musk may have just been having fun though, as he later tweeted "Bitcoin is almost as bs as fiat money" and threw his support once again behind DOGE which jumped 20% in response.
Ledger leak
On December 20, hardware manufacturer Ledger's customer database was dumped on the web, containing 1M email addresses and 272,853 full customer profiles with emails, phone numbers and home addresses. There are reportedly 11,277 in Australia affected. While the actual devices remain secure, users should be on the lookout for phishing attempts and consider removing phone numbers and email addresses as alternate account recovery methods from other services. Mastering Bitcoin author Andreas Antonopoulos has put out a video with emergency advice from a panel of experts.
Synthetix tipped to rise by… how much?
Palm Beach Confidential, a $5000 a year crypto research subscription service, released the world's most bullish report on Synthetix last week. The authors say that if the platform's synthetic assets and stocks can capture just a small slice of the global market, the price could go gangbusters: "Conservatively we think Synthetix could come to command a premium five times higher than traditional exchanges. If so, that would put Synthetix's valuation at $242 billion or $2192 per token." That's 41,250% up from here. Synthetix better hurry up though and introduce stock synths: competing DeFi project Injective just launched tokenised stock trading today, following in the footsteps of centralised exchange FTX.
Self-hosted wallet rules
The US Financial Crimes Enforcement Network has released its proposed regulations for exchanges and other services dealing with "self-hosted" wallets, giving stakeholders 15 days to comment. It requires the use of KYC/AML "if a counterparty uses an unhosted or otherwise covered wallet and the transaction is greater than $3,000." While the ramifications and details aren't entirely clear just yet, the news doesn't seem as bad as it could have been. Analyst Qiao Wang suggested the BTC price increased afterwards as we "didn't get the worst-case scenario."
The importance of HODLing
Seven years ago this week GameKyuubi wrote his famous, drunken post on Bitcointalk titled "I AM HODLING", which began the famed Bitcoin meme. It's a good strategy for non-traders: Willy Woo points out that: "One dollar invested in Bitcoin at its first market price would be worth $29.8m today. That dollar invested in Gold would be worth a snickers bar." Bitcoin's first market price was on October 6, 2009 when just 18,656 people owned Bitcoin. One of them was Martti Malmi who revealed he would have been a billionaire if he'd just hodled the 55,000 Bitcoin he mined in 2009-10. Instead, he sold 5050 BTC for $5.02 that month.
DeFi Digest
A round-up of the top news in Decentralised Finance.
🏦  Head of Digital Assets at Morgan Stanley says DeFi is poised to keep its momentum in 2021. 
⛓  Compound Finance launches Compound Chain – a tool designed to bridge assets from other blockchains onto Ethereum.

🌐  Graph Protocol mainnet goes live. The Graph makes fully decentralised applications a reality with open APIs that enable developers to query blockchain data with GraphQL. 
⚔️  Oracle wars. A thread overviewing the strengths and weaknesses of new entrant API3 against Chainlink.
💠  The latest news and updates on development and growth for Yearn Finance. 
Until next week, Happy Trading!