In Markets
Bitcoin has just seen its lowest weekly close in eight months, in the aftermath of Grayscale's unlocking of 25,000 BTC in recent days. Will it hold above US$30K (A$40.9K)? Bitcoin is down 6.7% for the week and is trading just above A$42,000. Bitcoin dragged the rest of the market down: Ethereum fell 10.4%, Cardano lost 14.2%, Ripple (-10.9%), Polkadot (-22.5%), Uniswap (-19.4%), Bitcoin Cash (-13.2%), Litecoin (-14.7%), Chainlink (-16.8%), Stellar (-10.5%), Aave (-19.4%) and Synthetix (-32.3%). The Crypto Fear and Greed Index is sitting at 24, or Extreme Fear.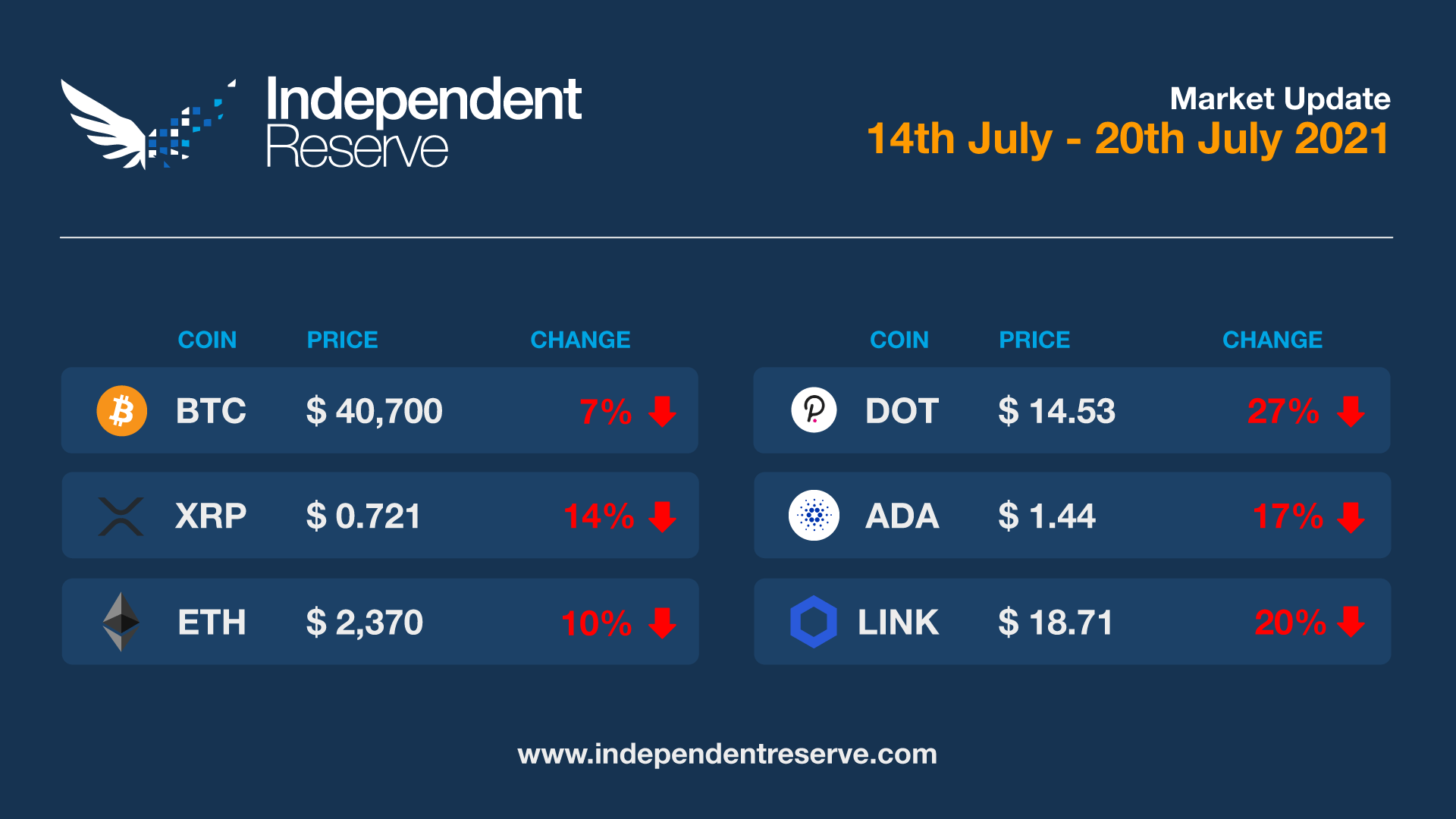 In Headlines
New listing: DOGE & MATIC
We are pleased to announce that we will be listing Dogecoin (DOGE) and Polygon (MATIC) in the coming week. Important dates: Outage on 25th July (Sunday) from 2pm to 6pm. Deposits and withdrawals will be available after the planned maintenance. DOGE & MATIC trading goes live at 11am (AEST) 27th July (Tuesday). There will be an introductory discounted brokerage fee of 0.2% for the first two weeks of trading.
Grayscale DeFi fund and ETF?
Grayscale boss Michael Sonnenshein told CNBC that discussions with regulators about a Bitcoin ETF is entering its "final stages". Grayscale has previously announced plans to turn the Bitcoin Trust into an ETF. Separately the firm has just unveiled its DeFi Fund, which has an allocation of 50% to Uniswap, 10% to Aave and also holds Compound and Synthetix. There is growing interest in DeFi from the top end of town with the Wall Street Journal running a big feature this week on yield farming, featuring Aave.
Cardano gets smart
IOHK, the dev team behind Cardano has announced the AlonzoWhite testnet had launched, enabling 500 validators, stake pool operators and devs to test out smart contracts on the network. When AlonzoWhite is released to the mainnet, projects will be able to launch DApps, NFTs and more.
Bullish and bearish
Glassnode has released a new report showing that Bitcoin sales are mostly newer holders selling at a loss. This is a bearish sign, however long-term holders in profit still control the majority of the supply which is a bullish sign. Celisus founder Alex Mashinsky points out that despite Bitcoin losing more than half of its value since the peak, stablecoin supply remains near all-time high levels. "This tells us that most of the FIAT that was put into the #crypto world has remained on the sidelines and has not made its way back to Fiat land."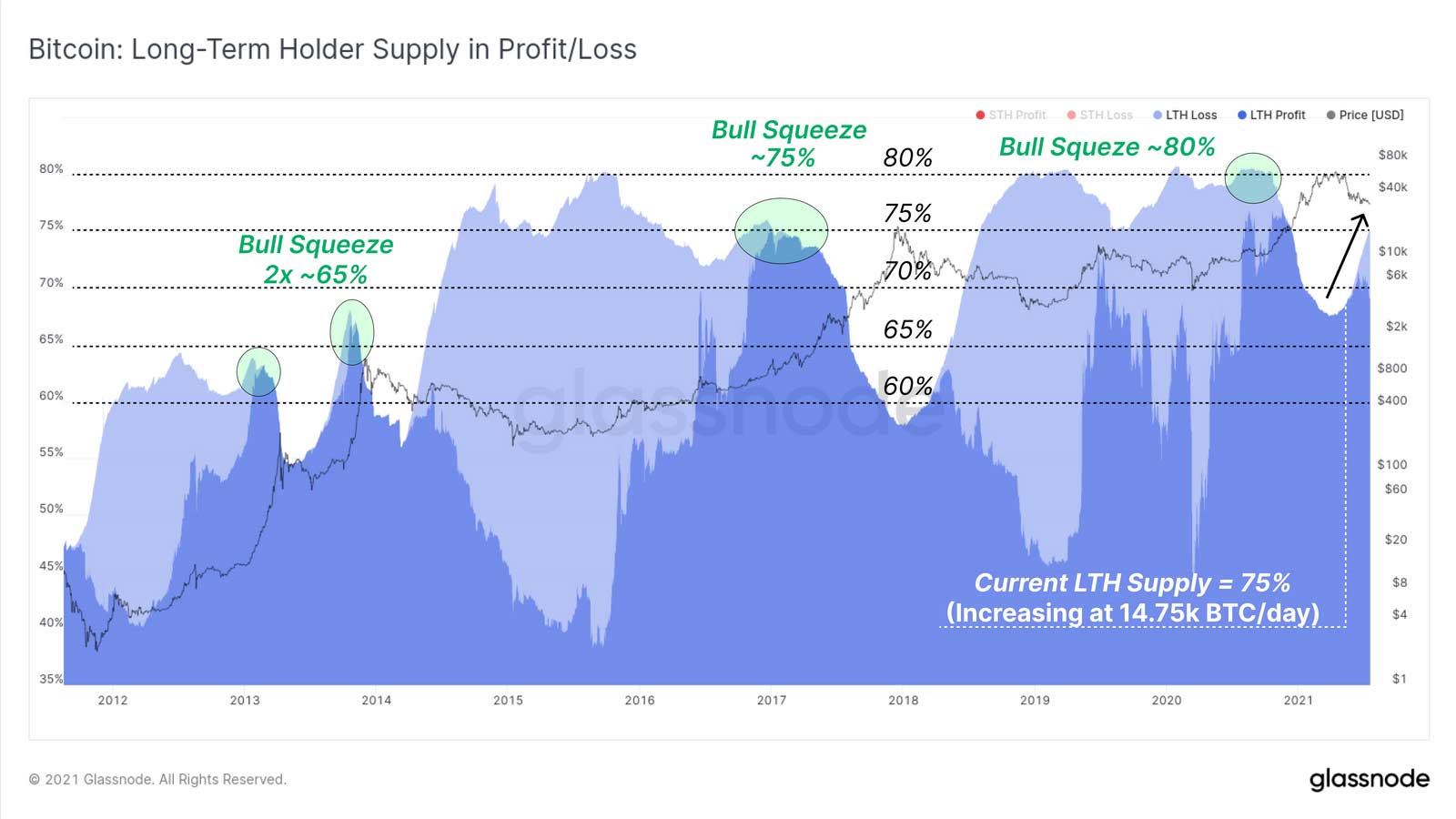 Experts tip BTC price rise
A panel of 42 crypto experts put together by Finder.com found most think a substantial rise in the BTC price is due by the end of the year. On average the panelists tipped anywhere from US$20K (A$27.2K) to $160K (A$218K) for an average of $66.3K (A$90.3K) as the end of year price. A majority (62%) don't believe we're in a bear market, though 17% think we are and the rest don't know.
Bank of America launches Bitcoin futures
The second largest bank in the US, Bank of America is trialing Bitcoin futures trading for a select group of clients. CoinDesk reported sources as saying the bank is now "setting up" select clients "to trade Bitcoin futures, which are cash settled, and one or two may have already gone live."
DeFi on Bitcoin
Twitter boss Jack Dorsey has launched a new division of his Square payments company to work on DeFi on Bitcoin. It will build an "open developer platform with the sole goal of making it easy to create non-custodial, permissionless, and decentralized financial services. Our primary focus is Bitcoin." Ark Invest snapped up another 226K Square stocks straight after. Dorsey and Ark's Cathie Wood will appear live on stage with Tesla boss Elon Musk at The B Word event later this week. The pair are expected to argue that Bitcoin can drive investment in renewable energy, but who knows what Musk will say?
Ripple victory
Ripple notched up another victory in its court battle against the SEC on charges that XRP is an unlicensed security. They were given approval by a judge to depose the SEC's former Director of the Division of Corporation Finance William H. Hinman. In a 2018 speech Hinman said that Ethereum was not a security, and Ripple wants to ask him questions about his rationale in an attempt to apply the same criteria to XRP.
Yellen about stablecoins
Janet Yellen, the US Treasury Secretary brought forth a meeting today to discuss regulations on stablecoins with the President's Working Group on Financial Markets (PWG). Making clear, "it is important for the agencies to collaborate on the regulation of this sector and the development of any recommendations for new authorities". The PWG includes senior members from the Federal Reserve, the SEC, and the Commodity Futures Trading Commission. They are expected to issue written recommendations in the coming months.
Wildcat stables?
Could stablecoin issues mirror the 'wildcat' bank practices of the 1800s? Yale economist Gary Gorton and US Fed attorney Jeffery Zhang think so. According to their academic paper titled 'Taming Wildcat Stablecoins', the systemic risk of a "digital form of privately produced money" could bring forth issues reminiscent of past times. Pegging stables one-to-one with "safe" assets could eventually result in difficulty "to transact as a result of fluctuating prices". Their solution: regulate stablecoin issuers as banks and issue a central bank digital currency. The authors believe that one uniform CBDC may be the way forward to combating these risks.
Optimistic for market turnaround
Uniswap just released an alpha version of its v3 platform running on Optimistic Ethereum. The layer two scaling solution will have transaction fees around 10 times lower than the Ethereum mainnet. Founder Hayden Adams said: "Building general purpose Optimistic Rollups is an extraordinary undertaking and a critical step for decentralized finance to gain mass adoption." Synthetix is due to launch trading on Optimism next week. Consensys founder Joe Lubin told CNBC the signs are looking good for ETH in the runup to the London hard fork. "We're seeing exponential demand for the Ether token to run transactions, to run programs on the network, on top of essentially massively decreasing supply. So we anticipate that there will be an enormous run up in demand and the value of Ether."
Until next week, happy trading!