In Markets
Fears that CME opening futures trading for ETH this week would mark the top of the bull run have been comprehensively dismissed by the insanely bullish news overnight that Tesla invested a huge chunk of change into Bitcoin. Bitcoin is up 19.2% in the past 24 hours as result, and 37.7% for the week and has topped $60,000 for the very first time. It has also crossed the A$1 trillion mark ($1.1T in fact) and the hash rate hit 176 EH/s on Friday for a new all-time high.  Ethereum also hit a new all-time high today and is up 28.6% this week to $2,271. XRP managed to increase 15.4% in seven days, but it wasn't enough –  DOT and ADA overtook, and XRP has fallen to sixth place. Everything else was up: Litecoin (26.1%), LINK (11.4%), Bitcoin Cash (17.2%), Stellar (24.4%), AAVE (66.1%), EOS (18.7%) and SNX (23.1%).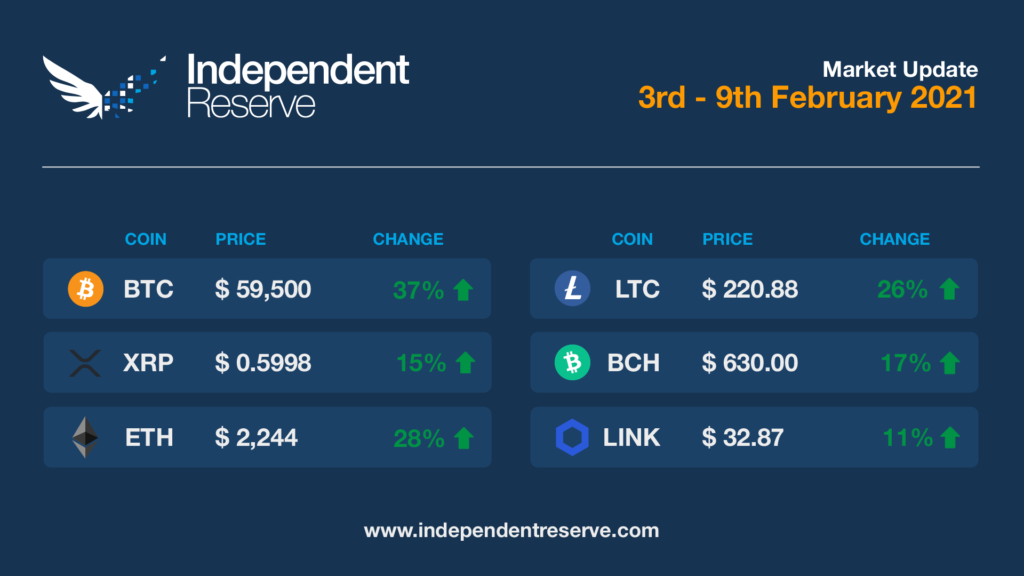 In Headlines
Bull market confirmed
Bull run set to continue following the incredible news that Tesla has invested $1.5B (A$1.95B) into Bitcoin. Tesla actually made the investment in December, an amount equivalent to 7.7% of gross cash or 15.1% of net cash. Tesla expects to begin accepting Bitcoin as payment for its cars "in the near future". Dermot O'Riordan, a partner from private-equity firm Eden Block called it a "genuine tipping point" that "legitimizes crypto and opens up Bitcoin to a whole new class of retail and institutional investors."
Who's next after Tesla?
There's already speculation about which major company will be next to add Bitcoin as a reserve asset, with some pundits suggesting Apple could jump in. Chances are it'll be one of the 6,917 companies that sent representatives to Michael Saylor and MicroStrategy's Bitcoin for Corporations online conference. More than 1,400 attended a seminar on the nitty-gritty around the legal considerations of companies investing into BTC. It's worth noting that on December 20, Saylor very publicly offered to show Elon Musk how to convert Tesla's balance sheet to Bitcoin.
AFR talks up crypto
Westpac's Reinventure Group venture capital fund is set to reap windfall returns from the Coinbase IPO. Westpac seeded the fund with $50M in late 2014 and tipped some money into Coinbase the following year. The fund looks set to return 9X ($450M) if Coinbase is valued at $65B by the market as many believe. If so, it'll make it one of the best performing funds in Australian venture capital history.
CME worries
Ether pulled back by 10% the day before CME opened ETH futures trading this week. While CME will bring in a ton of institutional money to speculate on ETH, it also means the big guys can easily short it too. The launch of BTC futures on CME coincided with the exact top of the 2017 bullrun and the beginning of crypto winter. However, ETH futures expiring this month ended the first day 4% up from the open to US$1,734 ($2,250). Coincidentally, the total value of all unsettled BTC futures this week hit a new all time high of more than $18B according to Skew.
Ether hits 1B transactions as gas fees go crazy
Ethereum crossed one billion transactions this week as gas fees rendered the network all but unusable for smaller retail traders. Uniswap founder Hayden Adams suggested the cause was, "The absurd amount of arbitrage opportunities created by competing liquidity mining AMMs." Looking on the bright side, high gas fees make the network's price to sales ratio more favourable. Bankless journalist Ryan Sean Adams pointed to Grayscale's Valuing Ethereum report and noted: "From a P/S perspective ETH is actually getting *cheaper*" Grayscale also suggested ETH has value as a form of money, as a commodity and as an interest-bearing asset.
Paypal to offer crypto payments at 29M retailers
Paypal says it's crypto trading service in the US has "exceeded expectations" and users are logging in twice as often as they did before. Now it intends to offer crypto as a payment option for all of its 29M retailers.
Bitcoiner on US Senate Banking Committee
A pro-Bitcoin Senator has been appointed to the Senate Banking Committee in the US. Wyoming Republican senator Cynthia Lummis said in a statement she hopes to "work with federal regulators to ensure that regulation of digital assets are structured to encourage innovation, instead of stifling it." She told The Pomp Podcast she's already had a chat with new Treasury Secretary Janet Yellen and believes Yellen has an open mind with balanced scepticism when it comes to digital assets.
Bull run to continue until 2022: Novogratz
Galaxy Digital CEO Mike Novogratz believes the current Bitcoin bull run will continue well into 2022. He told the Alpha Trader podcast this week: "The network effect of this [is] really taking off… What I'm really convinced of is we're still really early on the adoption cycle for big institutions. You haven't seen the big banks come out with their offerings yet. Let me tell you with certainty, they are coming … I will be really surprised if Bitcoin is not higher this year and higher the year after."
Until next week, happy trading!