In Markets
Bitcoin is down 2.2% this week to trade at just under A$71,600. But Ethereum has been hogging the spotlight again, peaking at a new all-time high a few hours ago of A$5,359. It's since pulled back to finish the week up 16.5% at $5,089. The record price came within 24 hours of the highest day of address activity in ETH's six-year history. "Generally, when active addresses grow, prices will follow," notes Santiment. New retail interest appears to be flowing to classic, more established names with Bitcoin Cash up 32.3%, Litecoin up 23.5%, Chainlink (12.5%), Stellar (21%), Ethereum Classic (106%) and EOS (38%). XRP lost 9.9%, Polkadot (-1.9%), AAVE (-14.9%) and Synthetix (-12.7%). There are unconfirmed rumours that Synthetix, Chainlink and UniSwap v3 are all set to launch layer 2 scaling within weeks, which if true could help usher in a new DeFi boom.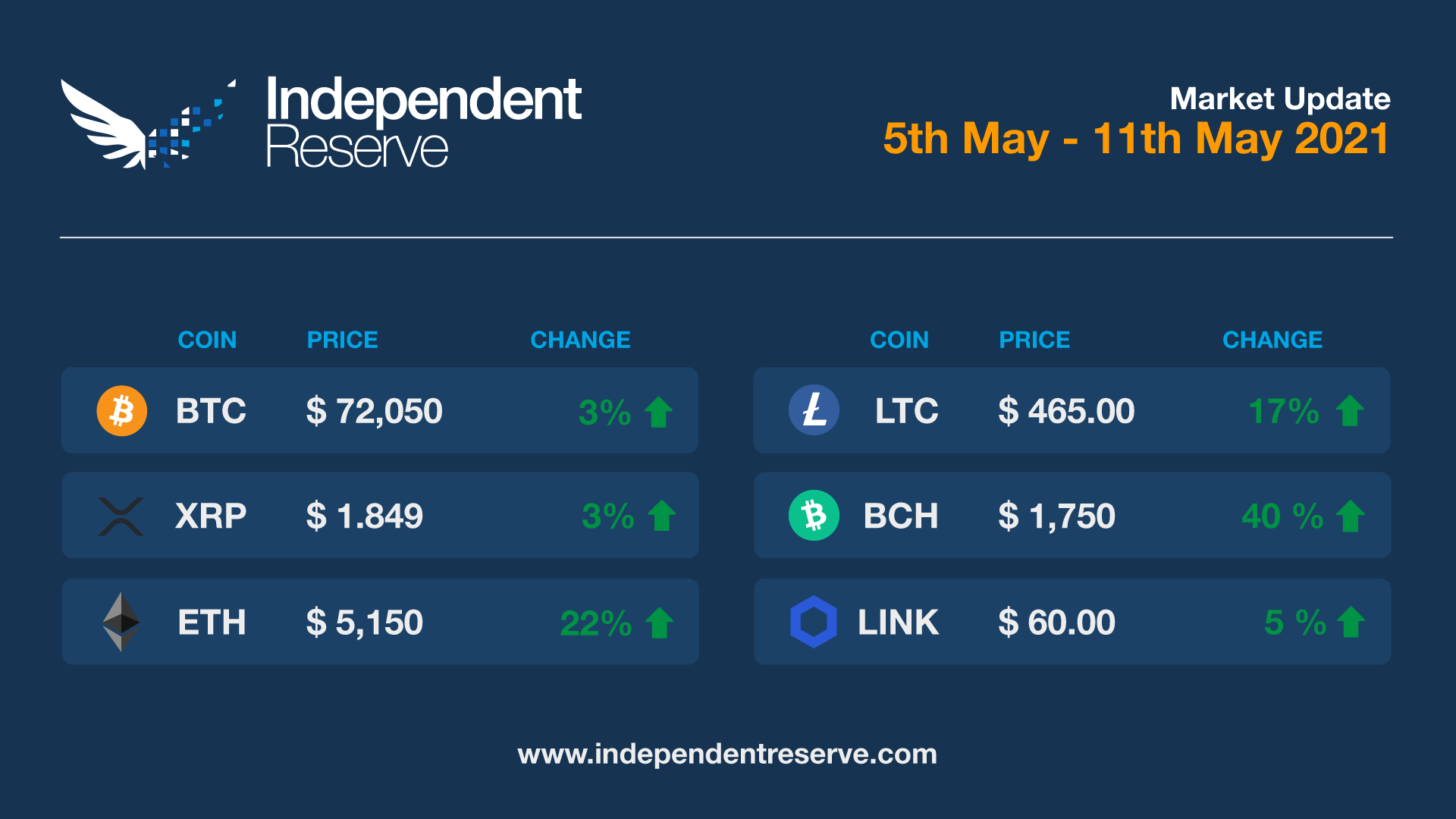 In Headlines
Bullish news for Ether bulls
Google searches for "Ethereum" are running about double what they were during the previous ATH in 2017. Unfortunately, surging interest means that two weeks of low gas fees came to an end with the average price back up to 130 Gwei. Derebit has introduced US$50K ETH (A$64K) call options. The amount of Ether locked in DeFi smart contracts is almost double the amount held on centralised exchanges. According to Glassnode, 22.8% of the entire ETH supply is locked in smart contracts while exchanges currently hold 12%. The trend is accelerating: At the start of the year exchanges held 17%, while the amount locked in smart contracts increased three quarters from 13%. Real Vision CEO Raoul Pal suggests the reason Ether is pumping is because the uber rich investors have discovered it. "Every single investor I have spoken to is shifting allocation to ETH over BTC. All our mutual friends and that billionaire finance circle…" he tweeted. Finally, analyst Nikhil Shamapant, author of the Squish Chaos newsletter has released a report called Ethereum the Triple Halving, in which he lays out his rationale for why he believes Ether will hit US$150K (A$191K) by 2023.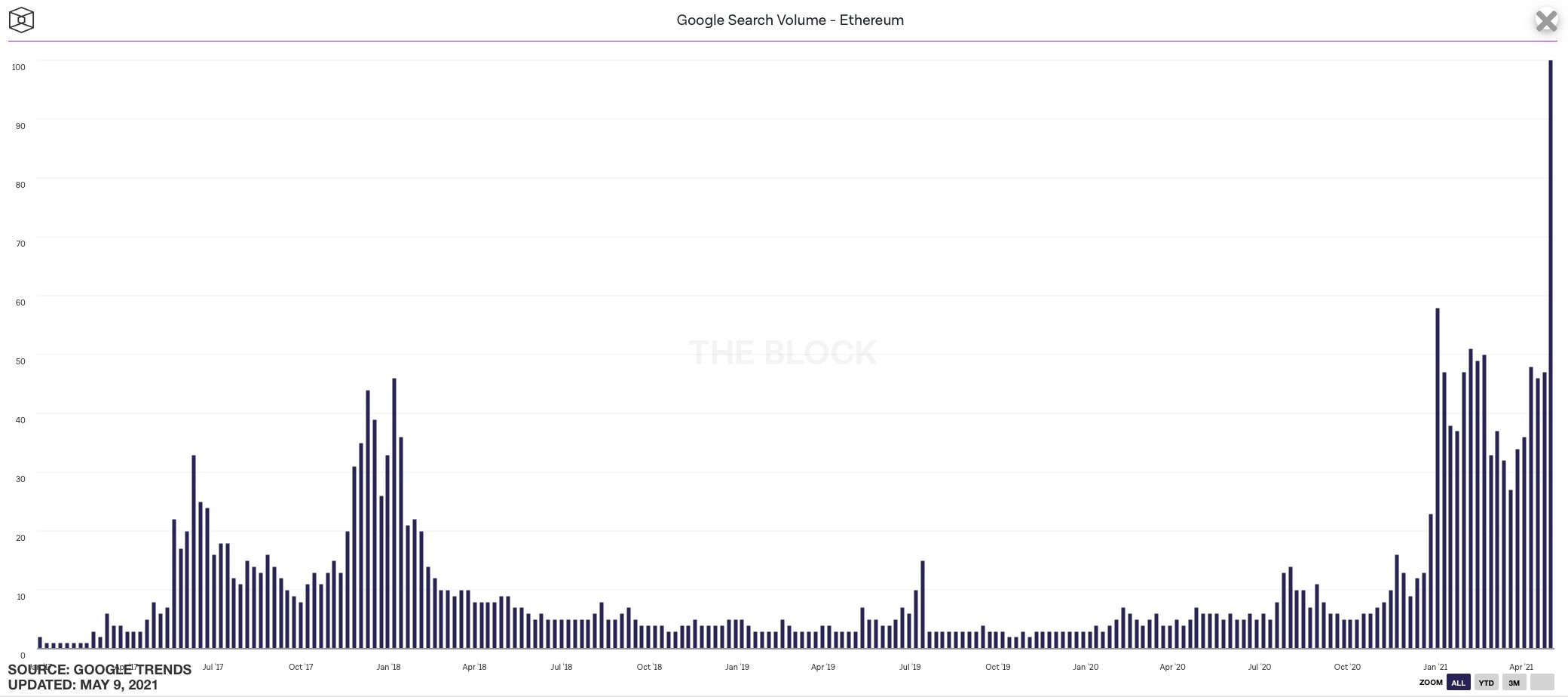 Ethereum ETF in the US?
One of the catalysts for this Ether price surge was the news that VanEck has launched a bid to open the first Ether based ETF in the United States. An ETF gives institutional investors exposure to the cryptocurrency without having to directly invest in it and custody it. Closer to home VanEck and BetaShares have both applied to the Australian Securities Exchange to launch crypto backed exchange traded funds. They're not the only ones with the ASX confirming it has received a handful of other applications.
Instant SGD deposits on Independent Reserve
Singapore-based Independent Reserve customers can now make instant SGD deposits using Xfers. Read this blog post to learn how.
Bitcoin Cash upgrades
Bitcoin Cash is undergoing its biannual hard fork on May 15. One of the upgrades will enable more microtransactions to be broadcast without waiting for a block confirmation, while another allows the insertion of much more miscellaneous data in a block (text, images etc) which will make it more suitable for NFTs. Bitcoin Cash may be starting to realise its potential as digital cash: transactions are up 650% since December and it now has more transactions than Bitcoin. Bitcoin.com founder Roger Ver said this week that he is working on getting Bitcoin Cash "ruled the official money of a particular country." He's probably referring to St. Kitts and Nevis, or Antigua, where he has already convinced the Government to let immigrants buy citizenship with BCH.
Trading desk is 2017 derivative
The fabled Goldman Sachs crypto trading desk is back up and running for the first time since 2017 according to CNBC. This version is only trading in crypto derivatives, and has begun trading Bitcoin futures and non-deliverable forwards. Goldman is reportedly "selectively onboarding" crypto trading institutions to expand its offerings.
Hip to be Square
There was much excitement this week over the news Square's Bitcoin revenue has increased 11X in a year to US$3.51B (A$4.48B). However, looking more closely Bitcoin only accounts for 2% of the company's profits. More than half the company's $964m profit (A$1.23M) was down to its crypto-friendly Cash App.
It isn't easy being green
The noise from regulators about Bitcoin's energy use is growing. Massachusetts Senator Elizabeth Warren says she is concerned about Bitcoin's "environmental impact" while a Democrat senator in New York has introduced a bill to ban all crypto mining for the next three years on environmental grounds (regardless of whether a mine uses renewable energy or not). In China, authorities have banned BTC mining in Inner Mongolia to help curb power usage and experts believe a bigger crackdown is coming. Yu Jianing, the rotating chairman of the Blockchain Committee of the China Communications Industry Association, said that "under the background of carbon neutrality, the future of blockchain mining will indeed have stricter supervision."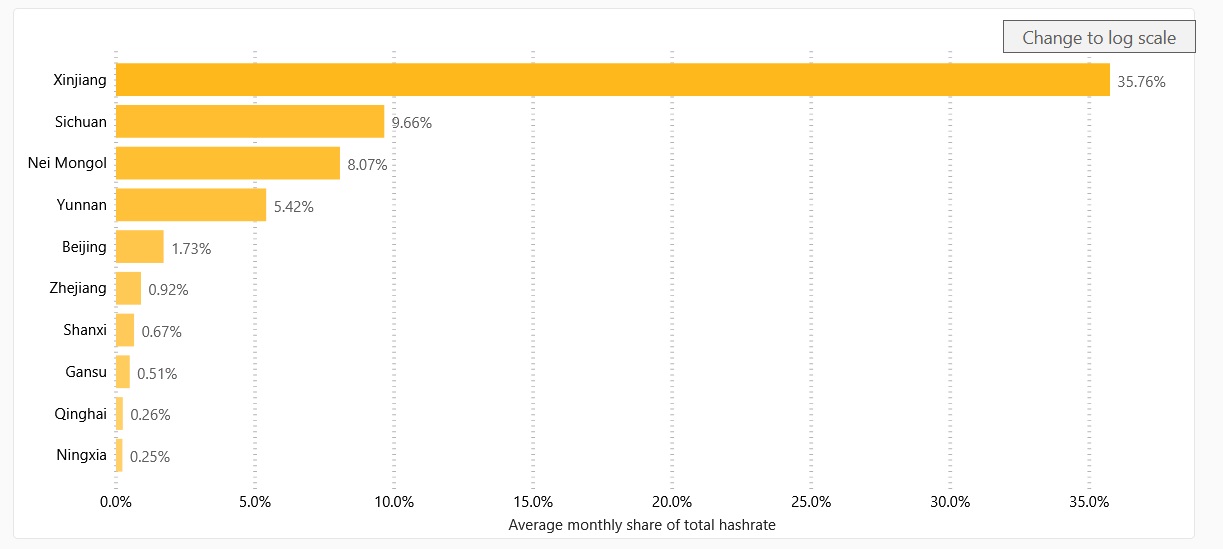 We need to talk about DOGE
Dogecoin is now the fourth-largest cryptocurrency after a retail and Elon Musk-driven pump. Search interest for DOGE is now higher than for Bitcoin. Although the meme coin took a dive shortly after Musk's appearance on Saturday Night Live, it recovered after he announced SpaceX was launching the Doge-1 satellite to the moon next year with the "mission paid for in Doge, 1st crypto in space, 1st meme in space" (in actual fact, Blockstream has been broadcasting the Bitcoin network from space for four years now). Dogecoin knockoff Shiba Inu was up 1915% this week.
Taking stock
If you'd invested US$1,000 into Bitcoin a year ago, you'd have $5,872 today. If you'd invested a grand in Ether you'd have $17,186 and if you'd put the money into Dogecoin you'd have $274,521.
Until next week, happy trading!