In Markets
Another historic week for Bitcoin kicks off with the leading cryptocurrency again within sight of breaking the all-time high of A$80,924, set on March 13. It's currently up 1.8% for the week to trade at just over A$79,000, with Bitcoin dominance at 53.9%. Bitcoin was again the best performing institutional grade asset of the first quarter, gaining 103%, followed by oil which was up 26%. Gold meanwhile lost 10%. Ethereum has just ploughed into a new all time high of A$2,885 and finishes the week up 1.4% at A$2,820. Court victories saw Ripple rediscover its mojo, up 59.3%, Litecoin increased 12.3%, Chainlink (3%), Stellar (10.8%) and Bitcoin Cash (8.8%). Aave was flat, Polkadot fell by 8.1%, EOS dropped 4.6% and SNX lost 5.4%.
In Headlines
Austrailan Blockchain Week
The first ever Australian Blockchain Week kicks off next Monday at a range of locations across Melbourne, Sydney and Brisbane. Organised by Blockchain Australia many of the events are available to attend on Zoom. There are more than 100 speakers including Senator Andrew Bragg along with representatives from the Reserve Bank, ASIC and AUSTRAC. You can catch Independent Reserve's CEO Adrian Przelozny next Tuesday on a panel discussing exchanges in Australia.
Another week, another record
Every week in 2021 brings another record or all-time high. This week the combined value of all cryptocurrencies broke through the US$2 trillion mark for the first time and it currently stands at $2,078,710,164,852 (A$2.73T). While impressive, that still only brings the entire market cap onto par with Apple. Bitcoin accounts for about 60% of the entire market cap. Brock Pierce, the chairman of the Bitcoin Foundation said that: "The crypto market is facilitating the greatest wealth transfer in the history of the world." Analyst Willy Woo thinks that once we break out from the current level, the BTC market cap will never dip below US$1 trillion again.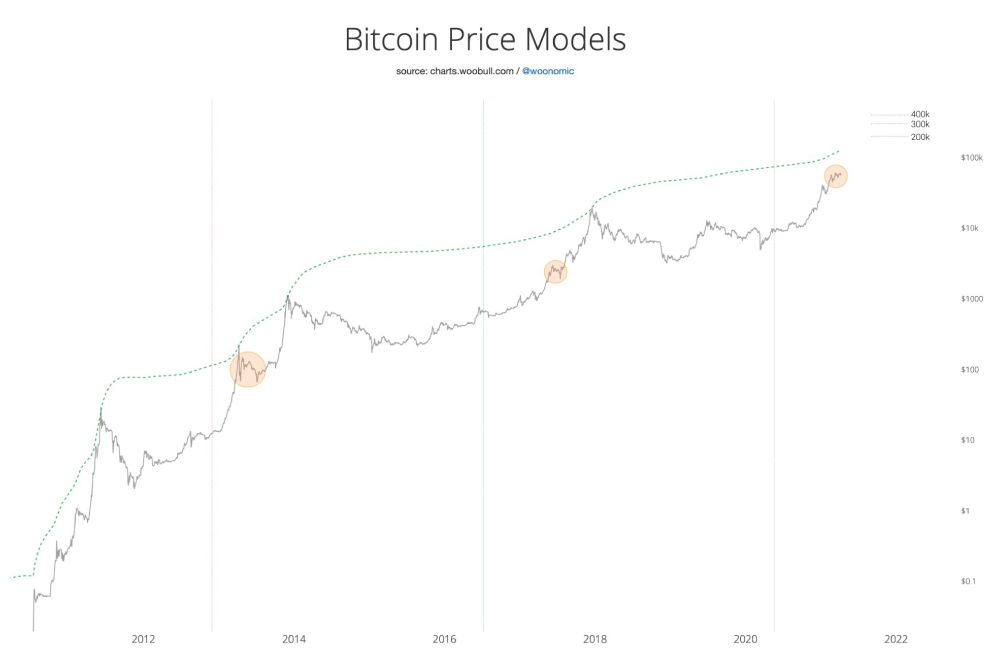 Ether to crack US$10K this year: Scott Melker
Trader Scott Melker said this week that Ether could hit US$10,000 (A$13.1K) by the end of the year and outperform Bitcoin. He's switched his dollar cost averaging strategy to ETH from BTC because he believes it has such "tremendous upside potential." "It's like investing in the Internet in the early 1990s to me," Melker said. Meanwhile Celsius CEO Alex Mashinsky believes Bitcoin will top US$160,000 ($A210K) this year, before falling back to $100,000 (A$131K) and is encouraging people to hodl rather than use BTC for payments.
Coinbase moon mission taxis to runway
Pre-trading on FTX suggests that Coinbase's direct listing on the Nasdaq later this week could achieve a valuation as high as US$140 billion (A$183B) (although some analysts think that even a $100B, or A$131B, valuation is over the top). The company updated the market on the extremely healthy state of its finances earlier this week. The US based exchange reaped US$1.8 billion (A$2.36B) in revenue in the first quarter, monthly users have hit six million and net income is estimated up to US$800 million (A$1.05B). Coincidentally, the New York Stock Exchange today released six NFTs commemorating historic listings including Spotify and DoorDash – maybe Coinbase will be added to the list one day? But normies aren't yet that excited, with Coinbase searches on Google Trends still at just 39% of their peak in 2017.
Bitcoin, meet DeFi
Another potentially historic moment this week is the launch of ThorChain which is basically a cross chain version of Uniswap that brings actual Bitcoin (and ETH, BNB, BCH and LTC) to DeFi. Bitcoin OG Erik Voorhees calls it, "Arguably the biggest event in crypto this week, though it may not be obvious for a year or two". Apart from its joke CEO Chris Hemsworth, the project has close ties to Australia.
Ledger facing class action
Ledger is being sued by two users who fell victim to phishing scams in the wake of a data breach that saw the personal data of 270,000 customers end up on the darknet. The class action lawsuit in California suggests Ledger covered up the breach and failed to inform users they were possible phishing targets. If you store crypto on a Ledger, it pays to be very suspicious of emails and calls.
Big evolution coming to Bitcoin regulations
Goldman Sachs CEO David Solomon predicts a "big evolution" is coming to cryptocurrency regulations in the US, to enable banks and other institutions to offer a wider range of crypto products. "There are significant regulatory restrictions around us and us acting as a principle around cryptocurrencies like Bitcoin," he told CNBC. "I think there'll be a big evolution as to how this evolves in the coming years."
Ripple case looking good
Ripple's legal team had a couple of major victories this week against the SEC which is suing it for selling unregistered securities. Ripple gained access to the internal discussions the SEC had on classifying various coins as securities or not and separately, the judge rejected the SEC's demand for eight year of personal financial records from chair Chris Larsen and CEO Brad Garlinghouse. XRP started the year at A$0.29 and has now climbed to A$1.90.
Bitcoin's TIME to shine
TIME magazine has embraced Bitcoin. Not only will it add Bitcoin to its balance sheet, but the president of the company Keith Grossman is taking his salary in Bitcoin. That's not all, as the magazine is also readying a series of crypto educational videos in partnership with Grayscale.
Bitcoin a financial weapon?
PayPal co-founder and self-described Bitcoin maximalist Peter Thiel said this week that he wonders "if at this point, Bitcoin should also be thought of in part as a Chinese financial weapon against the U.S." His argument is basically they'll back anything that can dislodge the US dollar and the global reserve currency (and they've supported the Euro similarly). Chinese social media didn't appear to care too much about the comments.
Until next week, happy trading!