Market Update 23rd – 29th May 2019
Welcome back to another Australian crypto market update
In Markets
It's been another great week, with Bitcoin spiking almost 10% in six hours on Sunday night, to a new yearly high above $12,850. It's currently around $12,750, bringing its monthly gain to 66%. It was far from the biggest gainer this week though, with LTC up 27% and EOS gaining 24% this week. Everything else was up: ETH (7.2%), BCH (6%), Stellar (0.75%) and IR's more recent coins OMG (6.3%), BAT (4.4%) and GNT (12.6%).
More than $36 billion was pumped into the wider market cap during the spike to peak at $393 billion, the highest level since July 2018. Daily volume surged 50% and is above $133 billion on Coin Market Cap. Bitcoin dominance is around 57%. Plenty of analysts are tipping a move past US$10,000 (A$14,450) but veteran trader Peter Brandt thinks we're in the "FOMO phase of the advance" and cautions a "sizable correction will likely occur".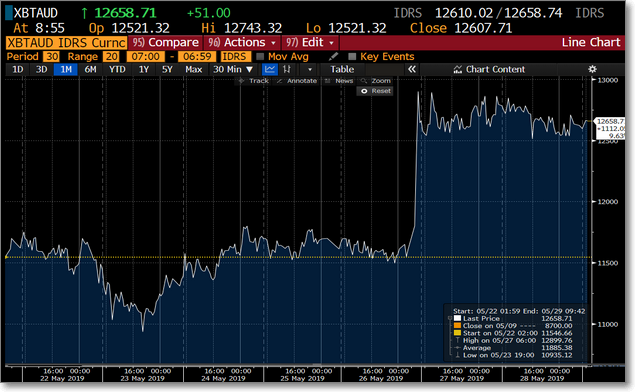 Source: Independent Reserve Bitcoin/AUD chart on Bloomberg
In Headlines
BTC 10x better than shares
Bitcoin (copyrighted by Dr Craig S Wright this week for a $35 fee) has become one of the year's most profitable investments, up 130% so far. That's around ten times better than the stock market.
All time high(s)
The number of wallet addresses with at least 0.1 BTC has grown to a new all time high of 2.7 million. And with around 70 days to go before the halving, the Litecoin network hash power hit nearly 380 TH/s this week, breaking the record of 340 TH/s from May 2018.
Not breaking all time highs
A majority of fintech experts surveyed by Finder.com predict Bitcoin won't top its all-time high this bull run. Half the ten member panel are tipping a market crash will follow. Their average end of year price prediction was US$9,659 (A$13,960).
Loads of new Tether
More than $140 million of new USDT has been printed in the past 70 days. Over the weekend Tether's market cap reached an all time high of $4.48 billion (US$3.32b). Legal action over an alleged $1.2b fraud is also looking like it will be going Bitfinex and Tether's way after the judge agreed the charges were overly wide and scheduled a hearing to dismiss on July 29.
Bitcoin ecosystem improves
Bitcoin has improved dramatically since it first broke above US$8,000 in November 2017 according to a new analysis by Cryptoslate. Back then the Mempool (that's where miners pull pending transactions from) was congested with 58 million bytes. This caused transactions to slow and fees to skyrocket. Thanks to the implementation of transaction batching, Segwit and the Lightning Network, the Mempool is now only around 7.7 million bytes, despite 50,000 more transactions per day.
Adoption news
Facebook will launch its Globalcoin in 2020. Thailand's SCB Bank and UK payments platform MoneyNetInt have both hinted they may adopt the XRP-powered Xrapid payments system. Communications giant AT&T now accepts Bitcoin. Grayscale has been approved to offer its Ethereum Trust to the public. And finally, Microsoft has just added the Bitcoin symbol to Excel.
That's all from us. Until next week, happy trading!
Independent Reserve Trading Desk
澳大利亚交易平台