Market Update 28th May – 4th June 2019
Welcome back to another Australian crypto market update.
In Markets
After nudging a new yearly high of almost $13,000 on Thursday, Bitcoin's price nosedived to $11,900 in a matter of hours. Some suggest it was due to automatic trades triggered by the price briefly crossing US$9,000. BTC looked like recovering Monday, but fell 8% in 24 hours to trade around $11,500 Tuesday morning. Prices are volatile, with high volumes across the board. Earlier today 25,000 BTC was transferred from an unknown wallet to Coinbase which may have kicked off the move. At the time of writing, everything was falling: Ethereum was down 8.6%, XRP (-2.9%), BCH (-9.3%), Litecoin (-9%), EOS (-14.5%) and Stellar (-7.1%). Despite the correction, the big picture looks good, with the crypto market cap increasing by 50% in May to $380 billion, and all the top ten coins increasing by at least 30%.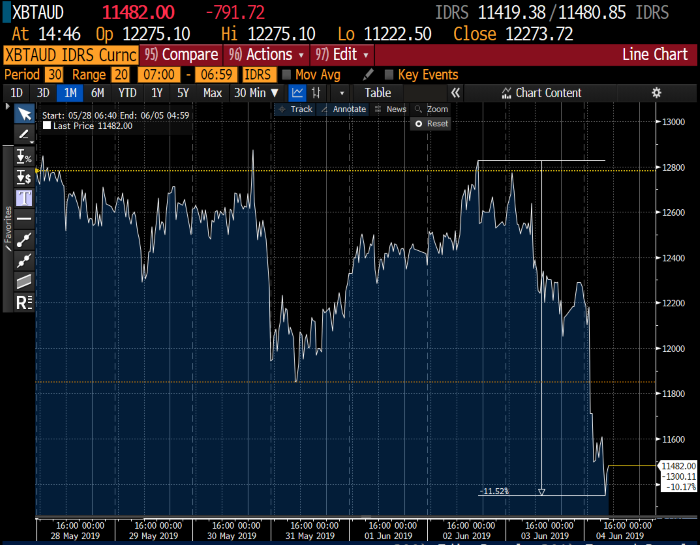 Independent Reserve Bitcoin/AUD chart on Bloomberg
In Headlines
Futures contracts hit all time high
Open interest in the CME Bitcoin Futures contract hit a record high last week. The number of outstanding contracts was 5190 – an increase of about seven percent on the week before.
ASIC's new ICO guidelines

ASIC has updated its ICO guidelines. Tokens deemed to be financial products will need to register their ICOs with ASIC, secure an Australian Financial Services license, and provide a Product Disclosure Statement. The rules could make it more difficult to list in the short term, as no Aussie exchange is currently licensed to offer tokens that are financial products.
Nobody pays with BTC
There was further confirmation this week that Bitcoin is seen as a speculative asset, or store of wealth, rather than a currency. A Chainalysis report found that just 1.3% of transactions in 2019 came from merchants. The other 98.7% comes from buyers and sellers on exchanges
Whale to end all whales
Forbes reported this week that the Dadiani Syndicate has been approached by a client that wishes to buy 25% of the Bitcoin supply. "There are a number of entities that want to dominate the market" the firm's founder said. Here at the IR OTC desk we'll believe it when we see it.
Bitcoin SV doubles overnight
Bitcoin SV supporters attribute a 100 percent overnight pump last week to Craig Wright's live streamed appearance at a CoinGeek conference. Skeptics attribute it to a fake news alert in China suggesting Wright had proven his claim he is Satoshi and that SV is being relisted on Binance. Bitcoin SV was up 231% in May.
Perfect storm for BTC price
Some experts are now predicting that risky credit markets (or the US-China trade war) could lead to a global recession next year – and that interest rate cuts and quantitative easing may not help due to overuse. Around the same time that investors are looking for a safe haven, the Bitcoin block reward will be halved. "The potential scenario is that interest rates will get slashed, fiat printing will explode, and Bitcoin will get more scarce all around the same time — this is like taking a forest fire and accidentally dropping thousands of gallons of gasoline on it," Morgan Creek Digital Assets founder Anthony Pompliano wrote this week.
Institutions paying 37% extra for BTC
Institutional investors are paying a 37 percent premium to invest in Bitcoin through the Grayscale Bitcoin Trust (which is traded on the stock market). Based on the current cost per share, one BTC in the trust costs investors $16,700. GBTC assets under management topped $1.72 billion this week and it's now estimated to gobble up 21 percent of the new supply of Bitcoin each month. It's a promising sign that institutional investors are FOMOing into the market.
市场资讯
上周四,比特币价格创下逾一年来的新高位近$13,000,之后迅速跳水,在接下来几个小时内暴跌至$11,900。部分人士认为,这是由于价格短暂突破US$9,000引发了自动交易。周一比特币价格看似复苏,但24小时内下跌8%,于周二清晨跌至 $11,500。 出现多笔大额交易,导致价格震荡。Z周二早些时候,25,000个比特币从不知名钱包转到Coinbase,可能吹响了此次震动的号角。截止撰文时间,价格仍在下跌:以太坊下跌8.6%,瑞波币下跌2.9%,莱特币下跌9%,柚子币下跌14.5%,恒星币下跌7.1%。尽管价格目前正在调整,但整体情况乐观,5月份加密货币市场市值增长50%,达到$3800亿,排名前十的币种均增长了至少30%。
Until next week, happy trading!
Independent Reserve Trading Desk
澳大利亚交易平台