Market Update 3rd – 9th October 2019
Welcome back to another Australian crypto market update.
In Markets
After a steady decline this week, Bitcoin bottomed out around $11,500 yesterday before bargain hunters moved in and pushed the price back above $12,200 at the time of writing. It's currently just 0.54% below its price a week ago. The entire top ten increased 3-7% in the past day, leaving Ethereum up 0.8% this week. XRP gained 7.2%, BCH (1.8%), LTC (2.7%) EOS (6.8%) and XLM (0.43%). The Fear and Greed Index over the last couple of weeks has been bouncing from 15 to 39 ('fear').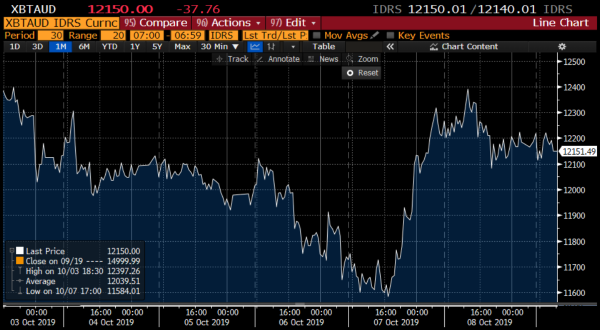 Source: Independent Reserve Bitcoin/AUD chart on Bloomberg
In Headlines
Price pressure comes from those cutting losses?
CoinMetrics data suggest that much of the recent downward pressure on Bitcoin prices comes from those who bought in between US$10,000 ($14,860) and US$12,000 ($17,830). Their analysis suggests that about 63% of the Bitcoin out there could still be sold at a profit today.
The future is unwritten
Bakkt's Bitcoin monthly futures traded 842 contracts between September 24 and October 4. That's an average of 93.5 BTC a day. Meanwhile open interest for CME Bitcoin Futures dropped 50% in the last quarter. That said, Binance Bitcoin Futures has gone gangbusters. On one day this week volume hit 30,500 BTC (US$250m) which was more than the spot trading volume on Binance's exchange.
Nobody's talking about 'altseason'
According to The Tie, mentions of 'altcoins' and 'altseason' in crypto media headlines plunged from all-time highs between June and September to an all-time low this month. But headlines don't tell the whole story: Bitcoin dominance has fallen from recent highs of 71% down to 66.7% currently.
Funds are getting on board, slowly
A report from Block-Fi found there are now 51 traditional funds, and 201 private funds with exposure to crypto assets. "The virus is definitely spreading, but so far it has only infected 1.3% of the total private fund population," Block-Fi commented.
Support grows for Digital Euro
Libra has got European lawmakers worried – and increased support for a Digital Euro. Germany's Finance Minister Olaf Scholz is firmly behind the move, saying: "Such a payment system would be good for the financial center of Europe and its integration into the world financial system." Nigel Green, CEO of deVere Group agrees saying it's "completely bizarre that the European Union, the world's largest trading bloc" has not yet embraced its own digital currency.
Vanguard and Morningstar embrace blockchain
Bloomberg reports that Vanguard Group has been testing a new blockchain based, peer to peer currency trading platform over the past two months. And Forbes says that Morningstar Credit Ratings plans to rate a range crypto assets. These aren't cryptocurrencies themselves, rather investment opportunities (debt instruments) backed by real world assets and recorded on a blockchain.
Until next week, Happy Trading!
Independent Reserve Trading Desk