Market Update 25th September – 2nd October 2019
Welcome back to another Australian crypto market update.
In Markets
The Bitcoin price bottomed on Monday around $11,500, but at the time of writing had recovered to trade around $12,400. That equates to a 15.8% drop on last Tuesday. The past 24 hours has seen a slight recovery for the top ten, but everything is down on seven days ago: ETH (-13.2%), XRP (-7%), BCH (-23.8%), LTC (-19.1%), EOS (-21.9%) and XLM (6.1%).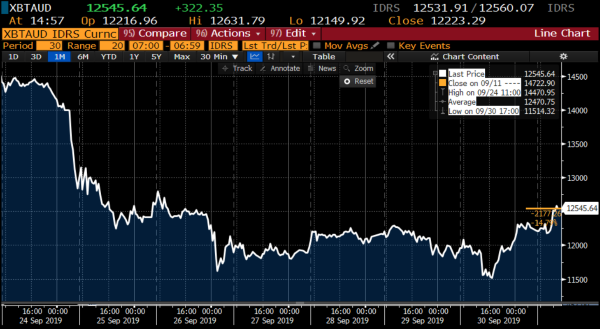 Source: Independent Reserve Bitcoin/AUD chart on Bloomberg
In Headlines
Total perspective vortex
To "zoom out" a bit, last week's sudden 14.3% plunge in the Bitcoin price is only the 41st worst drop since 2010. The cryptocurrency remains more than double the price it began the year at. Fundstrat's Tom Lee this week warned again temptation to sit on the sidelines, arguing that if you had missed the "best ten days" of BTC price rises each year since 2013, you'd have racked up losses of 25% annually. "Are you that good at trading?" he asked.
BTC plunge blamed on Bakkt
There were some fringe theories floating around about the cause of last week's price dip. Some suggested it was down to a share market dip, President Trump's potential impeachment, or even failed travel agent Thomas Cook dumping Bitcoin! But JP Morgan, Mati Greenspan and other analysts blamed Bakkt's underwhelming debut. Bakkt traded a disappointing 627 BTC in a week, or $7.6m worth. Still, early days yet.
Bitcoin wallets with 1000 BTC hits ATH
According to Shakepay, the number of Bitcoin addresses storing more than 1000 BTC has reached a new all time high of 2180 – an increase of 100 on last month. And 1ML reports the number of nodes in the Lightning Network has seen a sharp rise to 10,002. Lightning channels and Bitcoin capacity are falling however.
Bitcoin network behaving badly
Weird things are afoot with the Bitcoin network. Overnight block #597,273 was mined 119 minutes after the previous block – a two-hour gap that's only happened 10 times in BTC history. There was also a sudden hash rate plunge this week from 98 to 67 exahash (currently 86). The growing consensus seems to be measurement error – the hash rate isn't directly observable and the stats are just an estimate that can be skewed by things like slow block times.
Ethereum centralized?
A new analysis from Chainstack suggests that 61.6% of the network is actually run in the cloud – with Amazon Web Services alone accounting for a quarter of the network. Just 38.4 percent of nodes are hosted independently. Does the cloud count in terms of decentralisation? In other Ethereum news, the first 'sharding' demonstration/simulation (the technology that will enable the network to scale) is set to occur at DevCon in Osaka (October 8-11).
McAfee says $1m BTC price is "conservative"
John McAfee has told Forbes his US$1 million ($1.48m) BTC price by end of 2020 is "conservative". He says that if Bitcoin takes 5% to 20% of the world's financial transactions, Bitcoin will be worth "$10m per coin" ($14.8m). However, he says as he's "a very conservative man … I said one [$1m] and I'm sticking to one." Meanwhile veteran trader Peter Brandt thinks Bitcoin may bottom out at US$5500 ($8150) in February before "a bull move to US$50,000" ($74,000).
Maybe it's better if Bitcoin isn't 'digital gold'
If you'd taken gold bug Peter Schiff's advice about Bitcoin, back when he began his one man crusade against it in 2011, you'd have missed out on 44,000% gains. If you'd invested in gold back then as he recommended, you'd still be 1% down on your investment.
Until next week, Happy Trading!
Independent Reserve Trading Desk