Market Update 28th August – 3rd September 2019
Welcome back to another Australian crypto market update.
In Markets
Bitcoin fell off a cliff last Thursday, plunging from $15,200 to $13,900 in the space of a day. And just as suddenly in the last 24 hours, Bitcoin surged 6.1 percent to be trading above $15,400 at the time of writing. Bitcoin's increase has dragged up the entire top ten – but not enough to make up for a week of losses. ETH lost 5.1%, XRP (-3%), BCH (-4.3%), LTC (-9.5%), EOS (-6.6%) and Stellar (-8.8%).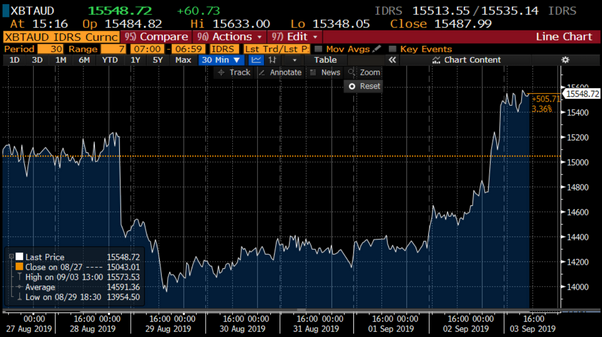 Source: Independent Reserve Bitcoin/AUD chart on Bloomberg
In Headlines
Register and start trading in 5 minutes
Independent Reserve released FastTrack, a sign-up feature that enables new customers to register, deposit funds and start trading within 5 minutes. You can complete the full verification process at a later time to unlock the full features of your account.
Markets are correct
To paraphrase Paul Keating, August was the correction we had to have. Everything went backwards: on September 1 Bitcoin was down 8.7% for the month to record its third monthly loss this year (it fell 7.6% in January and 6.3% in July), ETH lost 20.1%, XRP (-17.2%), BCH (-13.7%), LTC (-32%), EOS (-21%) and Stellar (-24%).
Bitcoin is the Dominatrix of coins
Bitcoin dominance has just reached 70.1 percent. This could spell bad news for an alt-season as Bitcoin continues to head back to 80+%. At its lowest point in early 2018, Bitcoin dominance was at 32%.
Independent Reserve releases crypto usage stats
Sydney's eastern and western suburbs dominate as the top 10 crypto purchasing suburbs in Australia. Inner-city suburbs of Melbourne round-off the top 10. Women make up 1 in 5 crypto buyers and the most popular day for trading is Wednesday.
BTC searches increase
Google searches for "BTC" have suddenly jumped to their highest level worldwide since August 24 and are 2400% higher than two weeks ago. Don't get too excited though, while searches for "Bitcoin" have increased too, they are still below the recent June 26 peak.
CME futures double
BTC futures on the Chicago Mercantile Exchange are more than double the volume they were at the beginning of the year. An average of US$370 million across 7237 contracts is being traded each day since the beginning of the year. The record high was 33,677 contracts ($1.3 billion) on May 13. Daily volumes for BTC on CME have been steadily falling over the past two months according to Brave New Coin.
New hash rate ATH
Bitcoin's hash rate has more than doubled since the start of the year when it was hovering around 35 exahashes. The network hash rate hit a new high of 83.5 quintillion hashes per second on August 29. RT's Keiser Report host Max Keiser proclaims: "New (all-time high) for (Bitcoin) hash rate as alts die and players position themselves strategically ahead of BTC's move back to 85% dominance."
Three quarters of Bitcoin buyers have made money
Data from IntoTheBlock shows that 74.26 percent of addresses on the Bitcoin network are in profit. Around 6.88 million Bitcoin addresses bought into the coin when it was under $845. Buying Bitcoin has been profitable 3,817 days out of 3,869 days Bitcoin has been around.
Realized cap
A measurement called the Bitcoin Realized Cap saw BTC top US$100 billion for the first time ever. It's calculated by valuing each unit of supply at the price it last moved. So if BTC sold for $5 in 2013, that's the price included. "Realized cap can be thought of as a measure of the average cost basis of Bitcoin holders." said CoinMetrics.
Until next week, Happy Trading!
Independent Reserve Trading Desk