In markets
Sell-offs in US equities, the strengthening US dollar and ludicrously high Ethereum gas prices appear to have weighed heavily on crypto markets this week. Bitcoin was trading above $16,500 this time last week (US$12K) but has now fallen back to test the $14,000 (US$10K) mark, with occasional dips below. It's currently trading at $14,400 and is 11.2% down on this time last week. Although markets have recovered slightly since the weekend, it's still a sea of red: Ethereum is 19% down, Chainlink (-20.9%), Ripple XRP (-14%), Bitcoin Cash (-16.5%), Bitcoin SV (-10%), Litecoin (-20.1%), EOS (-11.6%) and Stellar (-19%).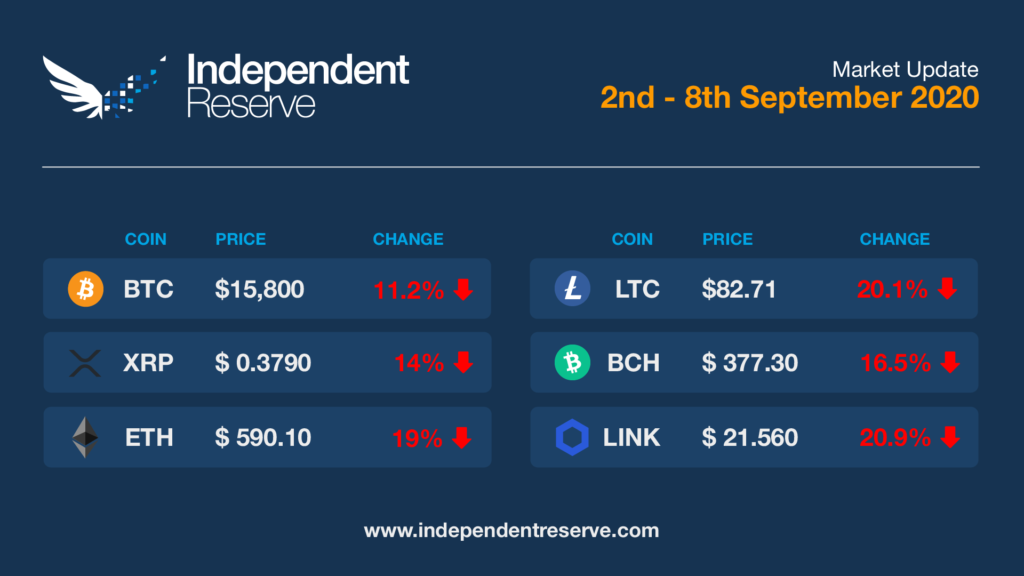 Derivatives hit an all-time high
Crypto derivatives volume rose 54% in August to a new all-time high of $975 billion. Spot markets also hit $1.13 billion in August, around double what they were in July. Constantine Tsavliris, CryptoCompare's head of research, told CoinDesk that the surge in volumes was likely a result of the Bitcoin price rally last month that saw the price peak above $17K.
1M Ether sell-off
The Ethereum price was at a two year high around A$666 last week, before crashing by a third in recent days. It's currently back around A$480 – although that's still significantly up on the pre-DeFi boom price of $325 in July. According to Santiment, the top 100 exchange addresses "decreased their tokens held from 16.92 million to 15.89 million over the past week." Santiment believes this was "almost certainly a sparkplug" to the price dump.
DeFi cripples Ethereum
The yield farming craze saw gas prices on the Ethereum network skyrocket this week, with some DeFi users paying $450 for a single transaction. Part of the problem was SushiSwap, a clone of the decentralizsed exchange Uniswap, offering eye wateringly high returns to encourage Uniswap liquidity providers to switch protocols. Other blockchains with lower fees are starting to make inroads into Ethereum's DeFi market with similar schemes, such as the Tron network's Pearl.
PlanB now thinks BTC could top $1 million
Popular stock-to-flow modeller PlanB seems unfazed by the BTC price dip and has revealed he's been playing it safe with his "conservative" US$288,000 ($395K) price prediction model. He believes it could be double or triple that figure, which would take it to US$864,000 ($1.18m) in four years. "I don't want to mention the number," he told podcaster Peter McCormack. "I try to be conservative all the time. But let's say a 2x or a 3x from that $288,000, and then it crashes again, of course."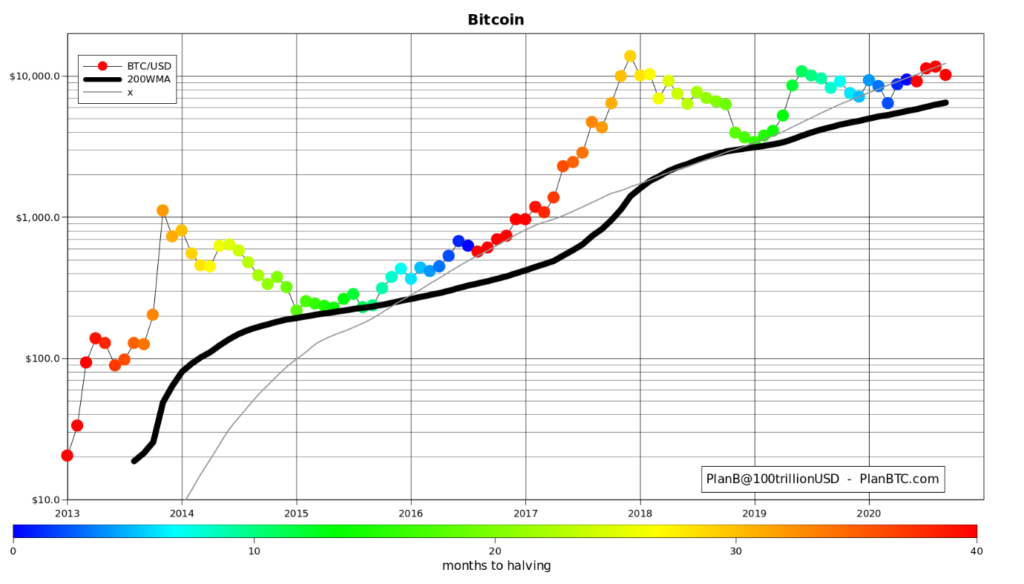 Markets swallow some bad Sushi
A contributing factor in the Ethereum price plunge appears to have been the anonymous founder of SushiSwap, Chef Nomi, cashing out $17.2 million worth of tokens – after repeatedly assuring the community that would never happen. Sushi fell by 53% as rumours of an 'exit scam' spread, however, Nomi later transferred control to FTX Founder Sam Bankman-Fried, who will hand it over to the community. Lawsuits are in the offing and speculation is swirling that Chef Nomi is actually one of the co-founders of Chainlink competitor,: Band Protocol.
Quality DeFi projects?
It seems new unaudited, cloned, food-themed DeFi projects pop up every day now and then just as quickly crash and burn. This week, Uniswap clone HotDog plunged from $4,000 to $1 in the space of 5 minutes, with Pizza and OnlyUp suffering similar fates. However, there are quality projects out there according to DeFiSafety's list of audited projects, with Synthetix, Compound, Uniswap, Maker DAO, Aave and Opyn Protection all scoring above 80% in audits that examine the quality of the code, testing and documentation.
Bitcoin Cash fork
The Bitcoin Cash community is split over lead developer of Bitcoin ABC's decision to take 8% from each block reward to spend on development. Bitcoin.com founder Roger Ver has weighed in, and claimed that Bitcoin ABC is "forking away from Bitcoin Cash on November 15". In actual fact, who is forking away from whom is unclear, and it remains to be seen which version will get to keep the Bitcoin Cash name. In what seemed like rare good news for BCH this week, venture capitalist billionaire Tim Draper tweeted that he had boarded the by BCH bus: "I recently purchased some BCH. So easy to buy/use… Thank-you to Roger Ver for this innovation." But it turned out that his account had been hacked.
Hard money
Litecoin might be down more than 20% but there are signs of life in digital silver yet. The world's largest adult website Pornhub has added Bitcoin and Litecoin as payment options for its subscription packages. Glassnode data showed a 55% spike in LTC trading volume in the 24 hours after the announcement.
Until next week, Happy Trading!