Market Update 17th – 23rd June 2020
In Markets
Bitcoin is currently trading just under $14,000 and is 1.9% up on seven days ago. Ether gained 4.8% this week, but the rest of the top ten remained fairly steady: XRP (-0.9%), Bitcoin Cash (2.4%), Bitcoin SV (0.5%), Litecoin (0.8%), EOS (1.4%) and Stellar (1.45%). Apart from a few flashes of volatility, Bitcoin has been trading in a 10% range for almost two months. Will today's Paypal rumours help propel BTC above the psychological US $10,000 ($14,422) mark?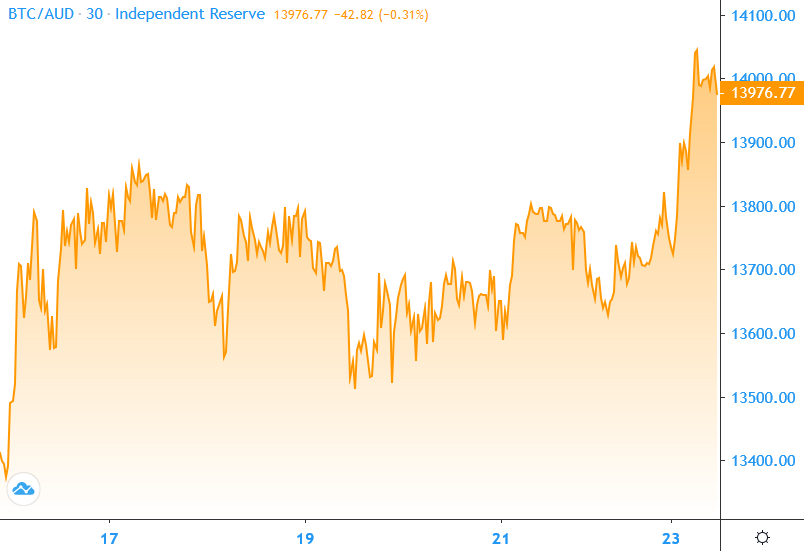 Source: Independent Reserve Bitcoin/AUD chart
In Headlines
325 million potential new users
Overnight Coindesk posted a news story that payments giant Paypal and Venmo (the largest consumer finance app in the US) will enable cryptocurrency purchases for their 325 million users within three months. While Paypal hasn't officially confirmed the plan, Coindesk claims to have three industry sources backing up the story. PayPal Chief Technology Officer Sri Shivananda has said in the past he is a "strong believer" in blockchain and that: "The digitization of currency is only a matter of when not if."
DeFi led bull market?
All eyes were on the launch of DeFi lending protocol Compound's new governance token, COMP as it spiked in price. Launched on Wednesday at $141, it shot up to $491, and is currently trading around $408. Compound has quickly become the largest DeFi protocol and the excitement saw the total USD value of funds locked in DeFi shoot up by 50% in a week. All of a sudden everyone, including Forbes, was talking about complicated 'yield farming' schemes which supposedly provide 100% returns on an annualized basis. Ethereum co-founder Vitalik Buterin warned of the risks of "flashy DeFi things" and suggested that interest rates "significantly higher than what you can get in traditional finance are inherently either temporary arbitrage opportunities or come with unstated risks attached." Some say DeFi could spark a new bull run similar to the ICO boom of 2017, while others think it's an overhyped bubble.
DeFi P/E ratios
DeFi protocols generate income which means they can be valued in a similar way to shares (though it's disputed how useful that is). On their price to earnings ratios, DeFi tokens need exponential growth to work out: Kyber has a P/E ratio of 85.9, Compound is at 200x, Synthetix is on 281x, and Maker is on an astonishing multiple of 4360x.
19% of BTC does all the heavy lifting
Chainalysis has released a new report that found that all of the Bitcoin trading volume in the world is generated by just 3.5 million BTC. It found 19% of BTC was used for trading, 60% was held as long-term investments, and the rest (around $50 billion worth) hasn't moved in five years and is probably lost. There are around 340,000 active Bitcoin traders on a weekly basis.
Bitcoin to spike $10K in a day
The Keiser Report host Max Keiser has predicted the US dollar will collapse and on that day the Bitcoin price will spike $10,000. He also believes that billionaire Paul Tudor Jones will become the biggest single holder of BTC within two years. "My target for BTC since 2011 has been $100,000 and I recently upped that to $400,000. The timing depends on when exactly the $USD collapses," he said.
Good time to buy
Glassnode reports the Bitcoin Puell Multiple, a metric that encompasses miner profitability, has "dropped back into the green 'buy' zone after almost three weeks. For investors with long-term time horizons, these levels below the 0.5 line have historically marked excellent entry points into BTC."
Until next week, happy trading!
Independent Reserve Trading Desk