In Markets
Bitcoin had a positive week, increasing 2.8% to trade just under $15,300 at the time of writing. Bitcoin has now spent a record 64 days above the US$10,000 ($14,100) level and podcaster Anthony Pompliano says "it's only showing signs of going higher." Will it break the US$11,000 ($15,525) mark this week? Altcoins were a sea of green, with Ethereum up 3.7%, XRP (4.5%), Bitcoin Cash (5.8%), Chainlink (16.7%) and Bitcoin SV (15.3%). Outside of the top 10 Litecoin was up 4.2%, EOS (2%), Stellar (4.1%), Synthetix (32.8%) and OMG (45%).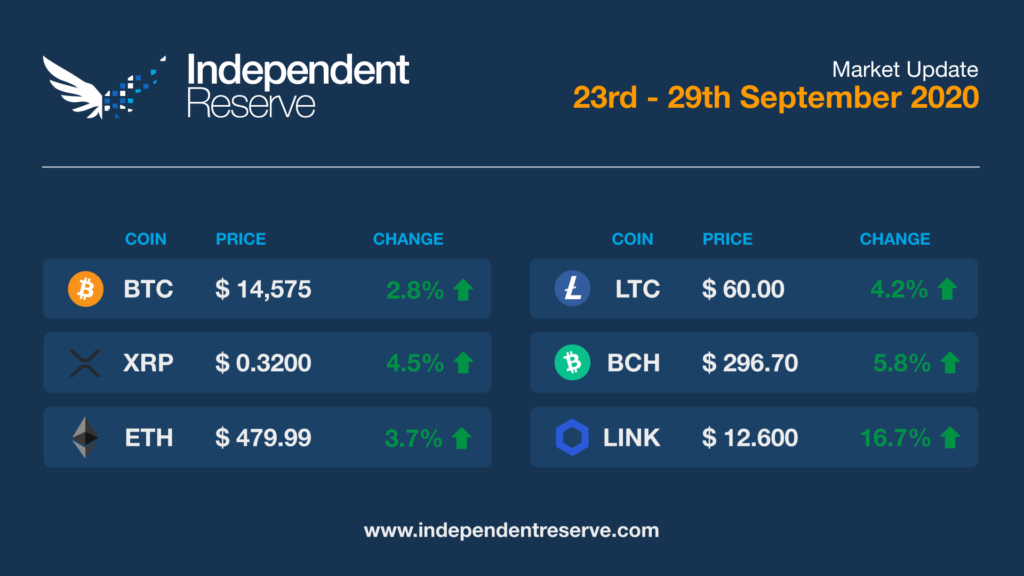 In Headlines
Institutions buying BTC
The Grayscale Bitcoin Trust acquired another 17,100 BTC over the past week and has now amassed 450,000 Bitcoin, or 2.4% of the entire supply. Digital asset manager Pantera Capital announced its Bitcoin fund is up 61% and its ICO fund is up 323%. But growing institutional investment in Bitcoin is not all good news, with Glassnode pointing out the correlation with stocks continues. "This correlation can be explained by BTC's increasing popularity among 'traditional' investors, including large-scale institutions," the firm stated, arguing this may also be the reason BTC has failed to break above US$11K despite "strong on-chain fundamentals". However, Glassnode said that "as demand from the traditional financial world continues to grow, BTC's limited supply should act in its favour, driving the price gradually higher."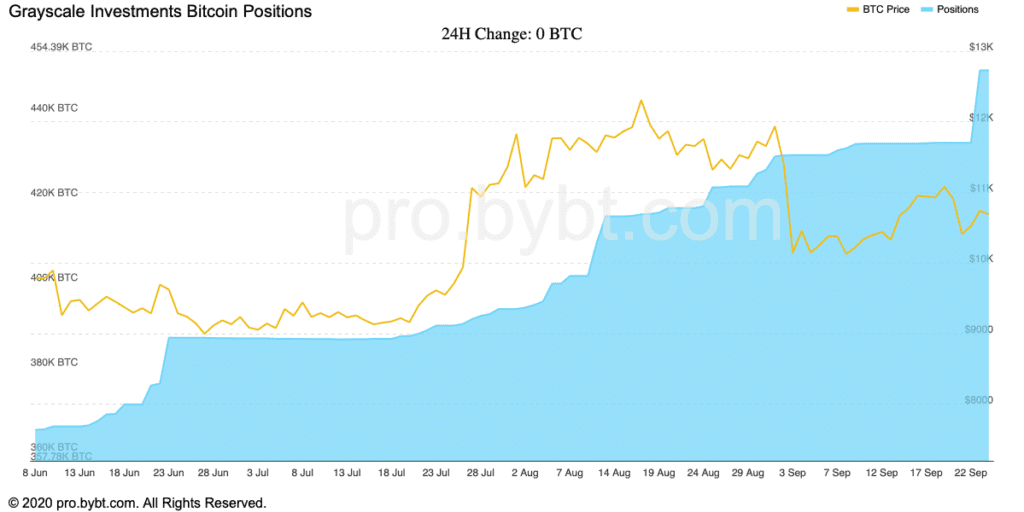 Bitcoin stats
Bitcoin miners have now created 88% of the entire 21 million supply – but it'll take until 2140 to mine the remaining 12%. No one is quite sure why 21 million was chosen: one theory is that it was close to the US$21 trillion global money supply at the time, while others think it's just how the halving maths works out. Bitcoin evangelist Davincij15 did his own maths and says that if BTC becomes the world reserve currency, owning just BTC 0.28 will put you in the wealthiest 1% of the world. Adoption is increasing, with a new study from the Cambridge Centre for Alternative Finance estimating that the number of crypto users has jumped 189% since 2018 and now stands at 100 million worldwide.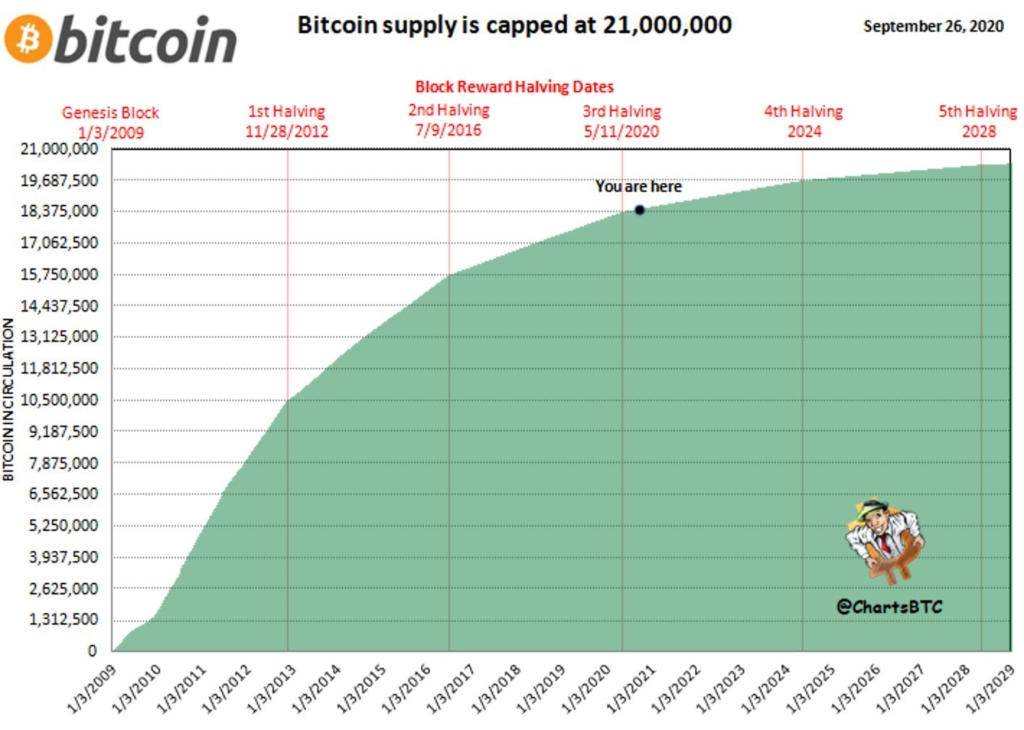 A fresh look
Later this week we will be releasing a new look website. So if you land on our website and feel like something's different, that's because it is. Key changes will include an updated look, super-fast load times and TradingView charts on our market pages. If you notice any bugs or issues, please let us know by emailing general@independentreserve.com.
The trouble with centralisation
Up to A$395 million worth of crypto was stolen from Kucoin this week, however, the third largest hack in history didn't make a lasting dent in prices. Around 50% of the total stolen looks like being recovered after centralised cryptocurrencies including Tether, Ampleforth, VIDT_Datalink, Aleph, Orion Protocol, Velo Labs and Ocean all cancelled millions of stolen coins. Stellar, Synthetix and MakerDAO did not cancel funds. Influencer Theta Seek argues the hack was: "Extremely bullish for BTC and ETH. You can't freeze a decentralized system."
Fin Review talks up Aussie DeFi
The Australian Financial Review featured a big report on DeFi yield farming this week, calling it the "biggest crypto craze since 2017's bitcoin bubble". Melbourne's Nexus Mutual, which offers DeFi insurance, and crypto fund Apollo Capital were featured. The article even claimed Synthetix founder Kain Warwick invented the entire $14.2 billion DeFi sector – although if you ask him, he usually gives the credit to MakerDAO.
Layer 2 scaling for DeFi
In one small step for SNX stakers, and one giant leap for the entire DeFi ecosystem, Synthetix is now allowing smaller SNX holders to mint, burn and claim rewards using the Optimistic Ethereum Layer 2 testnet. If successful, Synthetix hopes to scale the entire project up to 2,000 transactions per second – that's more than 100X faster than Ethereum Layer 1.  Chainlink and Uniswap are set to embrace the technology next. "This is a huge milestone for Synthetix, Optimistic Ethereum, and indeed the entire Ethereum space," said Synthetix.
Chainlink spikes
Chainlink has been integrated as a payment method on the crypto-friendly hotel booking platform Travala.com. Token holders can book accommodation in over 2.2 million hotels and homes in 230 countries. LINK got a 30% price bump in a day and finished the week almost 17% up. Trustnodes has done a bit of digging and say that a LINK development address has been regularly selling off 500K batches of LINK over the past six months, which may have contributed to the six-week downtrend from the mid-August peak.
It's 2017 again
If you missed out on buying some big-name cryptocurrencies back in the bull market run-up of 2017, you can now rectify that mistake. A number of major cryptocurrencies aren't far off their mid-2017 prices (expressed in USD to compare like to like), including Litecoin, which was US$33 back then and $45 now, Ethereum (was $340 now $356) and XRP (was 27 cents now 24 cents).
Bitcoin outperforms
Ten months into 2020 and Bitcoin is up 50% year-to-date, outperforming gold (20.8%), the NASDAQ Composite Index (21.63%), the S&P 500 Index (2.09%), the US Dollar Index (down 1.88%) and Crude Oil (-34.59%). The news made a huge splash across the Chinese language media including Xinhua News Agency and China Central Television. Binance CEO Changpeng Zhao commented: "Most people on Twitter probably don't understand how big this is. It is big."