Welcome back to another Australian crypto market update.
In Markets
After a mid-week slump, Bitcoin took the elevator up a thousand dollars on the weekend and has continued to climb. Renewed hopes of a stimulus deal in the US and public company Square buying up 4,709 Bitcoin helped the bullish sentiment. Bitcoin finishes the week up 7.4% at just over $16,000 (around US $11,500). DeFi tokens also staged a minor comeback this week with Chainlink up 19.3% and Synthetix up 10.7%. Ethereum finishes the week up 9.9%, Bitcoin Cash (8.6%), Litecoin (10%), Bitcoin SV (4.9%), EOS (4.9%), Stellar (6.1%). The Fear and Greed Index moved up overnight from 52 to 56 or from Neutral to Greed.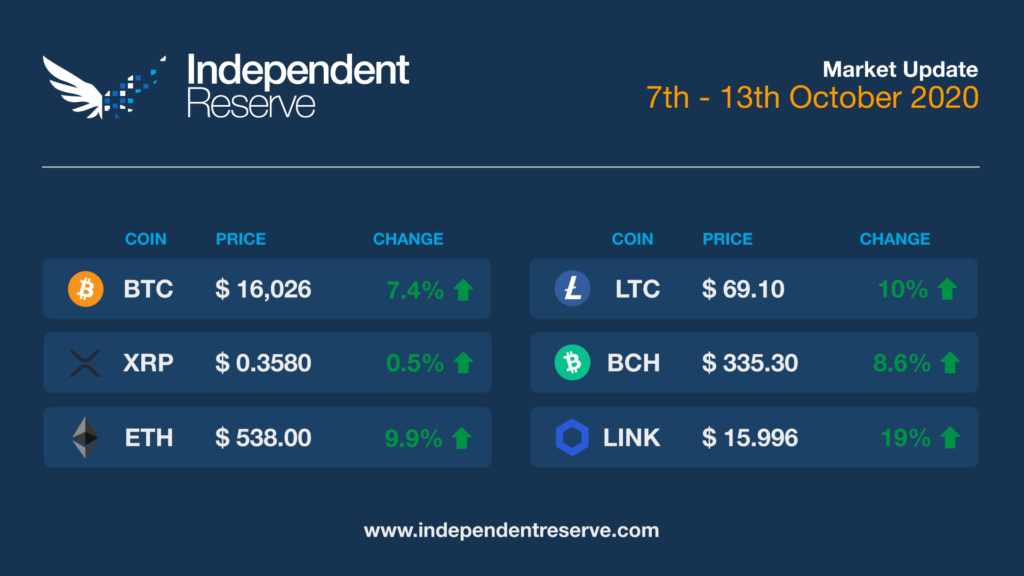 In Headlines
Hip to be Square
Twitter CEO Jack Dorsey's listed payments app company Square has put $76 million worth of Bitcoin on its balance sheet, or around 1% of the company's total assets. Social media sentiment for Bitcoin surged in the aftermath of the news according to Santiment. It confirmed in the minds of many that MicroStrategy's $589 million purchase of Bitcoin was the start of a trend. Thirteen publicly traded companies including Australia's own DigitalX Limited now hold Bitcoin assets worth a combined 598,237 Bitcoin. That's 2.85% of the entire supply.  However, economist Alex Kruger doesn't see it becoming a major trend. He argues that corporate treasuries aren't in the business of "investing" and have shown little interest in holding inflation hedges like gold. "Thus, the likelihood of a Bitcoin domino effect among corporates is very low," he said.
Top 10 cryptos outperform stocks
The long-running 'Top 10' experiment – where a user put $100 into each of the top ten cryptocurrencies in January 2019 – found the portfolio has now grown 53.8%, which is significantly better than the S&P 500's 35% gain in the same period. However, the user also performed similar experiments in 2018 and 2020 and stocks are the winner overall. That's mainly because the 2018 experiment numbers are dragging everything down. The portfolio is still 76% underwater after thirty-three months and half the top ten coins from back then have since fallen out of the top ten.
Regulators get tough
The US Justice Department this week released its "Cryptocurrency Enforcement Framework", which takes a fairly dim view of crypto in general and claims a whole host of new powers over crypto businesses – including expanding the DoJ's jurisdiction to anything that passes through a US server. Forbes has a good run down. On the other side of the pond, the United Kingdom's Financial Conduct Authority has made crypto derivatives illegal for retail investors. This could either be bullish for DeFi derivatives protocols like Synthetix or bearish, given it's apparently illegal for UK investors to access it now. Finally, John McAfee has been arrested for tax evasion and charged by the SEC for shilling ICOs without adequate disclosures.
ETH 2.0 by end of year
Ethereum developers have successfully completed another dress rehearsal for Ethereum 2.0 Phase 0. Unlike the previous buggy, failed attempt called Spadina, the Zinken testnet went off without a hitch. Its success, along with the smooth performance of the larger Medalla multi-client testnet, paves the way for the real ETH 2.0 launch to occur before the end of the year. Phase 0 is the beacon chain however and won't have much material impact on the day to day workings of Ethereum.
Bitcoin transfers a quarter more value
The Bitcoin network transferred an average of $3.33 billion a day in the third quarter, totalling $312B, which is a 25% increase on the previous quarter. According to The Block, miners saw an 88% increase in fee revenue during the quarter, with users shelling out an average $1.4 million a day in fees. However, Cointelegraph looked at the monthly data for September and found that Bitcoin miner revenue fell by half compared to August to just $36 million. Ethereum miner revenue increased by 39% in September to $234 million.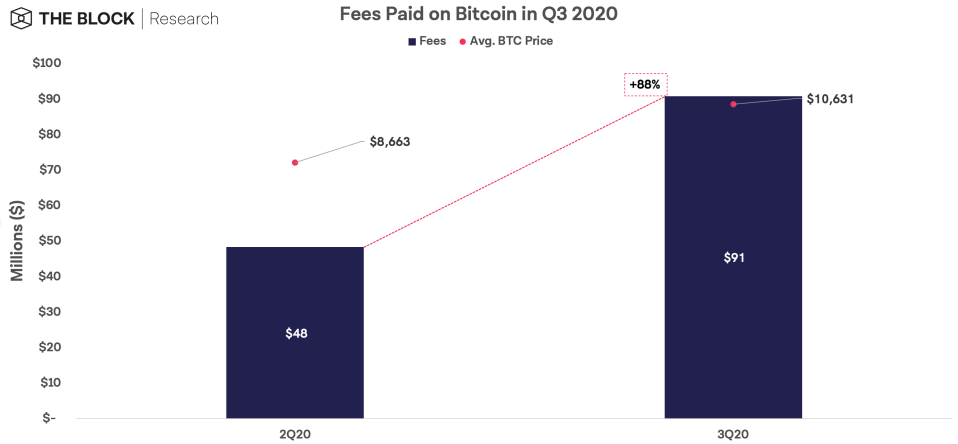 Bitcoin fees paid in Q3 vs Q2
Third-quarter DeFi boom
Dapp Radar's quarterly DeFi report confirmed that the third quarter of the year was "the best quarter for the DeFi ecosystem" in its short history. Transaction volume in the quarter exploded from about $13.9 billion to $170 billion. Total value locked almost quadrupled. While 96% of the quarter's DeFi activity was on the Ethereum network, congestion and high fees created an opportunity for competing blockchains, and Tron accounted for more than a third of daily active wallets.
Grayscale Ethereum reporting
The Grayscale Ethereum Trust has become a Securities and Exchange Commission reporting company – which the London-based prime brokerage Bequant argues is bullish news for ETH.  "The news will likely spur on another wave of Ethereum outperforming Bitcoin, especially given the growing total value locked (TVL) across the DeFi universe," head of research Denis Vinokourov told CoinDesk.
Until next week, happy trading!