In markets
It's been another massive week in crypto with Bitcoin trading above $37,100 for the first time. At the time of writing Bitcoin was around $35,400 to be up 16.9% for the week and 47.9% for the month. Bitcoin's current market cap of $660 billion makes it larger than Visa and Walmart and it's closing in fast on Berkshire Hathaway. The news hit the front page of CNN, in a story headlined: "What the #)$*#@)($ is happening with Bitcoin's insane record run?".  After lagging Bitcoin for some time, Ethereum finally outshone the king this week, marking an 18.5% gain to trade above $950. Litecoin increased 21%, Bitcoin Cash gained 12.4%, Chainlink was up 1.2% while Synthetix jumped 28.2%. It's not alt season quite yet however with Bitcoin SV losing 2.9% and EOS down 7.3%. XRP's legal dramas saw it fall 53.1% and may have contributed to the 14.3% fall for Stellar, a similar project from XRP co-founder Jed McCaleb.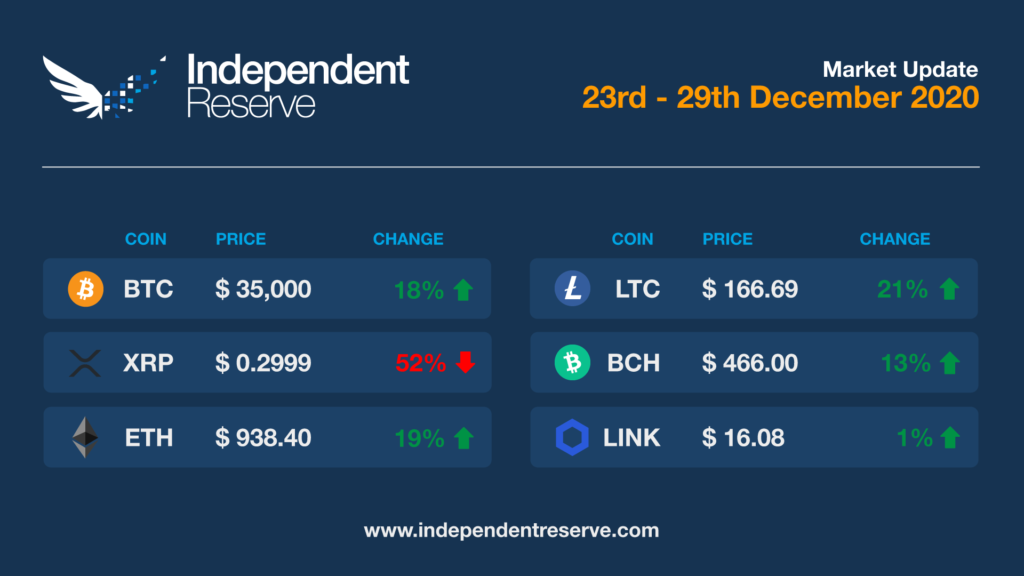 Bitcoin finally gets respect
The mainstream media this year began treating Bitcoin seriously, running just 11 articles in 2020 proclaiming Bitcoin was dead or dying. That's the lowest number of such articles since 2012. This change in emphasis is apparent in today's Australian Financial Review feature in that it treats Bitcoin as a worthy investment and only uses the term "bubble" in reference to 2017. Senior reporter James Eyers wrote: "Banks and a broader range of institutional investors are starting to pay much closer attention to cryptocurrencies. This time around, the interest is not only in Bitcoin's potential as an alternative means of payment but as an alternative safe asset to hold for the longer term."
Whale's Christmas hunt
Santiment reports that whales snapped up Bitcoin from smaller addresses in the two days following Christmas: "Bitcoin addresses with 1,000 or more BTC now own 0.13% more of the supply that smaller addresses did previously. This is about 24,158 tokens", or $770 million worth. Ki Young Ju, CEO at CryptoQuant also noted that fewer whales are depositing on exchanges to sell. "I think this bull-run will continue as institutional investors keep buying and Exchange Whale Ratio keeps below 85%," the analyst wrote.
Ripple crippled
The XRP price has plunged by more than half since the US Securities and Exchange Commission filed a lawsuit against parent company Ripple and its founders, alleging that they had raised more than $1.7 billion via an unregistered, ongoing digital asset securities offering. Coinbase this morning suspended XRP trading globally (which will hurt as it made up 8.3% of the exchange's volume), following similar moves by Bitstamp, OKCoin, Beaxy, Simplex and the Grayscale XRP trust. Pundits tip all of the major US exchanges will have to delist it. There is some hope for XRP though, with TikTok analyst @marenaltman using astrology to tip XRP will go gangbusters around 2023. "This is probably one of the best times to buy in," she said.
Chainlink's big plans
One of the standout protocols of 2020 was Chainlink, which was integrated into around one project a day throughout 2020 and named an outstanding tech pioneer by the World Economic Forum. It's up 520% this year and has become a top 10 project. Co-founder Sergey Nazarov told Decrypt the plan for 2021 is to focus on security and reliability so the network can scale up to accommodate tens of billions in value, and support ecosystems "where developers can now build things that they couldn't build before". He said the protocol will continue to expand to new blockchains and away from its main DeFi focus to encompass traditional industries. As an example, AAP used Chainlink to publish the results of the US election on the blockchain and now runs its own node.
BSV transactions fall
Transactions on the Bitcoin SV network have fallen off a cliff since mid-December. For 13 months transactions on the network were considerably higher than on the Bitcoin network but according to BitinfoCharts, they fell from more than 1M transactions a day on December 16 to about 200K today. Bitcoin is currently around 306K per day, while BCH has around 44K. However, the BSV price remains where it was a month ago.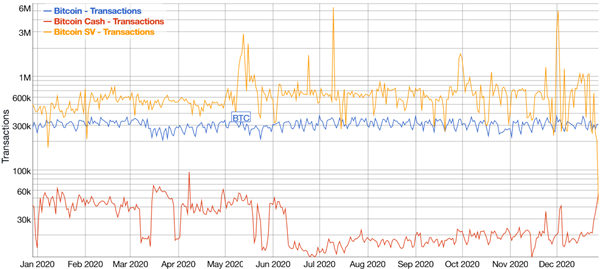 Transaction volumes: BTC vs BSV vs. BCH
BlackRock backs Bitcoin
The world's largest asset manager Blackrock – which has more than $9 trillion worth of assets under management – is jumping on board the blockchain train. It has posted a job vacancy for a New York based vice president of blockchain to help it value crypto assets. The ad comes hot on the heels of CEO Larry Fink stating that Bitcoin has "caught the attention" of many people and could "evolve" into a global market asset.
Will 2021 be ETH's year?
Ether is trading at prices last seen in May 2018 and closing in fast on the $1000 mark. The stars seem to be aligning with around 90% of addresses in profit, ETH miner balances at a two-year low and the supply on exchanges declining. Trader Scott Melker noted an "endless series of higher highs and higher lows" on the chart, a pattern he dubbed the "Stairway To Heaven." There is now more than 2.1 million Ether in the Eth2 deposit contract with another 7.3 million ETH staked in DeFi protocols, which means around 8% of the total supply is locked up. Messari analyst Ryan Watkins says Ether is only just getting started and that CME launching ETH futures on Feb 8 is the "writing on the wall" that demonstrates institutions will be snapping up Ether this year.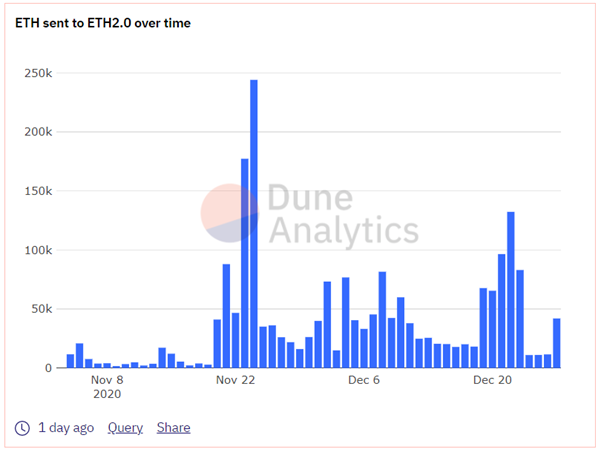 It's been quite a year
2020 has been a year to remember, especially for crypto. From its low of $6.3k, Bitcoin has risen 592% to a new all-time high of $37.3k, we have seen the rise of DeFi, and the fall of the (purchasing power of the) dollar.  Here at Independent Reserve, we are immensely bullish on the year to come and believe crypto is just about to take off.
Despite all that has happened this year we wish you a happy and healthy break!
Until next week, happy trading!