In Markets
The new year has certainly started off with a bang, with Bitcoin nearing $45,000 on January 3, then "crashing" below $38,000 in the first big retracement since we crossed the US$20K barrier (A$26K) in December. It finishes the week around $42,200 to mark a 20% gain. The Ethereum price was even more explosive and is nearing $1500 for the best prices since early 2018. It's up 51.1% this week. Other coins saw big gains including Litecoin (up 20.8%), Bitcoin Cash (15.4%), Chainlink (12%), Stellar (13.1%), EOS (2.5%) AAVE (39.2%) and Synthetix (47.7%). Bitcoin SV gained 6.8% while Ripple gained 2% and was briefly overtaken as the fourth largest cryptocurrency by Litecoin.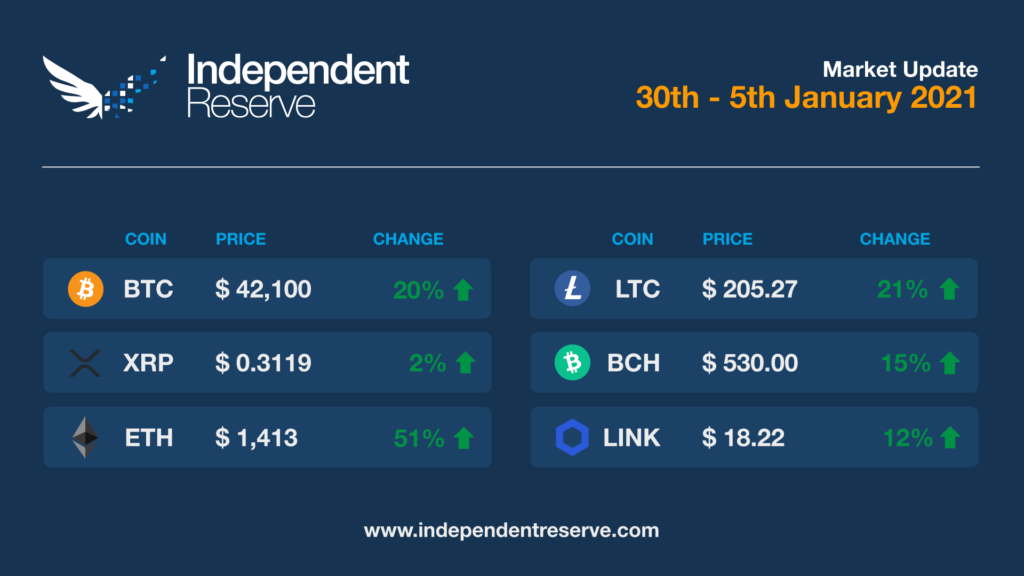 In Headlines
12th anniversary of Bitcoin genesis block
This week marked the 12th anniversary of the Bitcoin genesis block in 2009 and my how we've grown. Bitcoin is on the verge of settling $13 trillion, 75% of which occurred since 2018. Bitcoin's current market cap of $780 billion now exceeds that of the world's tenth-largest listed company Berkshire Hathaway, run by Warren Buffet. Records are falling left right and centre, with Binance hitting a new all-time high daily volume above $104B and total value locked in DeFi hitting a record US$17.5B. That's up almost a quarter already in the first week of 2021. But despite various memes suggesting either Bitcoin or Ether was the best-performing asset of 2020, analyst Mati Greenspan notes the honour actually belongs to: "Telsa with a total YTD gain of 715% … Still, the orange coin didn't fare too poorly, clocking in at nearly 300%." Ether meanwhile was up 450%.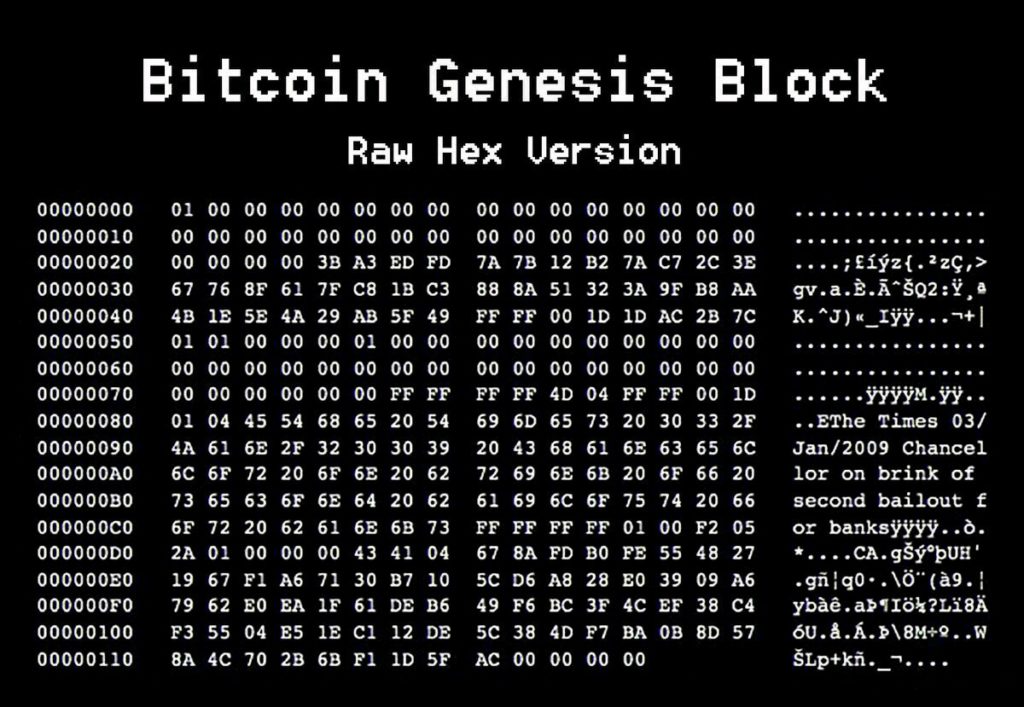 "Chancellor on brink of second bailout for banks"
Institutional demand
The bull run appears to be driven by institutions rather than retail. Over the weekend the institution focused Coinbase Pro registered an outflow of more than 235,000 bitcoin according to CryptoQant CEO Ki Young Ju. He commented: "Another insane Coinbase outflow … Institutions FOMO buying." CoinDesk noted Bitcoin's price rally from October "has been mainly fueled by institutional demand … there is evidence that persistent demand from big players is creating a supply squeeze, allowing for a continued price rally." John Todaro, Head of Research at TradeBlock, also noted retail buyers were not here en masse: "The market feels orderly. Still, it's mostly institutions and crypto native participants doing the buying. The retail frenzy starts at $50K." Throughout December Grayscale accumulated 72,950 BTC which is almost three times the 28,112 Bitcoin mined during the month. (That's more than MicroStrategy's entire 70,470 BTC reserve in a single month.) Over the course of the year, Grayscale's total assets under management grew 10X.
XRP delistings
The delisting of XRP from major US exchanges continued this week with eToro and Binance US joining a list of 26 platforms that have suspended XRP trading for Americans due to the SEC's action against Ripple for violating securities laws. Ripple intends to fight it in the courts while the XRP Army has launched a White House petition to convince legislators that XRP is a currency and not a security.
Independent Retirement
Independent Reserve CEO Adrian Przelozny revealed in a CoinDesk article that the first-ever retirement account on IR was created back in 2016 when one punter put $41,000 into Bitcoin. That account is now worth more than $1.2 million. "That's an annualised return of nearly 100% year on year," he wrote. "Comparably, Australia's leading "aggressive growth" industry superannuation funds returned 9% year on year over a five-year period." He noted that thousands of retirement accounts have since been created. If you're considering putting some super into crypto, have a read here for more information.
Ether fever
The Ether price is up by more than half over the past week and Santiment data shows that whales are accumulating more ETH: "We've discovered that there are 39 more Ethereum addresses holding 10,000+ ETH compared to just 2 months ago. Meanwhile, the number of addresses holding 1-10,000 ETH have shrunk over this time." Alex Saunders from Nuggets News called the news a bullish sign. "Whales accumulate ETH as retail sells. This is exactly what happened to BTC at $10,000 – $13,000 before blast off."
Synthetix turning on Ethereum scaling
Ethereum scaling can't come soon enough with Ether fees reaching the highest point since September's DeFI boom and averaging $13.30 on Sunday. The good news is that Synthetix will be switching on Optimism Ethereum Layer 2 scaling via a soft launch on January 15. The Optimism team expect "outages and bugs" so be prepared for a bumpy ride. Synthetix will also enable cross-asset swaps with Curve and Synthetix and the platform hit a new record high of A$242 million in daily volume in the past 24 hours. The price shot up 19.5% in the past day and is up 127% in the past month.
DeFi Digest
A round-up of the top news in Decentralised Finance
Until next week, Happy Trading!