In Markets
After trading above $50K last week, Bitcoin fell below $40K last Tuesday. But shortly after Grayscale reopened to new investors, the price recovered to its previous heights. Coincidence or not? It emerged yesterday that on Jan 15, Grayscale recorded inflows of $900M in a single day. Bitcoin finishes the week 7% up on last week, and it's still 51% up on a month ago. Ethereum also recovered nicely and is up 23% on seven days ago. XRP was delisted by Kraken, declined 9.8% and lost its coveted fourth place to Polkadot, the latest 'Ethereum-killer' which almost doubled in a week. Litecoin up 11.9%, BCH (14%), EOS (-8%), Bitcoin SV (-15.52%). LINK was up 48.67% with a new ATH price, Stellar (10.4%), Synthetix (13.7%) and AAVE (56.8%).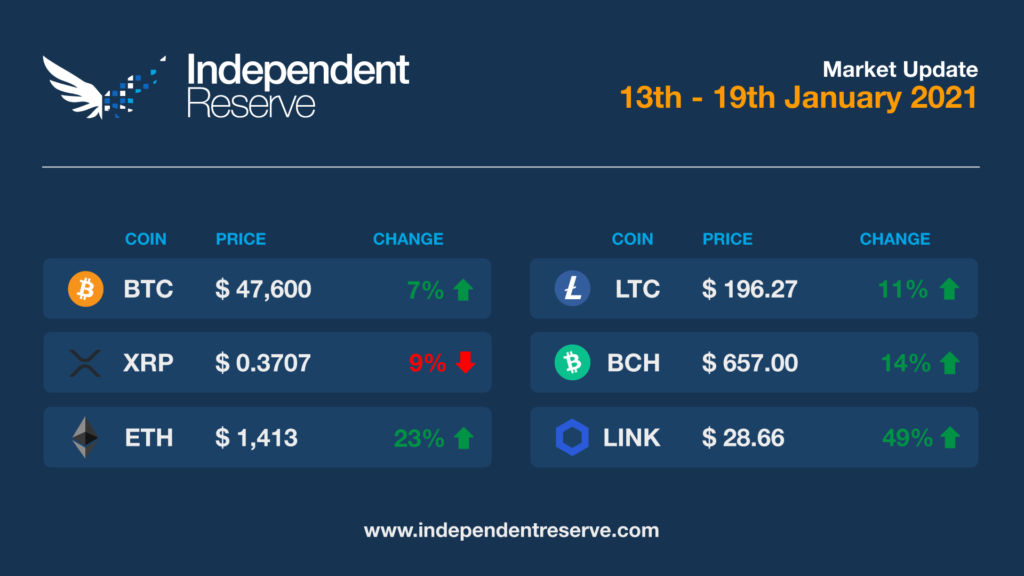 In Headlines
Bitcoin on track for $150K
Pantera blockchain's latest investor letter suggests the halving is playing out exactly as forecast – and Pantera literally did forecast the price month by month back in April 2020, and are currently bang on with the US$38,061 tipped for Jan 15. By March they're tipping $52,943 (A$69K), June $88,576 (A$115K) and August the price will be $115,212 (A$150K). CEO Dan Morehead said recently of the $115K target: "I'm not saying I'd bet our life savings that's definitely going to happen, but I think it's possible, and we're right on pace to do that." The investor's letter also called Ethereum "undervalued' on a relative basis to BTC.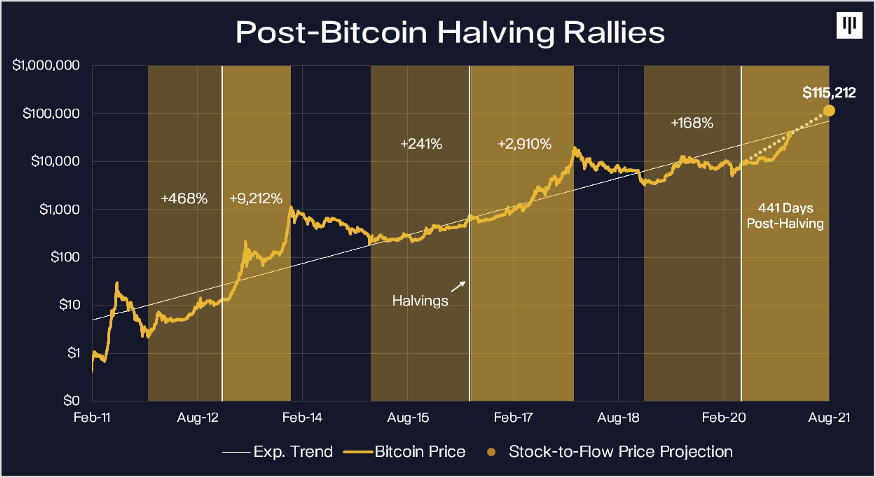 The great repricing
Tokens for DeFi protocols Uniswap and AAVE cracked the top 20 this week and now sit alongside former top ten currencies like EOS and TRON. SNX joined them too (briefly) while LINK's frog meme army was delighted with the coin hitting a new all-time high price above $30. The price action has been dubbed 'the great repricing' and Delphi Digital believes that more than $40 billion sitting in the market caps of older layer one projects like Ripple, Bitcoin Cash, EOS, Tron and Stellar will increasingly flow into new defi projects. "While this is an important milestone, it is only the beginning of a trend we've been talking about for a while," said Delphi Digital partner José Macedo. "We see the value prop for DeFi as doing to finance what the internet did to data."
'Self-hosted' wallet draft rules delayed
The comment period on the draft FinCEN regulations requiring exchanges to monitor self-hosted wallets has been extended. More than 7,500 submissions, mostly opposing the move, have been received and the extension has raised hopes the new Biden administration might junk the plan.
Distributed Ledger threats
Ledger owners have reported threats and extortion attempts in the aftermath of news the records of 20,000 more owners had been leaked, this time via Shopify. They joined 272,853 others who had their personal information, including home addresses, leaked in mid-2020. While the scammer's threats are believed to be hollow, attacks in 'meat space' to steal crypto have definitely happened in the past.
L2 SNX
Ethereum layer-two scaling solution Optimism just had its 'soft launch' on Synthetix. Smaller SNX holders can now stake SNX faster and without crippling ETH gas fees on L2. It's the first of four stages in the transition to Optimism in order to limit the risk to the platform. Eventually, L2 solutions are expected to help Ethereum scale to 100,000 transactions per second. In other SNX news, someone moved 74.6 million Synthetix Network Tokens (SNX) worth $1.5 billion for a fee of less than $10.
Crypto teacher the SEC chair
President-elect Joe Biden has decided to nominate Gary Gensler as SEC chair. Gensler is well versed in crypto, having taught courses on digital assets and blockchain at MIT, and replaces Jay Clayton, who was known for cracking down on ICOs and for launching a securities fraud case against XRP on his way out the door.
All your BTC are belong to us
The news Grayscale raked in $900M in a single day this week, comes on top of its record fourth quarter, during which investors poured in $4.3 billion into its various trusts. The total haul for the year was $7.41B, with the BTC Trust responsible for around $6.1B of that. Around 93% of inflows came from institutions.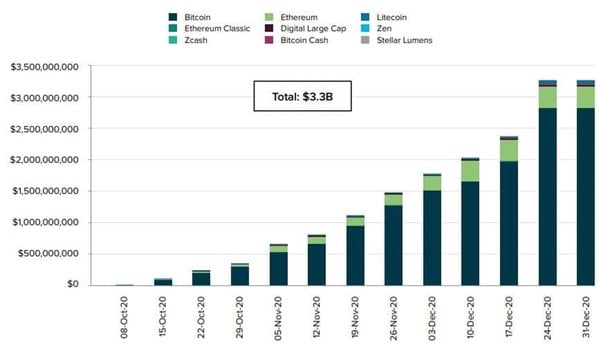 Crypto national bank
Crypto custodian Anchorage has secured conditional approval for a national trust charter from the US Office of the Comptroller of the Currency. It makes Anchorage the first national digital asset bank in the US. "The benefit of having a federally chartered bank is that it preempts all the state laws. The clarity of being regulated by the oldest regulator for banks in the United States … sends a very clear message," Anchorage President Diogo Mónica said in an interview.
DeFi Digest
2️⃣ Yearn v2 Vaults go live, with the full v2 release just around the corner.
👻 Founder and CEO of AAVE Stani Kulechov speaks with Delphi Digital to discuss DeFi, AAVE in 2021 and much more.
⚔️ AAVE, UNI, YFI, DOT, REN and COMP have been proposed to the Synthetix liquidity protocol.
⚖️ Yearn Finance proposal to print 1000 YFI for an operations fund to give Yearn runway at a cost of 3% dilution goes live. The proposal has sparked debate amongst core contributors, investors and the community.
📚 Everything you need to know about investing in DeFi in 2021.