In Markets
Various moves by billionaires Elon Musk, Paul Tudor Jones and Michael Saylor helped push Bitcoin back above US$40K (A$51.85K) overnight for the first time in two weeks. At the time of writing it was up 17.8% on seven days ago and is trading just under A$52,200. Ethereum and altcoins may take a little longer to recover, with ETH down 2.4% this week, Uniswap dropped 2.4%, Chainlink (-2.4%), Stellar (-3.8%) Aave (-8.5%) and Synthetix (-9.2%). Eos was flat, however XRP was up 2.1%, Polkadot (11.7%) and  Bitcoin Cash (3.7%). The Crypto Fear and Greed Index is headed back up but is currently still at 28 (fear).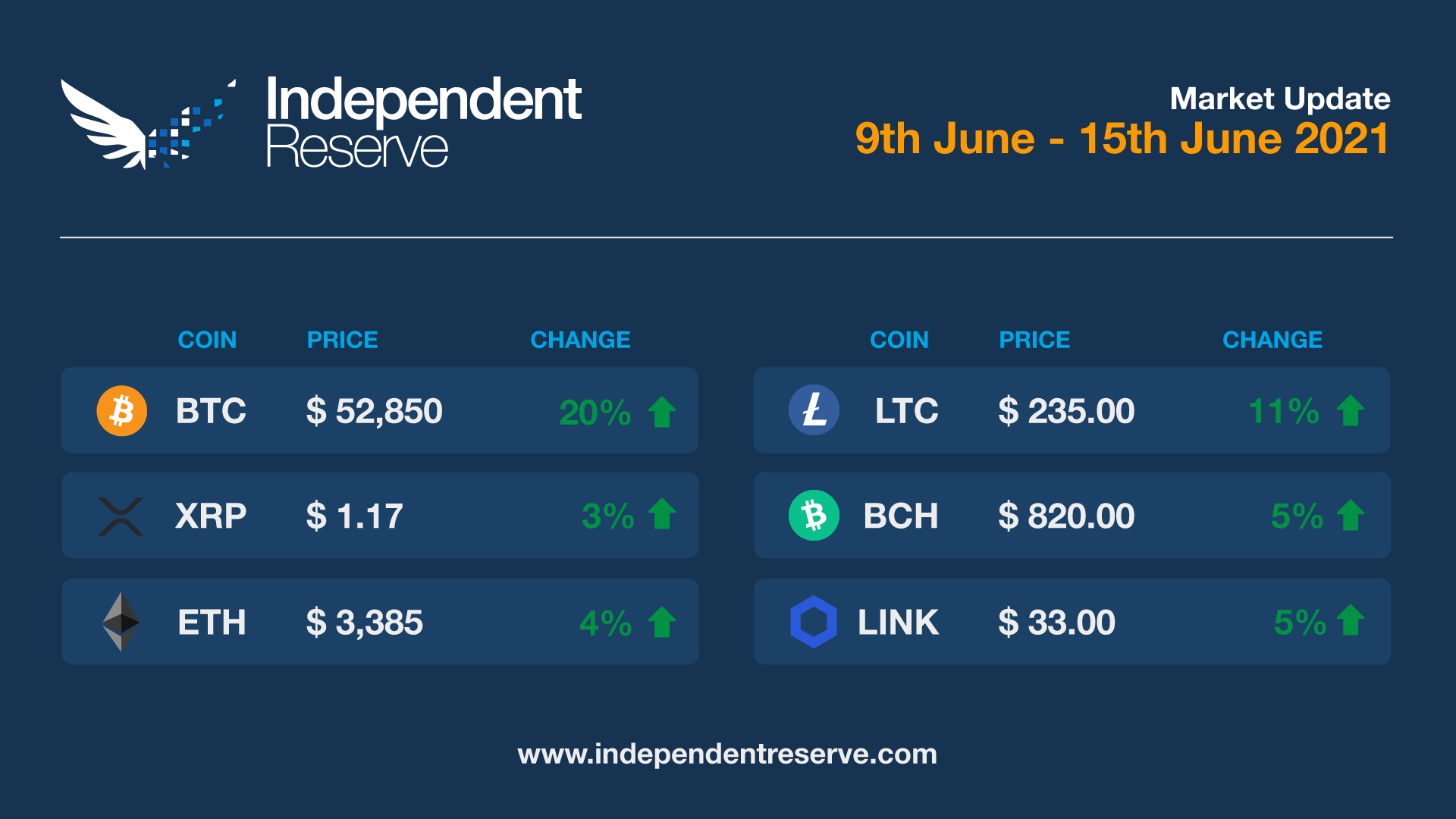 In Headlines
PTJ upping allocation
Billionaire hedge fund manager Paul Tudor Jones has told CNBC that he's considering upping his portfolio allocation to 5% as an "inflation trade". "I like Bitcoin right. Bitcoin is math…I like the idea of investing in something that's reliable, consistent, honest, and 100% certain," he said. "So Bitcoin has appealed to me because it's a way for me to invest in certainty." Tudor Jones was instrumental in giving institutional legitimacy to Bitcoin in May last year when he announced he was allocating 1-2% to the asset.
If you're not all in, are you even in?
MicroStrategy's Michael Saylor meanwhile thinks a mere 5% allocation is for weaklings and means "you have made the decision to invest 95% of your portfolio in assets getting demonetized by Bitcoin." MicroStrategy announced a US$400M (A$518M) junk-bond offering to buy Bitcoin this week, which attracted US$1.6B (A$2.07B) worth of orders and the revised $500M (A$648M) offering has just been completed. If that wasn't enough, the company has just announced in an SEC filing it may sell as much as US$1 billion (A$1.29B) worth of stock over time "for general corporate purposes including the acquisition of Bitcoin". The company has more than 92,000 BTC already.
Tesla will embrace Bitcoin again at some point
Elon Musk said on Monday that Tesla will resume accepting Bitcoin payments once it can confirm greater than 50% clean energy use by miners and is able to discern a "positive future trend". Greater transparency of renewable energy use is the entire aim of the Bitcoin Mining Council, which announced the details of its operations this week and confirmed Musk wasn't invited. Ironically, Musk's announcement came in a tweet denying his other tweets were "market manipulation' – and the latest Tweet helped the Bitcoin price to surge 10% in a few hours.
El Presidente embraces hard money
El Salvador has become the first country in the world to accept Bitcoin as legal tender. Merchants from McDonald's to street vendors must now accept Bitcoin, President Nayib Bukele told about 22,000 listeners on Twitter Spaces who were listening in as the historic vote took place. A brainwave Bukele had during the conversation about 'volcano mining' was announced as policy the following day. The IMF isn't pleased and thinks it could have significant "legal and financial ramifications" – many of them likely blowback from the IMF with whom the country is trying to negotiate a US$1B (A$1.29B) loan. Various elected officials in Paraguay, Mexico and Tanzania subsequently made encouraging noises about embracing Bitcoin for payments. While the Bank of International Settlements doesn't believe BTC will be able to function as a means of payment, the Central American Bank for Economic Integration has just announced it will work with El Salvador to help it adopt Bitcoin. Bank President Dante Mossi called it "a really big deal". Naysayers argue the deal with Lightning App Strike may actually increase USDT adoption rather than BTC.
Institutions: In or out?
JPMorgan says the Bitcoin futures curve is currently in "backwardation" meaning the spot price is higher than the futures contracts for the first time since 2018. The bank says that this highlights weak demand from institutions, and as the institutional demand narrative was driving the bull market, a bear market could be on the way. On the other side of the ledger Goldman Sachs is adding Ether derivatives to its famed crypto trading desk and the World Economic Forum (WEF) has just put together a comprehensive guide called Cryptocurrencies: A Guide to Getting Started for CEOs and technology company leaders.
Taproot activation going ahead
Miners around the world have voted in favour of the Taproot upgrade – its first upgrade in four years which should mean greater transaction privacy and efficiency and it'll also pave the way for smart contracts. Fred Thiel, CEO of cryptocurrency mining specialist Marathon Digital Holdings said this was the key part of the upgrade: "It's already the primary driver of innovation on the Ethereum network. Smart contracts essentially give you the opportunity to really build applications and businesses on the blockchain." The rollout probably won't happen until November to enable it to be checked and doubled checked again and again.
Ether locked up
More than a quarter of the entire supply of Ether is locked in smart contracts – equivalent to about $63B worth. That's the highest percentage since The DAO event in 2016 according to Glassnode. About a fifth of that locked up ETH is in the Eth2 beacon chain contract which is currently paying out 6.7%. Ether faces a big test on June 25 when $1.5B ($A1.95B) of open interest is settled – the largest options expiry this year. After an initial 17% dip following the March options expiry, Ether ended up rallying by 56%.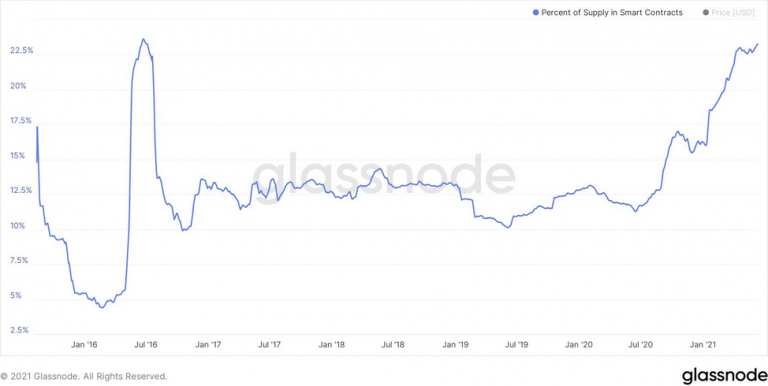 "Only a matter of time"
Following a comment, calling on integrating the Lightning Network onto Twitter, and developing project Bluesky, CEO Jack Dorsey simply responds with, "only a matter of time". Now gaining attention across the community, speculation has opened up as to what Twitter could bring with such integration. The main likelihood being the implementation of micropayments, for which Twitter-enabled solution Bottlepay is already in beta. The Lightning Network is a layer two solution that is designed to enable faster and cheaper transactions with Bitcoin. It is done via user-generated channels for sending and receiving payments, typically of smaller sizes. We've currently seen the Lightning Network in use on Sphinx Chat, which runs solely on the network. Interest from Dorsey was made public back in 2019 to potentially do the same on Cash App, owned by his digital payments company, Square.
Until next week, happy trading!