In Markets
Bitcoin has been hitting new all-time highs this week and edged close to the US$50K mark ($A64.25K) before taking a tumble yesterday. There was much talk of a "dip" however Cryptowatch reports BTC has just closed its biggest-ever weekly green candle. It's currently up 8.2% on a week ago to be trading around $62,500 at the time of writing. The BTC market cap also crossed the US$900B mark for the first time and it's already at $1.15 trillion in AUD. Ethereum finishes the week up 5.7% to $2330. That means 1 ETH is worth the same as one ounce of gold ($2346) for the first time. XRP was up 26%, Litecoin gained 29.6%, Bitcoin Cash (52.9%), Chainlink (32%), Stellar (28.8%), EOS (36.2%), SNX (16.4%). AAVE fell by 4.6%. The Crypto Fear and Greed Index hit 95 this week, it's currently 93 (extreme greed).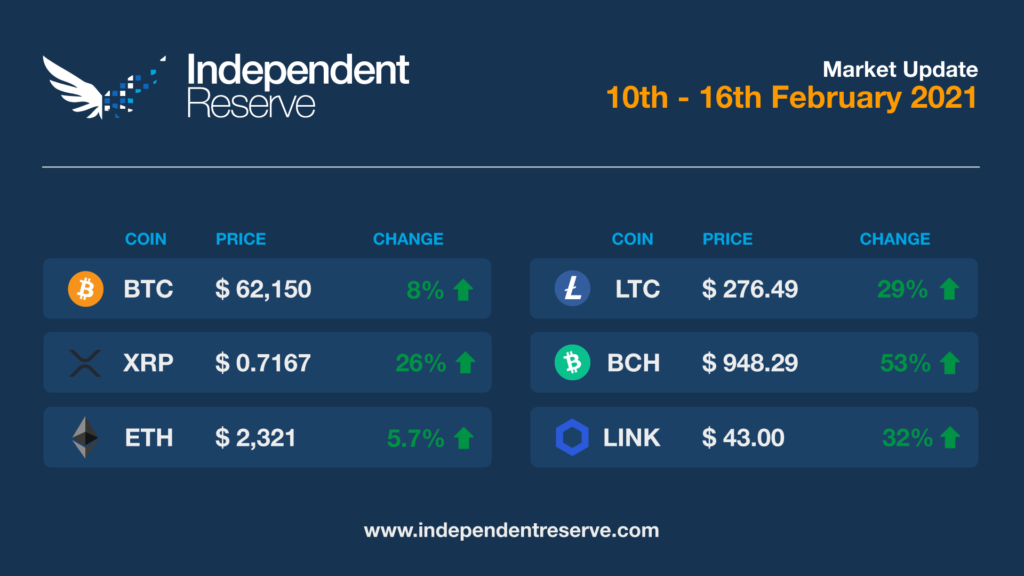 In Headlines
Mastercard adds crypto payments
Mastercard has unveiled plans to support cryptocurrencies this year, enabling a billion or so card users to pay with crypto at more than 30 million merchants. It's not known yet which cryptocurrencies, but it seems likely stablecoins will be among the options. In a post it said: "It's about choice. Mastercard isn't here to recommend you start using cryptocurrencies. But we are here to enable customers, merchants and businesses to move digital value".
Twitter, Uber, Miami, New York backing Bitcoin
Twitter may be the next big company to add Bitcoin to its balance sheet according to CNBC interview with Chief Financial Officer Ned Segal. "We've done a lot of the upfront thinking to consider how we might pay employees should they ask to be paid in Bitcoin, how we might pay a vendor should they ask to be paid in Bitcoin, and whether we need to have Bitcoin on our balance sheet," he told Squawk Box today. Elsewhere Miami city councillors voted to investigate the practicalities of implementing Mayor Francis Suarez's plan to do likewise, while Democratic frontrunner for New York mayor Andrew Yang said if elected he'll make NYC a "Bitcoin hub". Uber is considering adding crypto payments, but won't be putting BTC on its balance sheet.
Major banks announce crypto custody
With institutions coming on board at a rate of knots, major banks are ramping up custody services. Deutsche Bank – the sixth-largest bank in Europe – has created a prototype for a crypto custody platform and plans to offer custody for institutional investors, and later issuance and trading. BNY Mellon, the US's oldest bank, also says it will start storing Bitcoin and other cryptocurrencies for big clients.
Morgan Stanley investigates crypto
Morgan Stanley looks like getting into Bitcoin, through its $190 billion Counterpoint Global fund. Bloomberg reports insiders saying the fund is "exploring whether the cryptocurrency would be a suitable option for its investors" after Bitcoin's big run sparked interest from clients. Closer to home Melbourne's Apollo Capital recorded 62.3% growth in the December quarter and was the star of an Australian Financial Review piece on the sector. The three-year-old fund invests in DeFi projects including Synthetix, MakerDAO and Polkadot.
Synthetix has a big week
Synthetix had a good week, thanks to the launch of synthetic Tesla stock – a token that tracks the price of Tesla via Chainlink oracles. It opens up 'aftermarket' trading in Tesla, which may attract a new crowd of speculators to the platform. Grayscale filed a Synthetix Trust (though that doesn't mean it will launch one) while Paradigm, Coinbase Ventures and IOSG tipped $15.4M into the Synthetix DAO to participate in governance. Click here to trade Synthetix on Independent Reserve.
Bitcoin Cash's Dotcom boom
Tech entrepreneur Kim Dotcom helped push the price of Bitcoin Cash up to its highest level since mid-2018 after he threw his weight behind the coin and launched a new promotional website called WhyBitcoinCash? extolling its benefits. Bitcoin Cash transactions have actually been higher than Bitcoin's on occasions lately and the price surged more than 50% this week.
Grayscale's ETH fund
Grayscale has accumulated 111,182 Ether over the past week, including adding up to 52,730 ETH in a single day on Feb 11. In total, the fund snapped up 195,000 ETH in February. Grayscale's ETH holdings have doubled in value since the start of the years to more than $7 billion. Further adding to the ETH supply squeeze, more than 132K ETH left exchanges in the past day.
Bitcoin ETF in Canada, ASIC could approve one too
The Ontario Securities Commission has approved the launch of Purpose Bitcoin ETF by Toronto-based asset management company Purpose Investments. It will be settled in Bitcoin itself, rather than its cash value. Although widely reported as the first in the world or the first in North America, it seems to actually be Canada's third Bitcoin ETF after funds from 3iQ Corp and CI Financial. Closer to home ASIC has revealed it's not actually against a Bitcoin ETF listing on the ASX. ASIC commissioner Cathie Armour told the Senate select committee on financial technology last week that an Aussie Bitcoin ETF is possible, so long as there are appropriate rules in place. The AFR put the news on its homepage – and also put out a 'how to invest in cryptocurrencies' feature this week, as well as a DeFi/crypto funds piece.
DeFi Digest
A round up of the top news in Decentralised Finance.
🎮  Renown investor Chamath Palihapitya believes that NFT's (non fungible tokens) will be the next great frontier of cryptocurrency. He will publicly disclose his NFT and crypto holdings soon.
🦅 Mark Cuban appears on the Defiant podcast and explains his bullish thesis on Ethereum and DeFi. "America 2.0 is going to be built on blockchain. A big part of this is going to be DeFi."
🏦 The Federal Reserve published a detailed report on decentralised finance and how it may lead to a paradigm shift in the financial industry.
🦍  The largest ever liquidation event occurred yesterday for nearly every DeFi name. Of the total $1.6B in liquidations, only 30% was BTC.
🌐  Everything is connected. A visualisation of Ethereum and the semantic web.
Until next week, happy trading