In Markets
Bull runs don't always see the price rise smoothly upwards, and we saw a brutal 16.6% drop in the price on the weekend liquidating around US$10B of positions. Bitcoin finishes the week 7.2% down to trade around A$72,500. Pullbacks of between 20-40% are common during bull markets historically speaking. Despite the fall, many coins are up this week including Litecoin (5.8%), Bitcoin Cash (31.5%), Chainlink (7.1%), EOS (1.7%). Ethereum was flat while others lost ground including Ripple (-5%), Polkadot (-14.5%), Stellar (-12.8%) AAVE (-14%), Synthetix (-18.6%). The Fear and Greed index is at 74, or 'greed'. Monthly adjusted on chain volume for Bitcoin hit a record US$366.27 billion in March, up 14.7% from the previous ATH in February.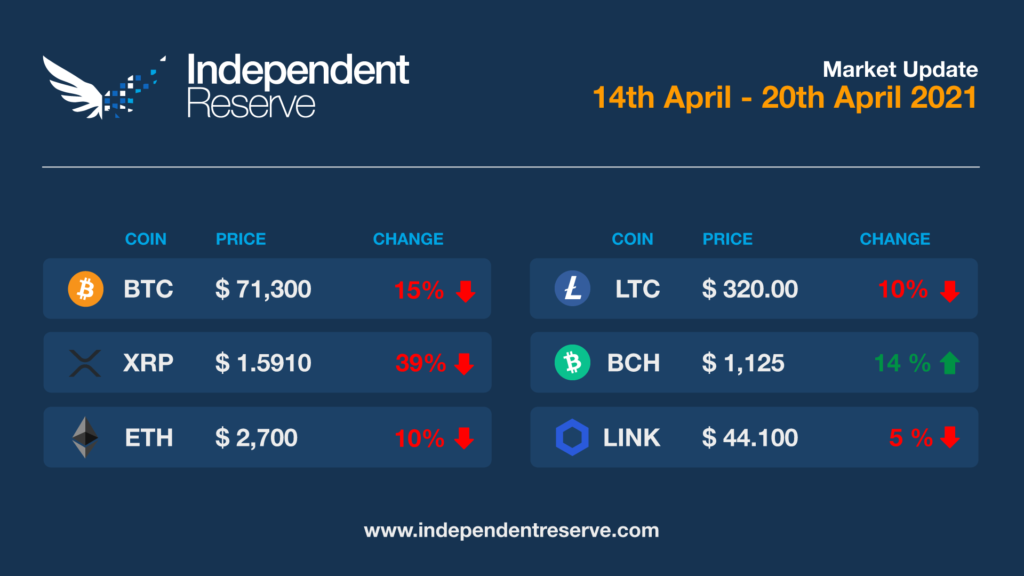 In Headlines
What caused the sell off?
Price moves are magnified in thinly-traded weekend markets, while cascading liquidations and the expected pullback after the Coinbase listing pump are likely factors. FUD and a big drop in the hash rate also played a big role. There were false rumours the Coinbase execs sold almost all of their shares when in fact they only sold between 2%-24%. Some no name news outfit tweeted a fake story attributed to 'sources' that the US Treasury was about to charge "several financial institutions for money laundering using crypto". Coin Metrics data suggested the hash rate fell from 198 EH/s on April 15 to 106 Eh/s the following day (though other estimates are much smaller). Analyst Willy Woo argues the pullback was caused by a Chinese whale taking advantage of events to dump 9000 Bitcoin on Binance.
Australian Blockchain Week on now
Don't forget that Blockchain Week continues until Thursday at various locations around Australia and you can join in many of the sessions for free via Zoom or explore the agenda and the speakers.
Making a hash of it
The Bitcoin hash rate isn't a precise figure and bounces around a bit, so estimates vary on how much it fell this week – but all agree it did fall substantially. It was due to authorities shutting down coal fired power plants after security issues and accidents in coal mines in Shaanxi, Guizhou and Xinjiang. As a result mining pools in China lost 10-35% of their hashing power. One of the results is we've just seen the longest interval between blocks being mined since 2011 – 122 minutes for block 679,786.
Coinbase listing goes well
The Coinbase listing on the Nasdaq appears to have been a victim of its own hype, when the first day's session closed at "just" US$67.2 billion. While impressive it's less than the $100 billion valuation widely discussed. COIN opened above $409 and has been trading around $330, well above the reference price of $250. Coinbase insiders sold about $4.6 billion of shares on the first day.
China loves crypto
This week the People's Bank of China endorsed cryptocurrencies as an investment for the first time. Li Bo, deputy governor of the PBOC, said: "They are not currency per se. And so the main role we see for crypto assets going forward, the main role is investment alternative." In other words, as long as Bitcoin is not competing against the digital yuan as money, they're fine with it.
Turkey bans crypto payments
The Central Bank of the Republic of Turkey said that new laws come into effect on April 30 making "any direct or indirect usage of crypto assets in payment services and electronic money issuance" illegal. Payment providers are also being banned from enabling fiat to be deposited on crypto exchanges, although users can still wire money to exchanges from banks. The laws are likely related to the sharp fall in the Turkish Lira and inflation running at 16%.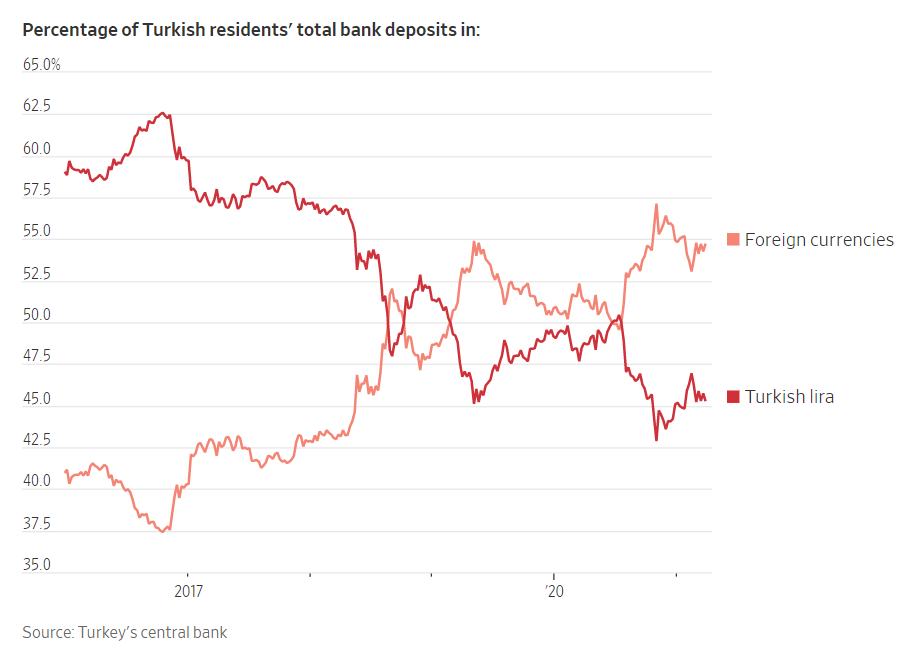 Doge Day Afternoon
Meme-powered cryptocurrency Dogecoin is up 471% this week as newcomers pile into the market and the hashtag #dogeday trends on Twitter. The coin has an inflation bug, no active development and the network runs on mining power borrowed from Litecoin. But US$10K invested in DOGE on December 31 is worth $821,000 this week, so maybe Doge investors are the smart ones.
WSJ makes ripples
Ripple is up 163% in a month as the SEC case against it for being an unregistered security starts to look increasingly shaky. The Wall Street Journal slammed the SEC over the case in an editorial that pointed to the "harm of its current ad hoc approach" and called for greater clarity around regulations from newly confirmed SEC chair Gary Gensler. "Investors and developers deserve to know whether their actions in the market are legal before they read news of the latest SEC lawsuit," the editorial thundered.
Ethereum upgraded
The Berlin Ethereum hard fork has taken effect, with a bunch of technical upgrades that increase the gas costs of some things and lower the gas cost of others. Gas prices this week are out of control incidentally, averaging 170 Gwei today. But the future looks bright: Former BitMEX CEO Arthur Hayes (out on bail) released a well-researched blog that suggests if just 1% of centralised finance is diverted to DeFi on Ethereum, then ETH will be worth US$40,597. If 10% moves over, ETH will be worth $405,967. In other bullish news three Ethereum ETFs have been approved in Canada from Purpose, Evolve, and CI Global Asset Management and start trading this week.
Until next week, happy trading!