In markets
The markets finally flipped the switch back to excitement this week. Bitcoin fell to five month lows mid week following the frosty reception given to Mark Zuckerberg and Facebook's Libra cryptocurrency by Congress. But then it took off like a rocket, gaining 42% in hours for the biggest one day gain since 2011, (back when Bitcoin changed hands for $10 a pop). Profit takers moved in, but the Bitcoin price is still up 13.7% on seven days ago – around AUD13,700 at the time of writing. BCH, increased 14.5%, XRP was up 1.6%, while Ethereum was up 4.2%, LTC (5.9%), EOS (14.3%) and Stellar (2.2%). Twitter sentiment has hit its highest level in two months.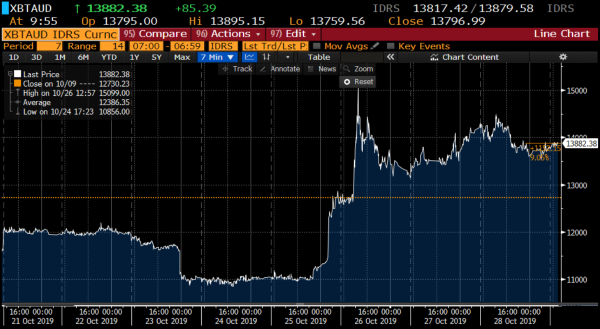 Source: Independent Reserve Bitcoin/AUD chart on Bloomberg
In Headlines
Dollar-Cost Averaging with Independent Reserve
Independent Reserve has recently released a new feature called AutoTrader. AutoTrader allows customers to create various strategies on their account to automate trading. AutoTrader has launched with one strategy to start – AutoBuy. The AutoBuy strategy automatically buys crypto on behalf of the user each time a fiat deposit is credited to the account. Paired with a scheduled transfer from a bank account, it allows customers to buy crypto on a schedule without lifting a finger. See here to see examples and calculations of how dollar cost averaging can work.
China goes all in on blockchain
Many pundits attribute the spike – at least in part – to Chinese President Xi Jinping's speech this week in which he said China should "seize the opportunity" presented by blockchain technologies. The Chinese Government has also passed a cryptography act. The Bitcoin price jumped $1,000 within minutes of the speech, shares vaguely related to blockchain went through the roof, and WeChat searches in China for blockchain surged 1,200%. Chinese based cryptocurrencies also took off like a rocket with Ontology, Qtum, NEO, Tron and VeChain all spiking in price.
So which coins does China endorse?
China's Center for Information and Industry Development has published its 13th crypto ranking guide. EOS remains No.1 based on technology, applicability and creativity, followed by Ethereum and TRON. The Chinese Government also thinks highly of NULS, GXChain, Bitshares, NEO and STEEM, which all rank higher than Bitcoin.
Bakkt in for the win
Perhaps the most welcome news of the week was that Bakkt has finally started to take off. Many blamed the underwhelming launch of the physically delivered Bitcoin futures platform for Bitcoin's drift lower in recent weeks. But this week it traded 640 contracts one day and 1179 the next – exponentially more than the 71 traded on the disappointing first day. Bakkt is also launching regulated Bitcoin options trading on December 9.
Security concerns for Bitcoin Cash
The BCH price may have risen this week, but news surrounding the network's security hasn't been promising. There was a three hour gap between blocks, reports that a single miner has gained half of the total hashrate and concerns the network could be vulnerable to a 51% attack.
Halving hypothesis well named
The 'halving' is certainly well named when it comes to Litecoin, given the price and hash rate have both halved. The Litecoin price is back where it was in April (around $85), after topping $200 mid-year. Three months after the halving the hash rate has fallen 60%.
The colour of money (is green)
Independent Reserve has become the first crypto exchange in Australia to actively reduce its carbon footprint. IR has subscribed to Climeworks to offset one tonne of Carbon Dioxide annually. CEO Adrian Przelozny told Nuggets News that the company wanted to make a positive contribution to the fight against climate change. "As the country's leading cryptocurrency exchange it's our duty to take proactive steps to become carbon neutral." he said. IR has also applied to become a member of Trillion Trees and will help plant hundreds of trees each year.
Good or bad news for Bitfinex
The President of Crypto Capital, Ivan Manuel Molina Lee has been arrested in Poland accused of money laundering around $585 million. Crypto Capital is the company that misplaced $1.25 million of Bitfinex's money, setting off a chain of events that led to the exchange being sued by the New York Attorney General. VanEck director Gabor Gurbacs thinks the arrest means Bitfinex will get some of its money back, while some Twitter pundits believe Lee may provide evidence against Bitfinex.
John McAfee gets even more optimistic
McAfee famously bet Bitcoin would hit US$500,000 by 2020, then doubled his prediction to $1 million. He's now more optimistic than ever, doubling his prediction once more. "If Bitcoin is less than $2 million by the end of 2020 then mathematics itself is a flawed disappointment," he said.
Until next week, Happy Trading!
Independent Reserve Trading Desk