Market Update 15th – 21st July 2020
In Markets
Bitcoin suffered no lasting effects over the past week as 130 of the biggest Twitter accounts were roped into an amateurish BTC 'giveaway' scam. It's traded in a narrow range around $13,000 and is currently around $13,100 to finish the week 0.9% down. Trading volumes are as low as they've ever been and data analytics firm Skew pointed out that BTC has traded in a 1% range over the last ten days. The last time that happened was in November 2018 just before BTC plunged nearly 50%. However, Morgan Creek Digital executive Jason Williams interprets the same data as suggestive of a major price increase this week: "Bitcoin volatility could be extraordinary to the upside."
Most of the top ten were down on a week ago including Ether (-1.5%), XRP (-1.9%), Bitcoin Cash (-3.8%), Bitcoin SV (-6.1%), Litecoin (-4.3%) and EOS (-0.5%). LINK was up 0.9% and Stellar gained 5.3%. Lower cap DeFi coins continue to outperform, and total funds locked in DeFi look set to top US $3B ($4.27B) later today.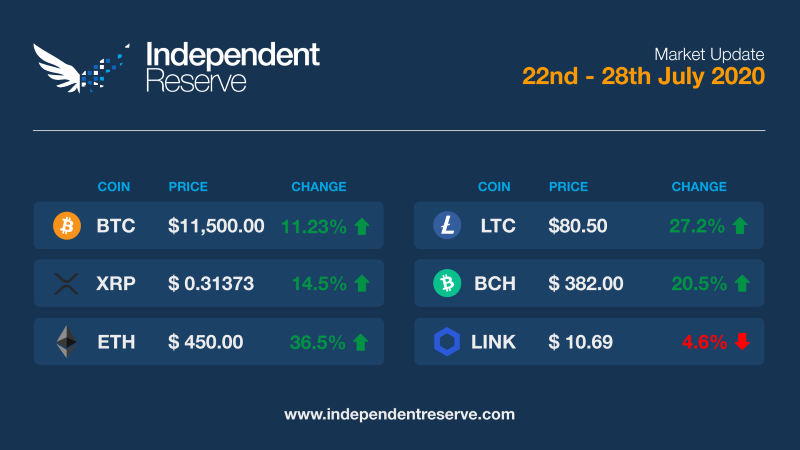 In Headlines
PayPal to announce crypto trading this week?
Coindesk reports that PayPal is set to make an announcement this week of a partnership with stablecoin operator Paxos. The publication reports two sources who claim that PayPal plans to introduce crypto trading for its 325 million users via Paxos' new brokerage service. If true this would be a major boost for mainstream adoption.
The king is dead, long live USDT
Messari analyst Ryan Watkins released a chart today showing that the Ethereum network has "blown past Bitcoin" in terms of daily settlement value and says "this trend is unlikely to reverse anytime soon". Watkins attributes the trend to DeFi-fueled stablecoin demand and tips USDT "may soon surpass Bitcoin as the dominant currency on public blockchains". In related news, total gas paid this year on the Ethereum network is about to top the record set in 2018 – and it's only July.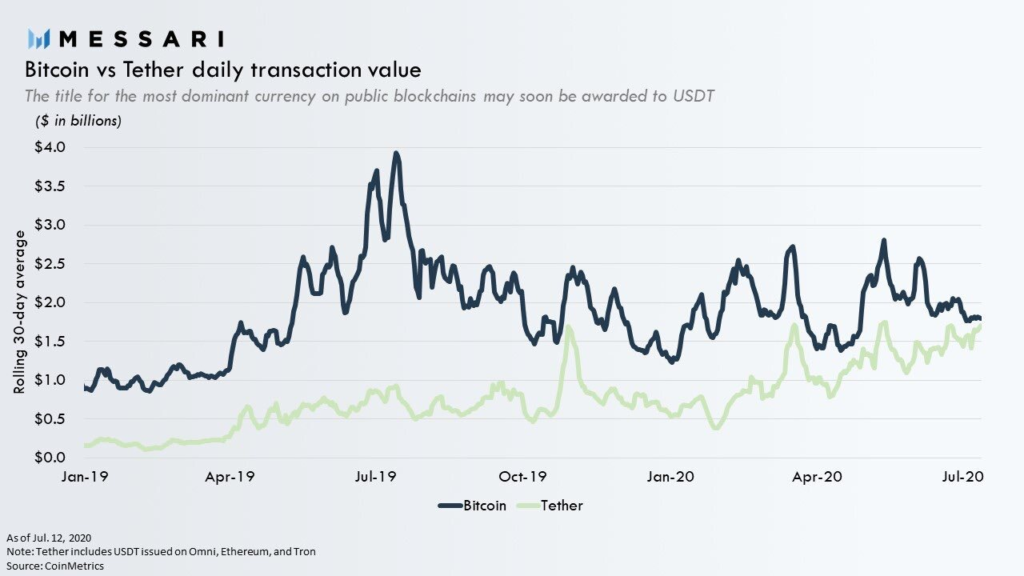 Ethereum has scaled. A bit.
The Ethereum gas limit recently hit a new all-time high of 12,500,000 from 10,000,000, after miners voted to increase it by 25% last month. Aleksandar Kuzmanovic, Co-Founder & Chief Architect at bloXroute Labs, says this means that in theory the network can now handle 44 transactions per second, up from 35 TPS – and he's calling for an even greater increase. "Our data implies that the recent gas limit increase is modest, and that a much higher gas limit can be safely deployed."
It may not happen overnight…
Meanwhile work on the permanent scaling solution Ethereum 2.0 continues with the launch of two "beta-0" attack networks based on the Lighthouse and Prysm clients. Hackers are being invited to try and find bugs or break the network with a $5,000 bounty for anyone who can knock it offline for 102 minutes. ETH 2 multi-client dev Afri Schoeden this week tipped a late-2020 launch for ETH2.
History repeats
Renowned financial historian Niall Ferguson told Laura Shin's Unchained podcast he is certain there will be another Bitcoin price bubble. "I can guarantee that," he said, adding he believes the digital gold narrative will become firmly accepted. "[Bitcoin's] price will not go up gradually it will go up in steps and each step will look like a bubble, and each time the bubble bursts Nouriel Roubini will say, you see? You see? And each time he'll be wrong."
Grayscale's record inflows
Institution focused crypto-asset manager Grayscale has reported its biggest-ever quarterly inflows of $1.29 billion. Managing director Michael Sonnenshein attributed it to financial uncertainty and the compelling digital gold narrative. "When things go bad, investors are looking historically at things like bonds and gold but now that subset of investments you might choose when things go bad include assets like Bitcoin," he said.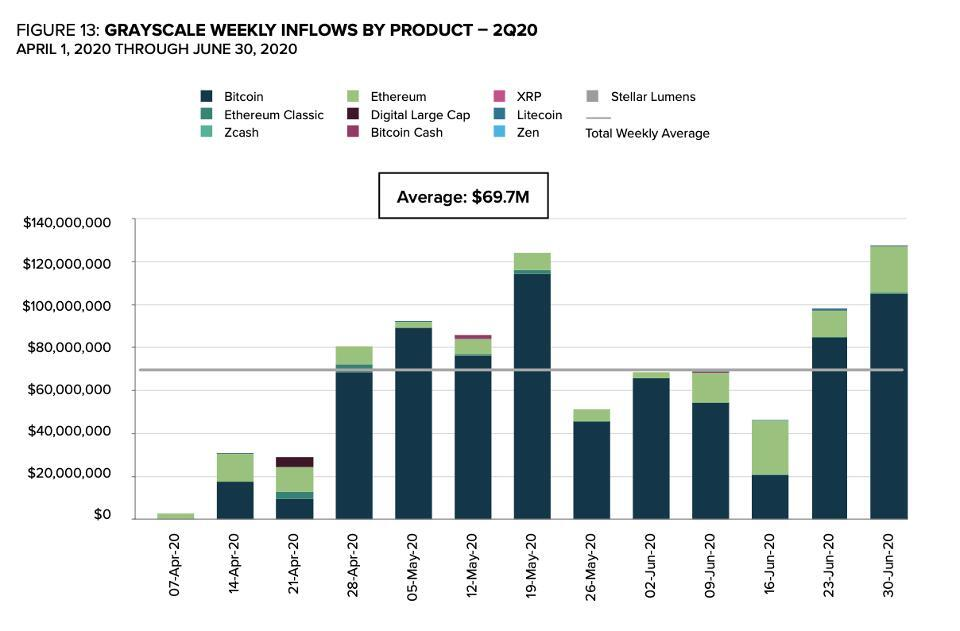 Better than a savings account
It was ten years ago this week, on July 17 2010, that the first-ever trade of Bitcoin was executed on Mt Gox exchange. Someone traded 20 BTC for 99 cents. If the person that bought them held on to them, they would have secured an 18.4 million percent return.
Until next week, happy trading!
Independent Reserve Trading Desk