Market Update 12th – 18th August 2020
In Markets
Bitcoin has broken through the US$12K mark and is currently trading just under AU$17,200. Bitcoin is up 3.3% for the week. The increase comes after Bitcoin posted a 21-month low for volatility in late July – a new report points out the 12 previous volatility lows have been followed by an average 140% increase afterwards. Ethereum gained another 8.5% to trade above $600, recording its highest price since mid-2018. Apart from BSV (down 0.5%) everything else was green: XRP (5.4%), Chainlink (27%), Bitcoin Cash (4.9%), Litecoin (14.7%), EOS (16.7%) and Stellar (7%).
Headlines
DeFi crosses $6B
The total value locked (TVL) in DeFi (measured in USD) crossed $6 billion this week, up from $1 billion at the start of June. Encode Club founder Damir Bandalo argues that 'double counting' means the true figure is around $3.5 billion. Still, DeFi Pulse's Scott Lewis explained they "work really hard to remove double-counted assets" and stands by the figure, which is now at US$6.45 billion (AU$8.94 billion). In a deep dive, Bloomberg pointed out that Chainlink's major use case is for DeFi projects – making it noteworthy the LINK market cap was now higher than the entire TVL in the space. "It makes very little sense to see a derivative of the DeFi space be worth more than the value of collateral present in the system," said Coin Metric's Nic Carter. But the 50,000 strong LINK Marines argue the use case is vastly greater than just DeFi.
Degenerate finance
The craziness of the 2017 ICO boom appears to have returned with the DeFi boom. YAM was a "yield farming" project knocked up in two weeks that took in half a billion within a day of going live. However, the unaudited smart contracts had a fatal bug and collapsed late last week. Incredibly YAM's total value locked has doubled since as punters gamble on its resurrection. In another example, it appears that Curve Finance's DAO is so decentralised that an anonymous developer was able to release it early so those in the know could make bank before the public was aware of the launch.
Fees skyrocket
Ethereum is fast becoming a victim of its own success. The network raked in US $47.8 million in fees last week – which is 283% more than Bitcoin. On Thursday, the Ethereum network hit an all-time daily record of $9.52m. The average transaction fee now costs around $8.20 – but DeFi protocols have complicated smart contracts that can require 10x the gas, which is why some users report paying about $140 to collect staking rewards this week. ETH 2.0 will fix the issue, but it's at least six months away. Messari's head of product Qiao Wang suggests the congestion has created "an obvious opportunity for a highly scalable blockchain to dethrone Ethereum. Paying $10 transaction fees and waiting 15 seconds for settlement is just bad UX."
Wall to wall coverage
Galaxy Digital took out a full-page ad in the UK's Financial Times telling readers – one in five of whom are millionaires – that "now is the time to invest in Bitcoin". Grayscale also started running TV commercials in the US, and the company reports it subsequently took in $300 million in investments for the best fundraising week in its history.=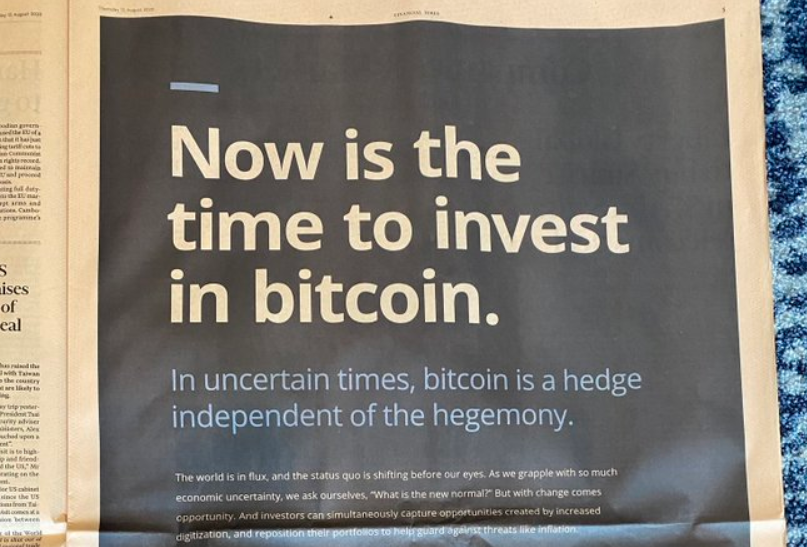 Portnoy meets the Winklevii
King of the Robinhood day traders Dave Portnoy – founder of Barstool Sports – met the Winklevoss Twins this week to learn about Bitcoin. He shared a video with his 1.7 million followers as he bought $277,000 in BTC and $69,000 in LINK.
Old money buys new money
Former Prudential Securities chief executive George Ball cites the Fed's stimulus and the possibility of higher taxes or further money printing as a reason to buy Bitcoin. He said BTC is "very attractive either long-term, I want a safe haven for money or a short-term speculative bet." He tipped that many wealthy people will buy crypto "after Labor Day" which is September 7. RT host Max Keiser said that Warren Buffett's unease with rampant money printing has seen Berkshire Hathaway sell off its bank holdings and buy into gold miner Barrick Gold. Jason Williams, a co-founder of Morgan Creek Digital, predicted his next move would be to buy Bitcoin.
Listed company buys 21,454 Bitcoin
The $1.94 billion business intelligence company MicroStrategy invested $366 million in Bitcoin this week, making it the first publicly listed US company to do so. The stock went up 14% in a sign the market appreciated the move. Jeff Dorman, CIO of Arca, notes it has potentially "let the genie out of the bottle". "The move in MicroStrategy's stock upon announcement of a BTC 'cash' position will incentivise other CorpFin teams to consider this," he said.
Until next week, happy trading!
Independent Reserve Trading Desk