In Markets
US stocks are back at all-time high levels after Joe Biden became President-Elect and Pfizer unveiled a hugely successful vaccine trial. Bitcoin was also making history, nudging the US$16,000 (A$22K) mark, which is the best price since the all-time high. At the time of writing it was 13.1% up on last week around $21,100. Ethereum performed even better, gaining 16.2% off the back of ETH 2 launch news. It's currently at the highest point since mid-2018, around $610. DeFi came storming back with it, with Synthetix up 57.4% and Chainlink up 15.3%. Everything else was up: XRP (6.7%), Bitcoin Cash (2.5%) Litecoin (10.2%), EOS (3.1%), Stellar (5.3%), although Bitcoin SV was flat. The Fear and Greed Index is at 90 or Extreme Greed.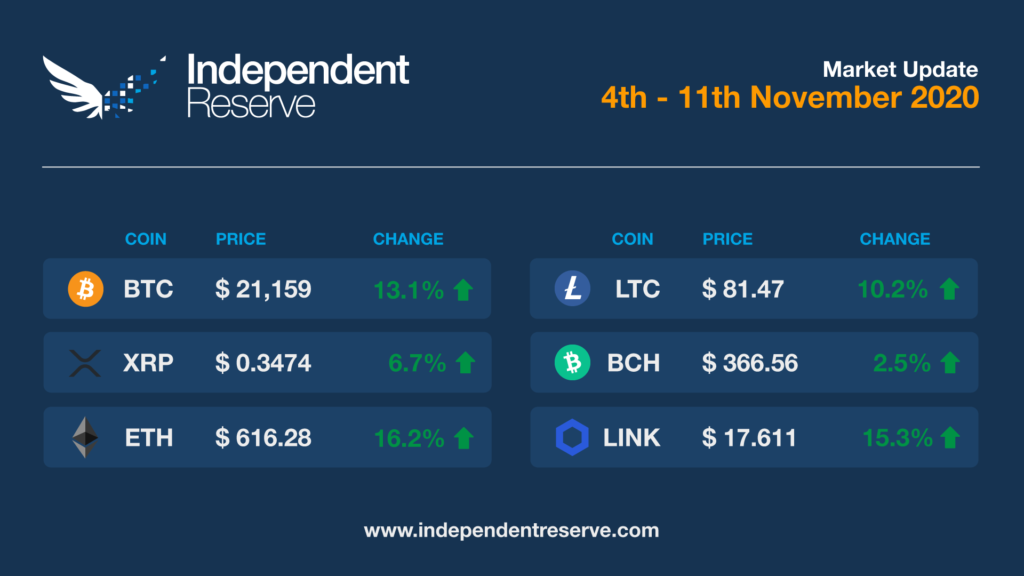 DeFi boom back on
The DeFi sector got its mojo back this week with many coins up 25% or more, just in time for trading to go live in three new DeFi tokens on Independent Reserve today. AAVE is the governance token for the decentralised borrowing and lending platform of the same name. It gained a whopping 85% this week. Kyber Network (KNC, up 5.5%) is an on-chain liquidity provider and token swapping platform with similarities to Uniswap. Yearn Finance (YFI, up 47.5%), which famously overtook the Bitcoin price during the DeFi boom (and isn't far off doing so again) automates yield farming and offers investment strategies across DeFi that provide some of the best returns available.
Bitcoin Cash hard fork – what you need to know
Bitcoin Cash will fork on November 15 at 11pm Sydney time. The more popular chain looks like being the community-run BCHN version, which does not include the controversial 8% development tax or 'coinbase rule' proposed by lead developers Bitcoin ABC. Deposits and withdrawals will be suspended from 8 pm until after the network has stabilised. IR will not be splitting coins, so if you wish to receive coins from both chains, please withdraw before then.
ETH 2.0 is go for launch
ETH 2.0 is on the launchpad and the booster rockets are firing, with a planned launch date of December 1. The deposit contract has gone live, enabling users to stake 32 ETH to become validators on the network. The minimum required for launch is 16,384 deposits of 32 ETH each, or more than half a million ETH staked, seven days before launch. However there are caveats: the returns are uncertain, you can't withdraw your ETH for a long time, and stakers will need to ensure considerable uptime. Just under 50K ETH has been staked so far, with the earliest launch date 2 weeks away.

Ethereum records
The deposit contract went live on November 5 and Ethereum marked the occasion with a few records. The number of addresses holding 32 ETH or more topped 126,852. There are now almost 300,000 addresses holding 10 ETH or more and 53,000 holding 100 ETH or move. The amount of Ether on exchanges hit a one year low of 15.8 million and the hash rate (briefly) hit an all-time high of 270 T/hs.
Bitcoin is 80% of Cash App's revenue
Cash App, the crypto-friendly payments app from Jack Dorsey's Square reported this week that Bitcoin now accounts for almost 80% of its revenue. In the third quarter, Bitcoin revenue increased by 1,100% when compared to the same period in 2019 to $2.24 billion. It generated around $43.9 million in profit. The company report also noted its $68 million investment into 4709 BTC as a treasury asset. It's now worth almost $100 million.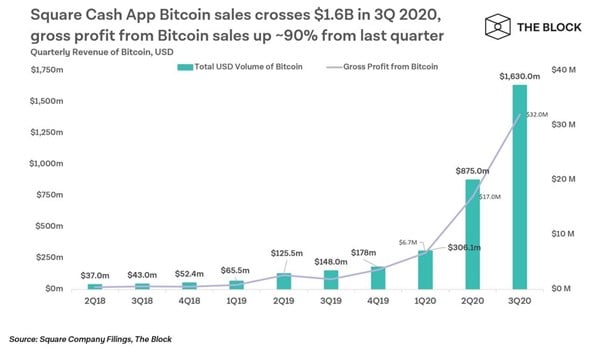 Paypal crypto services go global
PayPal's crypto trading service is currently only available to a small number of users in the US, and the waiting list has blown out 2 to 3 times longer than the company expected. CEO Dan Shulman said in this week's Quarter 3 earnings call the service would be available to all US users by the end of the year, and extended to mobile payments app Venmo and international users early in 2021. Responding to demand the weekly crypto purchase limit has been increased by 50% to just above $20K.
The last time Bitcoin hit these prices
A Reddit user took a trip down memory lane to the last time the Bitcoin price was this high, digging out the top 10 from January 9, 2018. It's a very different list, featuring coins that have since dropped out of the top ten including NEM, Cardano, IOTA and TRON. However, those that are still in the top 10 (ETH, XRP, BCH, LTC, ADA, and XLM)  are at a fraction of their current prices.
Another billionaire backs Bitcoin
Billionaire U.S. investor Stanley Druckenmiller – George Soros' former money manager – has gone long on Bitcoin. In an interview with CNBC, he said that while he has more money tied up in gold he thinks Bitcoin will perform better. "Frankly, if the gold bet works the Bitcoin bet will probably work better because it's thinner, more illiquid and has a lot more beta to it," he said. In other news from the top end of town, Grayscale's 'drop gold' ad campaign appears to be working. JPMorgan reports that since January 2019, inflows into Grayscale's Bitcoin Trust have been greater than the combined inflows into all gold ETFs.
Until next week Happy Trading!