Claims that Moderna's vaccine has 95% efficacy helped push crypto and stocks higher today, with Bitcoin increasing 6% in the past 24 hours to hit a new 2020 year to date high above $23,000. Bitcoin has only been higher than the current price for less than two weeks back during the all-time high. The price has currently pulled back a little to finish the week up 8.9% at just under $23k. Bitcoin Cash lost 4.7% due to the fork, while Bitcoin SV lost 1.5%. Everything else was up including Ethereum (3.5%), XRP (14.8%), Litecoin (24.75%), EOS (2.95%), SNX (5.4%), YFI (24.2%) and AAVE (36.1%).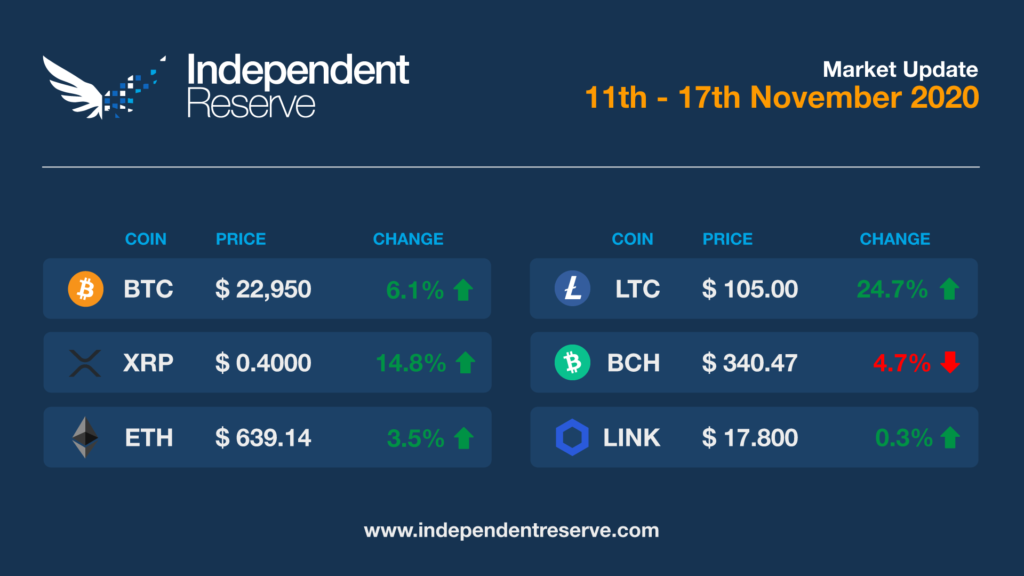 In Headlines
We have a winner
Bitcoin Cash has once again split in two, although this time one of the forks won emphatically. The community and miners threw their weight behind Bitcoin Cash Node and outright rejected lead dev shop Bitcoin ABC's efforts to impose a miners tax. The ABC version's hash rate produced just 9% of blocks in the past 24 hours, compared to BCHN's 91%. BCH proponent Roger Ver said: "At this point, I don't think it is fair to even call it a fork. It was a free airdrop of ABC coin to all existing BCH holders."
CitiBank predicts A$434K price next year
CitiBank's Managing Director Tom Fitzpatrick says there are similarities between the 1970s gold market and Bitcoin in his latest report, Bitcoin: 21st Century Gold. Back then gold got a boost as a safe haven asset when fiat moved off the gold standard, and Fitzpatrick says rampant money printing in the wake of the pandemic is likely to produce a similar effect for Bitcoin now. He's tipping a A$434,000 price by December 2021. Pouring cold water on the report, The Block's Larry Cermak pointed out "the same guy said in 2013 that gold was gonna hit $3.5k and even used the same 1970s analogy."
Bits and pieces
The amount of Bitcoin held on exchanges dropped by 145,000 BTC in the past month. Grayscale's assets under management are nearing $13.4 billion and it now holds half a million BTC. SkyBridge Capital, the $4.9 billion investment firm founded by former White House Communications Director Anthony Scaramucci, has announced it is set to invest in digital assets. Game of Thrones star Masie Williams has been polling her 2.7 million Twitter followers about if she should go long on Bitcoin. Paypal this week extended its crypto purchasing service to all of its US customers. DeFi user numbers are up 55% in the past six weeks. Ripple bought back $63 million worth of XRP in the third quarter to help support the price. CNBC's Fast Money has predicted the BTC rally will continue for another five months.
Bitcoin ETF back on speculative agenda
Many in the crypto community have welcomed the news that Jay Clayton, chair of the US Securities and Exchange Commission will be stepping down before the end of the year. Quantum Economics founder Mati Greenspan said the news was "really good for Bitcoin and crypto" as Clayton has been "single-handedly holding back the progress of a Bitcoin ETF as well as tokenization and blockchain innovation in general for the past few years."
ETH 2 is 18.2% ready
The Ethereum 2 deposit contract is nearing 100,000 Ether and is around 18.2% of the way towards launching. It requires another 400K or so ETH before the November 24 deadline to spark the scheduled Dec 1 launch. While deposits may seem slow, there's no incentive to deposit 32 Ether to become a validator until the very last minute, as funds won't earn interest until launch. Expect to see larger inflows as the deadline approaches. According to Santiment the percentage of Ether held on exchanges (13.35%) has dropped to a two-year low.
Brandt predicts turbulence after take-off
As we approach a new all-time high, veteran trader Peter Brandt has dusted off the history books to predict the road ahead may be bumpy – especially given we've only seen two 10% corrections since early September's low. "During the 2015-2017 bull market in Bitcoin, there were nine significant corrections with the following averages: 37% decline from high to low, 14 weeks from one ATH to the next ATH," he said. But Bloomberg Intelligence analyst Mike McGlone believes that once the price tops US $20,000 (it's currently nearing $17K) the sky is the limit. "$20,000 Bitcoin Is Primary Hurdle Toward $1 Trillion Market Cap," he tweeted. "[BTC] appears to be in an early price-discovery stage and may simply continue its ascent in 2021."