Bitcoin has spent much of the week consolidating at just under $26,000. At the time of writing Bitcoin was just 1.2% down on seven days ago to trade at $25,750. On-chain analyst Willy Woo says he has "never been so bullish" and his "top model" suggests that $270,500 by the end of 2021 "looks conservative". If you're a fan of the Stock to Flow model, it suggests Bitcoin will not fall below $16,000 after this point. Most other coins headed backwards including Ether, which was down 2.3%, XRP lost 5.8%, Litecoin (-3.5%), Bitcoin Cash (-9.2%), Chainlink (-7.4%), Stellar (-14.9%) and EOS (-8.3%). Bitcoin SV finished flat while DeFi 'blue chips' SNX (8.8%) and AAVE (18.6%) gained ground. The Fear and Greed index is at 95 or 'Extreme Greed'.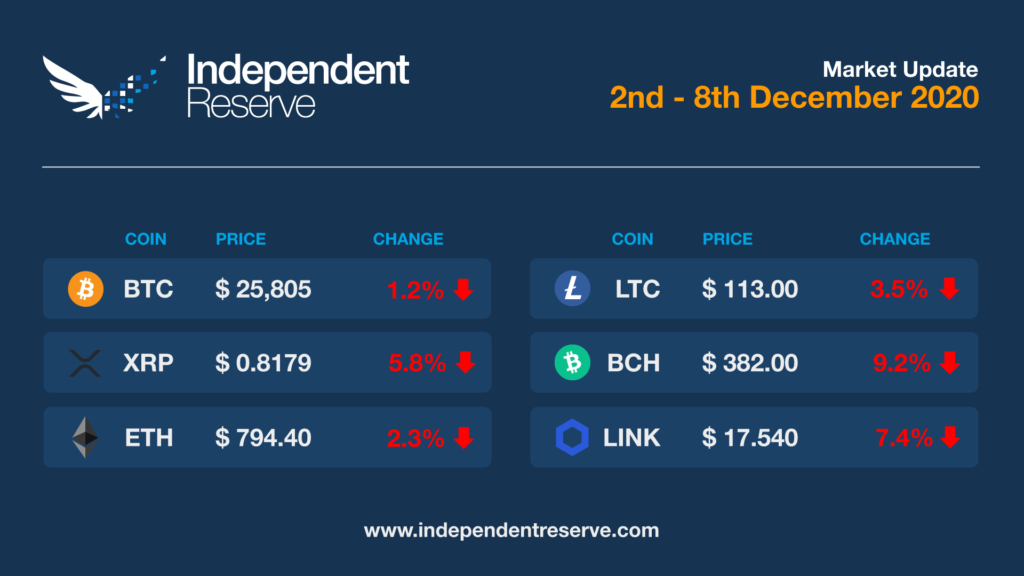 In Headlines
Dreams can come true
The headline Bitcoiners have dreamt about for years came true this week when Reuters published "Dollar plummets on U.S. stimulus hopes; Bitcoin hits all-time peak." With echoes of the famous Times headline that Satoshi embedded in the genesis block, "Chancellor on brink of second bailout for banks", mining outfit Slush Pool promptly immortalized the Reuters headline on the blockchain.
Regulations within weeks
New crypto regulations are likely to emerge before Donald Trump leaves the White House according to Acting US Comptroller of the Currency Brian Brooks. He told CNBC the new regulations would provide clarity and help investors feel safer about participating in the space. But not everyone is on board, with the chair of the House Financial Services Committee, Maxine Waters, calling on President-elect Joe Biden to undo all of Brooks' good work. And a new bill called the STABLE act was introduced to Congress this week, seeking to make stablecoins illegal without multiple government approvals. Who knows what will happen in the short term, but Circle CEO Jeremy Allaire is optimistic in the long run, telling CNBC that the Biden administration will have to embrace crypto sooner or later. "They will ultimately be supportive because this is an infrastructure change as big as the initial commercial internet," he told Squawk Box.
A million Ethereans can't be wrong
More than 1 million Ether is now staked in the Eth2 deposit contract, leading co-founder Vitalik Buterin to say it was "doing far better than I expected." Into the Ether host Eric Conner notes the newly launched Eth2 beacon chain is "starting to see a consistent 99% participation per epoch. Really impressive considering there are 24,900 active validators." Consensys founder Joseph Lubin this week said Eth2 is happening faster than many realized, and that insiders were "very optimistic about how fast things could unfold, as the really complicated work has been done in launching Phase 0."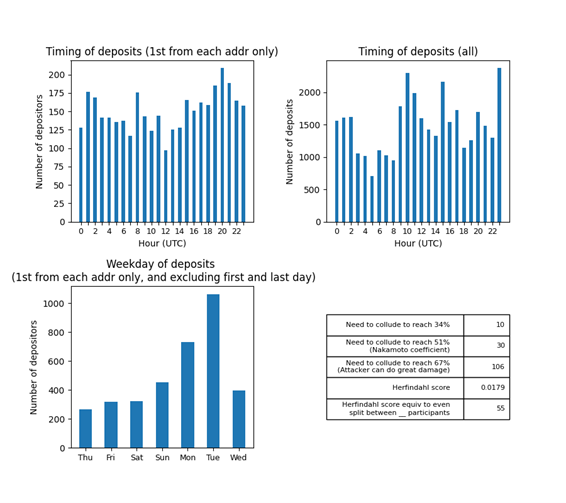 Top 25 coins
Flipside Crypto has released its top 25 crypto assets for December, with Ether in the top spot, followed LINK. Synthetix has risen from eighth place last month to sixth, while Bitcoin replaces it in eighth place. AAVE, OMG and XRP also made the cut. The rankings seem to support Gemini's Tyler Winklevoss' tweet earlier today that: "Software is eating the world. DeFi is the software that is starting to eat Wall Street."
Could 48 billion XRP be burnt?
Ripple CTO David Schwartz told the world this week that XRP validators could vote to force Ripple to burn its 48 billion XRP held in escrow. "There would be nothing Ripple could do to stop that from happening. Public blockchains are very democratic," he tweeted. Interestingly enough, during an earlier Twitter conversation in which Schwartz criticised Jed McCaleb's decision to burn 50% of the Stellar supply, it emerged that Ripple can unilaterally decide to burn that 48 billion XRP too.
Microstrategy buys more and more BTC
Microstrategy has just announced it will raise AU$540 million in a private offering purely to buy more Bitcoin. "Microstrategy intends to invest the net proceeds from the sale of the notes in Bitcoin," today's press release said about the offering. It comes just days after CEO Michael Saylor bought another 2574 BTC for $67 million, the company's third purchase after it bought 21,454 BTC in August, and 16,796 BTC in September. It's worth pointing out that Saylor holds 73% of the voting stock in the company, so he can pretty much do what he likes, unlike the CEOs of most listed companies.
Grayscale buys more and more BTC
Grayscale's BTC Trust is trading at a 35% premium to Bitcoin itself suggesting increasing institutional demand. In November Grayscale bought up 55,015 Bitcoin, considerably more than the 27,881 BTC that was mined across the month. On December 4 it bought a further 7,188 Bitcoin in a day. Grayscale's managing director Michael Sonnenshein also told Bloomberg this week that Ether was fast becoming prized by serious investors. "Over the course of 2020, we are seeing a new group of investors who are Ethereum first and in some cases Ethereum only. There's a growing conviction around Ethereum as an asset class."
OMG! New owner
Second layer Ethereum scaling solution OMG network has been acquired by the "quiet giant" of Asia's crypto sector, the Hong Kong based OTC trading firm Genesis Block Ventures. The new owners intend to build DeFi "lending and trading platforms" in conjunction with OMG. While OMG lost 8.2% this week, that was in line with market trends.
DeFi Digest
A round-up of the top news in Decentralised Finance this week.
👻 Version 2 of the AAVE Protocol is now live on mainnet.
💸 Staking on Ethereum to become the basis for an internet bond.
📈 Total DeFi users on Ethereum surpasses 1 million unique addresses.
🔹 The latest on Yearn Finance in State of the Vaults #11.
🦡 BadgerDAO goes live with 5 wrapped Bitcoin farming strategies.