In Markets
After briefly dipping below A$40K (US$29.3K) a week ago, Bitcoin suddenly pumped 15% yesterday and topped $54K (US$40K) in the early hours of this morning – the highest level since mid-June. It's currently settled back to $50,100 but is still up a whopping 21.6% on seven days ago. Ethereum gained 23.4%, Cardano (12.4%), Ripple (11.5%), Dogecoin (17.8%), Polkadot (21.9%), Bitcoin Cash (16.4%), Litecoin (16%), Chainlink (24.8%), Stellar (23.3%), Aave (28%), Synthetix (14.8%), MATIC (38%).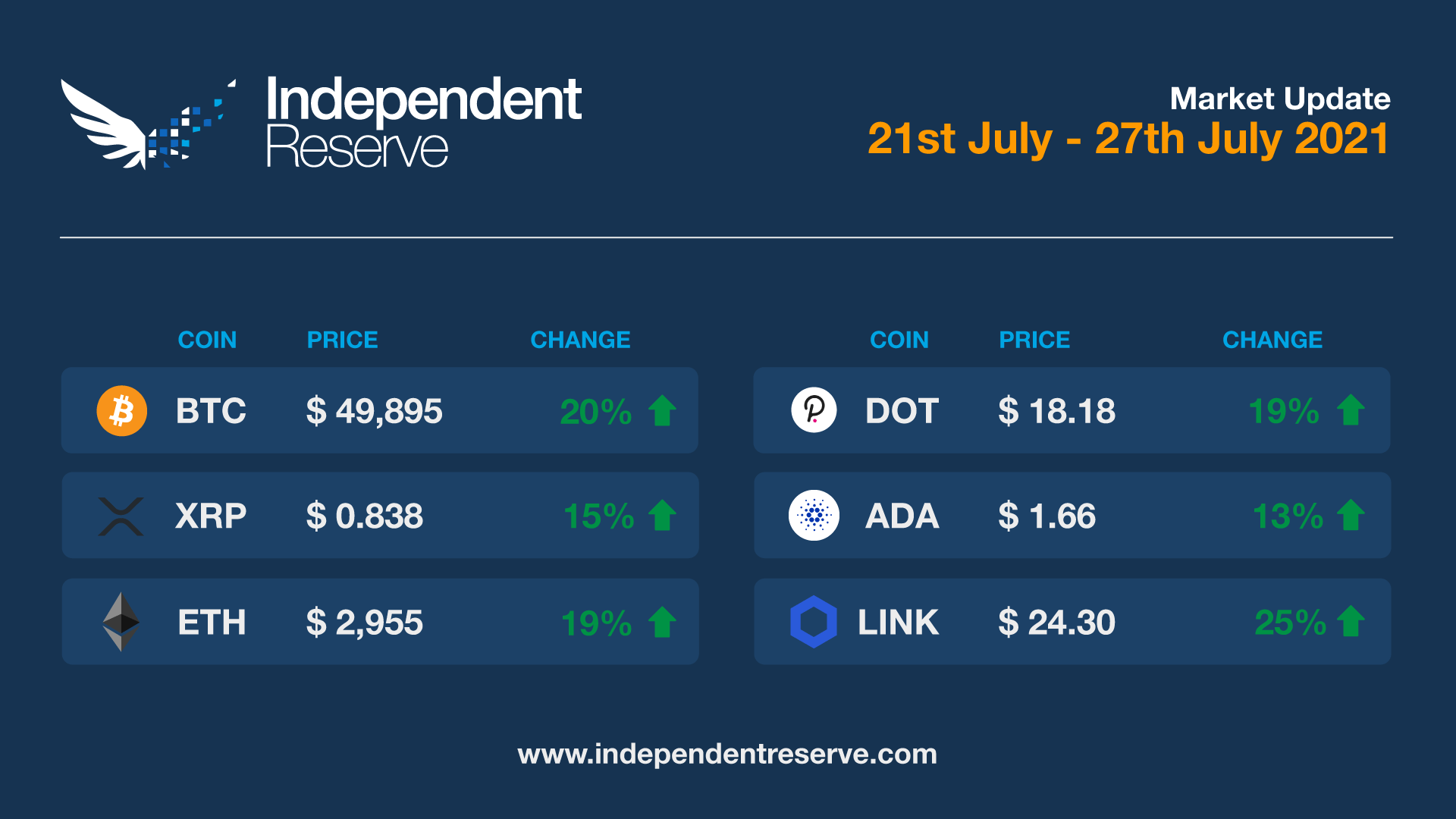 In Headlines
DOGE and MATIC live
As of this morning, trading of DOGE and MATIC went live on Independent Reserve in Australia. There will be an introductory brokerage fee for all newly listed coins of 0.2% for two weeks, so be sure to get your trades in early! We are also pleased to announce five new token pairs now live on IR Singapore: Bitcoin Cash (BCH), Chainlink (LINK), Ethereum Classic (ETC), Litecoin (LTC), and USD Coin (USDC).
Amazing payments
Many pundits attributed the Bitcoin pump to rumours that Amazon is set to imminently add Bitcoin payments. While an 'insider' tip in CityAM to that effect was quickly denied, the company has definitely advertised a job for a Digital Currency and Blockchain Product Lead to create a vision and roadmap for new payment products. "We're inspired by the innovation happening in the cryptocurrency space and are exploring what this could look like on Amazon," the company told media outlets, without going into details.
The B Word is 'Bullish'
Did The B Word conference save crypto from a bear market? That's what some reports suggest, when the price staged a sharp recovery in its wake, after falling below US$30K (A$40.6K) in the lead-up. Elon Musk told the conference that the migration of hashrate from China meant Tesla may start accepting BTC payments again after he is able to confirm more than 50% of the network is powered by renewables. Musk also dropped the bombshell that SpaceX owns Bitcoin and that he personally owns Ethereum.
Hip to be Square
CEO Jack Dorsey told investors on Twitter's earnings call that Bitcoin will be a big part of the company's future. Dorsey sees BTC as the open-source "currency of the internet" in comparison to Facebook's Diem. "I think it's hugely important to Twitter and to Twitter shareholders that we continue to look at the space and invest aggressively in it," he said. He outlined plans to integrate Bitcoin into commerce, subscriptions and tipping and 'Super Follows'.
Singapore embraces crypto
Approximately 43% of Singaporeans surveyed own crypto and 46% plan to buy it within the next year. The findings come from a poll of 1,000 people for the Independent Reserve Currency Index (IRCI) Singapore. Ownership was highest at 66% among those aged 26-45 and three-quarters of those surveyed believe crypto will become widely accepted by businesses and people. The inaugural poll found Singapore scored 63 on the index, well ahead of Australia which scored 47 last year.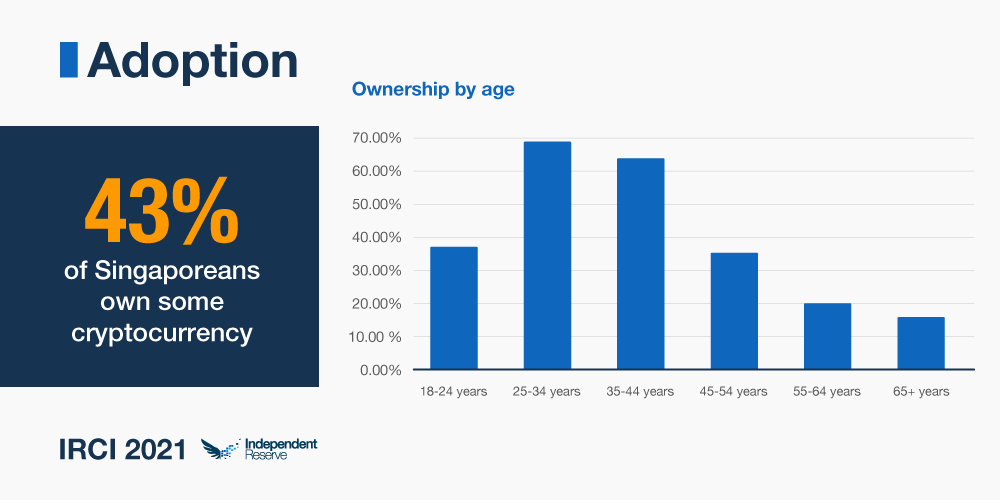 EthCC
The Ethereum Community Conference was held in Paris this week, with locals including Synthetix founder Kain Warwick getting a rare freedom pass from Australia to attend. Co-founder Vitalik Buterin told the conference that ETH needs to set its sights higher than simply DeFi, and expand into other areas including decentralised social media, identity verification and attestation and public goods funding. EIP-1559, which will potentially make Ether deflationary, is due to go live in just over a week.
CeFi meets DeFi
Uniswap has restricted access to 100 or so tokens from its official front-end, including those from Synthetix and Mirror. While the company behind Uniswap needs to comply with looming regulations for legal reasons, the protocol itself is totally decentralised, meaning users can still freely trade those tokens on Uniswap using other interfaces.
Tether trouble #4869
Bloomberg reports that Tether's founders are facing a criminal probe into possible bank fraud. Prosecutors are looking at whether some years ago Tether hid the fact from banks that various transactions were linked to crypto. Tether put out a statement saying the report was "based on unnamed sources and years-old allegations" but didn't deny it. The company also said this week a thorough audit of its reserves would be released within months.
Institutional bullishness
A Fidelity Digital Assets survey found that 71% of worldwide institutional investors said they would buy digital assets in the future – and over half already do. The 1,100 participant survey found that Asian markets are leading the current adoption and 90% of those surveyed with an interest in digital assets expect to have exposure in the next five years. A regional breakdown of the current ownership is 70% in Asia, 56% in Europe, and 33% in the US. The large majority of these institutional investors say they now find aspects of digital assets interesting and do believe they should be part of a portfolio.
Mass CBDC exploration
CBDC use cases have been increasingly looked into by governments worldwide. Among the major economies, The People's Bank of China claims that close to 21 million people have already created wallets to use the digital yuan. CBDC research is currently active in 81 countries, with five nations in the Caribbean region fully implementing a digital version of their currency – this is all tracked via the Atlantic Council's CBDC tracker. Findings show that CBDCs are in their pilot stage in 14 countries, including South Korea and Sweden. Regarding the countries with the four largest central banks, the U.S. is the laggard in terms of development. Although, several years deep into research, FED Chairman Jerome Powell has indicated that digital dollar development is a "very high priority".
Bullish bits and pieces
After the stock to flow model verged on being invalidated last week, creator Plan B is more bullish than ever, telling Scott Melker in a podcast that Bitcoin could trade anywhere from $1 million (A$1.35M)to $5 million (A$6.8M) after the next halving in 2024. A new report from Coinbase suggests the SEC is softening its stance towards Bitcoin and will likely approve a Bitcoin ETF this year or next. "We believe that given clear public interest and favourable market developments, it is only a matter of time before the U.S. SEC approves a Bitcoin ETF," stated the report. A Gallup poll found Bitcoin ownership among investors who have more than $10K in investments has tripled since 2018, from 2% to 6%. Among investors 18-49, the figure increased from 3% to 13%. A Goldman Sachs survey of 150 uber-rich family offices found 15% have already invested in crypto and another 45% are seriously considering it. The supply of Bitcoin on exchanges has fallen to lows not seen in 18 months according to Santiment.
Until next week, happy trading!