In markets
Volatility on traditional markets was mirrored in crypto this week, with Bitcoin seeing what CoinDesk described as its "most tumultuous weekly performance" since the March 2020 crash. After falling below A$56K on the weekend, Bitcoin has rebounded 10.1% in the past 24 hours to trade just under A$64,500. Analysts have tied the rebound to a recovery in shares and the return of the Coinbase premium, which indicates buying interest in the US. BTC is still down 8.6% down on this time last week. Although markets are now heading in the right direction, everything is down on seven days ago including ETH (-12.5%), DOT (-4.4%), XRP (-22.1%), LTC (-14.9%), LINK (-12.1%), Stellar (-6.8%), BCH (-20.1%), AAVE (-7%). EOS (-21.2%) and SNX (-1.1%).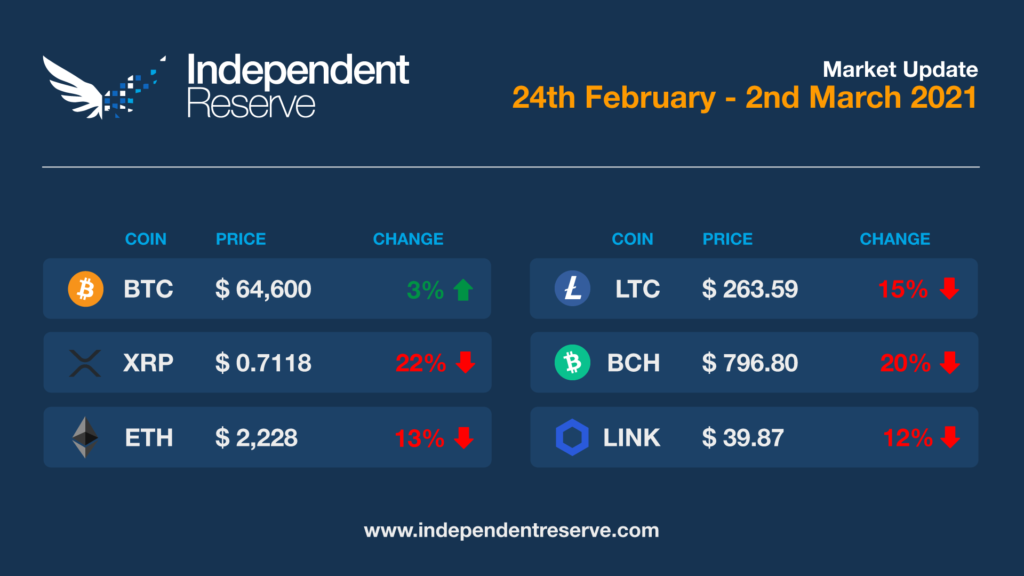 Beware the Ides of March
March is, on average, a pretty terrible month for Bitcoin prices. The price has fallen across the month in six of the past nine years by an average of 5.8% – and Black Thursday, which saw Bitcoin plunged by 50%, happened in March last year. That said, the second-biggest monthly candle in BTC history happened in March 2013, when the price shot up 179%.
Citi says Bitcoin is at a tipping point
Global investment bank Citi has released a report stating that Bitcoin is going mainstream and could be adopted as the currency of choice for future international trade. "Bitcoin is becoming the de facto 'North Star' of the digital asset space, with its trajectory being seen as a compass for the evolution of the broader ecosystem," the report said. However, the analysts cautioned that Bitcoin could be overtaken by other cryptocurrencies – altcoins grew 3.75x last year while Bitcoin grew 2.7X – or fall victim to macroeconomic conditions.
MicroStrategy, Square and Twitter
MicroStrategy has scooped up another 328 Bitcoin for A$19.3M at an average price of A$58,850 per Bitcoin, bringing the company's stash to 90,859 BTC. Twitter CEO Jack Dorsey's other company Square, also bought another 3,318 Bitcoin worth A$212M. In a statement, the company said "Combined with Square's previous purchase of US$50 million (A$59M) in Bitcoin, this represents approximately five percent of Square's total cash, cash equivalents and marketable securities as of December 31, 2020." There is now fevered speculation that Twitter, which intends to raise A$1.6B through a convertible senior note offering, could allocate some of the money into BTC with CFO Ned Segal suggested recently he was investigating the possibility.
ETH usable again for small fish
Ethereum mining revenue hit a new record of A$1.76 billion in February according to The Block. Between January and February, mining revenue grew 65% while transaction fees grew 122%. Ludicrously high gas fees now account for 53% of miners' revenue. In positive news, gas prices fell 70% this week, rendering the network usable again for small retail investors, at least temporarily.
ETH 2 now has 100K validators
The Eth 2 Beacon Chain has amassed 100,000 validators, making the forthcoming ETHvolution pretty decentralised already. This compares favourably to other proof of stake networks such as Cardano (1951), Solana (579), Tezos (427), Polkadot (297), EOS (21) and Binance Smart Chain (21) and Nano (117).
Grayscale BTC Trust on sale
The Grayscale Bitcoin Trust premium turned into a discount this week. Normally shares in the Trust trade for more than the underlying Bitcoin (35% extra in December), but this week the shares fell faster than Bitcoin. On Thursday you could have bought GBTC 4% cheaper than the BTC it represents. 3iQ's Canadian Bitcoin Fund (QBTC) traded at a similar discount. A day later shares in Grayscales Ethereum Trust closed 5.21% below the price of ETH.
Miners think A$56K too low
Glassnode reports that after two months Bitcoin miners stopped net selling and started net accumulating last week. The Miner Net Position (MNP) data shows that miners are selling less BTC than they're getting in block rewards. This turnaround coincided with Bitcoin hitting the A$56K level, suggesting they feel that's a price below what they're willing to sell for.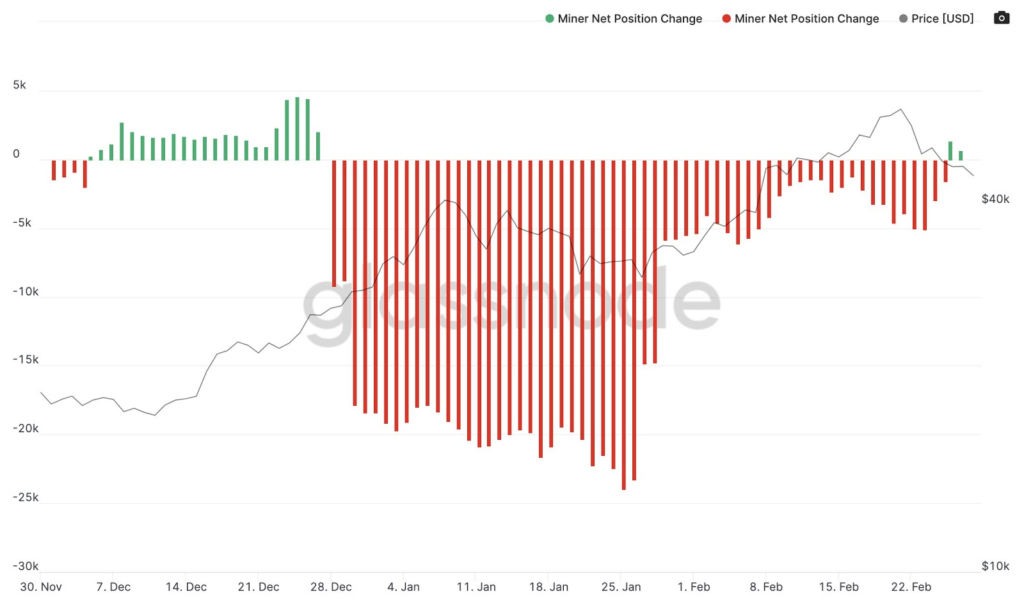 Millions of noobs buy crypto
More than six million newcomers to crypto have bought coins on the Robinhood app so far in 2021. New monthly users are averaging about 15 times sign-ups in 2020. And Square Inc's CFO Amrita Ahuja said that January had seen a record 1M noobs buy their first Bitcoin via the Cash App.
JPMorgan endorse a 1% BTC allocation
In a note to clients, JPMorgan strategists endorsed a 1% portfolio allocation to Bitcoin as a hedge. The small size is to protect against volatility. "In a multi-asset portfolio, investors can likely add up to 1% of their allocation to cryptocurrencies in order to achieve any efficiency gain in the overall risk-adjusted returns of the portfolio," strategists including Joyce Chang and Amy Ho wrote.
Until next week, happy trading!