In markets
Bitcoin was trading as high as A$77,000 earlier this week, but took a tumble over the past couple of days and is currently trading around $71K. That's 3.1% down on seven days ago. Ethereum lost 5.7%, Litecoin dropped 6.9%, BCH (-2.5%), AAVE (-6.6%) and SNX (-3.8%). However, Polkadot increased 3.4%, XRP/Ripple was up a whopping 27.2% amid a new push to get it relisted on exchanges, LINK was flat and Stellar was up 4%. Sentiment has eased and the Fear and Greed Index is currently at 70, or Greed.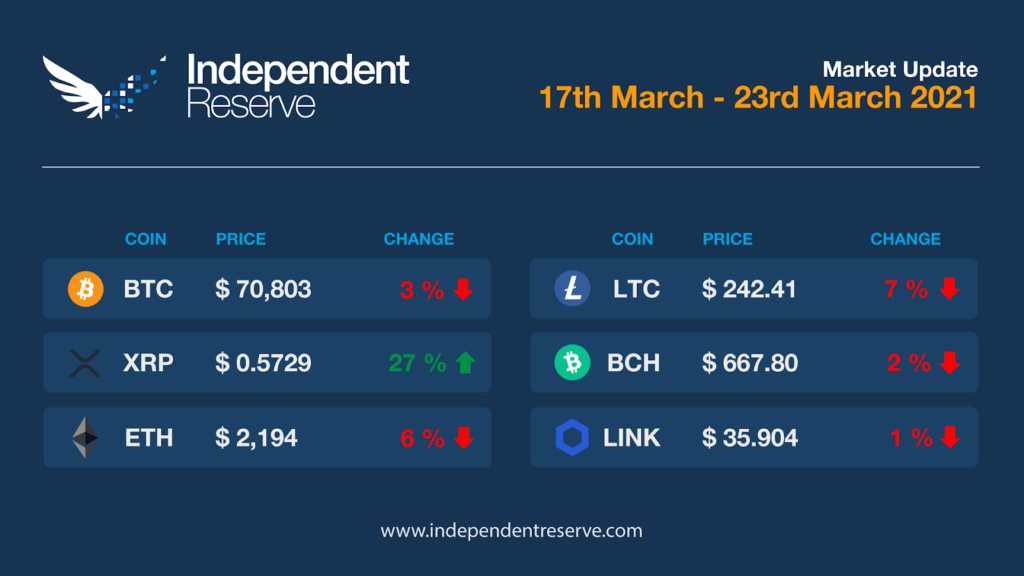 In headlines
Bank of America not on board the Bitcoin bus
While JPMorgan and Goldman Sachs are enthusing about crypto and Morgan Stanley reportedly hopes to buy South Korea's largest exchange Bithumb, Bank of America analysts have comprehensively trashed BTC in a new report. It claims the asset is impractical for payments and it's "exceptionally volatile", with just US$93M (A$120M) in volume able to pump the price 1%. BoA claims that buying 1 BTC has the same carbon emissions as running 60 cars for a year, and that Tesla's US$1.5B (A$1.94B) investment in BTC is equivalent to adding 1.8M cars to the roads each year. With activist shareholders increasingly focused on environmental issues, this sort of analysis poses a risk to corporate investment in BTC. It's not all just FUD either as Decrypt points out.
Other institutions bullish
In another report this week, Deutsche Bank also expressed reservations about volatility and the fact that less than one-third of transactions are used to actually pay for things. However, it predicts Bitcoin prices "should continue to rise" due to institutional interest and its survey of 4,700 people showing adoption among millennials. Separately, data from JPMorgan suggests that retail investors snapped up 187,000 Bitcoin from Square and Paypal in the first quarter this year, out buying institutions that bought up 173,000 BTC. Morgan Stanley is launching three new crypto funds to help rectify that, limited to accredited investors with more than US$2M in the bank. Institutional investment is at record levels too, with the first quarter of 2021 seeing inflows of US$4.2 billion (A$5.43B) into digital asset investment products such as Grayscale – well ahead of the US$3.9 billion (A$5B) seen in the previous record final quarter of 2020.
Coinbase fined, pushes back direct listing
Coinbase has been fined US$6.5M (A$8.4M) by the Commodity Futures Trading Commission for using software programs that traded with each other and may have artificially inflated the prices and trading volumes on GDAX (now Coinbase Pro). The CFTC claims a former employee was also wash trading LTC/BTC in 2016 on GDAX. (Nocoiner Amy Castor points out that was when Litecoin founder Charlie Lee was working there as an engineer). Coinbase has also just pushed back its direct listing to April. It registered 115M shares this week and analysts have valued it around US$68 billion (A$88B). Some believe the listing could usher in a stock market crypto gold rush, similar to the way Netscape's IPO kicked off the dotcom boom in 1995.
BTC bear case
According to Cane Island investment manager Timothy Peterson, the number of BTC addresses with more than 1000 coins has declined by the largest amount ever (in both absolute and percentage terms). "Such moves are often but not always associated with bear markets," he says, noting similar moves in the 2014 and 2018 bear markets. He suggests the price could fall to US$25K (A$32.3K) in the foreseeable future, which would bring it in line with his own BTC "Metcalfe Value" price model. This however, contradicts GMI's Metcalfe model which predicts US$300k by October 2021.
BTC bull case
According to PlanB, creator of the Stock to Flow Bitcoin price model, we're only 3.5 months into the Bitcoin bull markets and it has "at least some more months to go".  He thinks "BTC will not stop at US$100K" (A$129K) but "will continue to S2FX US$288K average price level". That's A$372K, but he also thinks the peak could be north of US$500K (AS646K). Bobby Lee, brother of LTC founder Charlie, and CEO of Ballet, tips a US$300K price (A$388K) by the end of the year. "Bitcoin you know has a twelve-year history and it has gone up and down over the last twelve years," he says. "The bull market cycles come in every 3 or 4 years and 2021 is that special year."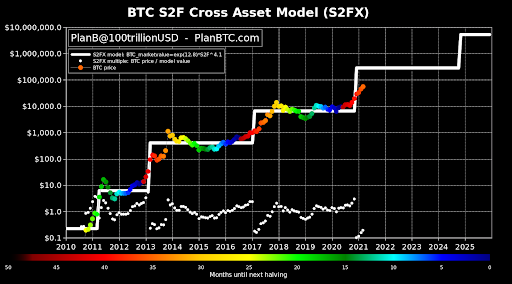 Wave of Bitcoin ETF applications
The changing of the guard at the SEC appears to have sparked a wave of new Bitcoin ETF applications, with First Advisors and the Anthony Scaramucci-led SkyBridge Capital trying their luck. They join NYDIG, Valkyrie, WisdomTree and VanEck all with active applications before the SEC. Brazil this week approved QR Asset Management to launch a Bitcoin ETF on the country's main stock exchange.
Grayscale's Chainlink trust
Grayscale has announced a new Chainlink Trust along with new trusts aimed at Filecoin, Livepeer, Basic Attention Token and Decentraland. According to Santiment, the total number of new LINK addresses has continued to increase since the start of the year and the ratio of LINK supply on exchanges has fallen to 14.6%, a level last seen in July 2019.
ETH on the inside
Around 8.2% of Ether's circulating supply is locked in DeFi, with 9.2 million Ether locked up, mostly in Maker, Compound, Uniswap, SushiSwap and Aave. If you add in the Eth2 deposit contract, then 12.765M Ether is locked, or 11% of the circulating supply. And if you add in the Grayscale Ethereum Trust's US$5.7B (A$7.4B) worth, it brings the total amount of locked ETH to around 13%. In possibly related news, according to Santiment the percentage of ETH supply on exchanges has dipped below 20%. A year ago that figure stood at 27%.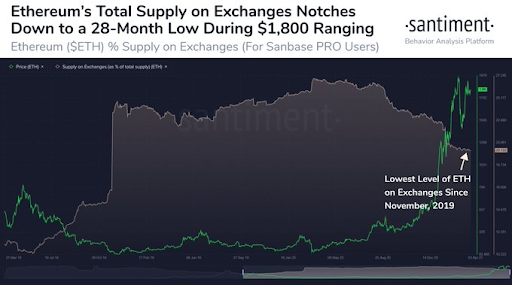 DeFi Digest
A round-up of the top news in Decentralised Finance
👻 AAVE releases an Automated Market Maker (AMM), enabling users to deposit liquidity provider tokens as collateral. Within one week the AMM has captured $21M TVL.
🦄 Uniswap teases V3 of their decentralized exchange. The upgrade is expected to include a Layer 2 integration, as well as a value accrual/staking mechanism.
🌐 A glimpse of the Ethereum ecosystem. Over 100 active DeFi apps, NFT platforms, games and much more. 
🎮 Leading NFT marketplace Opensea raise $23m for Series A led by Andreeseen Horowitz. 
Until next week, Happy Trading!